Healthier Fresh Apricot Crisp
This healthier fresh apricot crisp is naturally sweetened with honey and pure maple syrup. This easy dessert recipe works well with peaches and nectarines, too!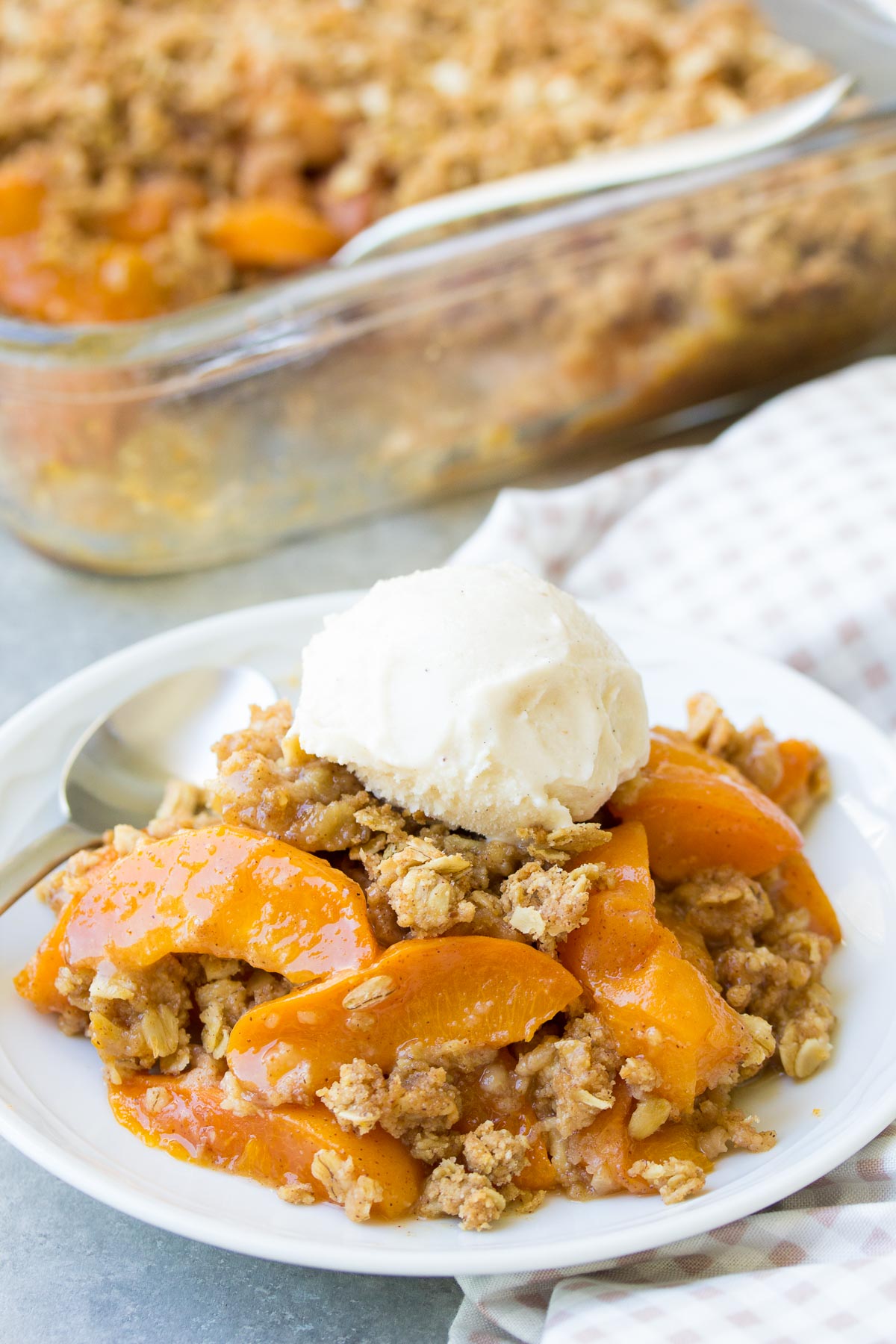 Do you have fresh apricots available where you live? We have them here, briefly, in June and early July and then they are gone. Last Saturday morning the kids and I took a trip to the farmer's market. I bet you can guess which fruit we were super excited to find there… fresh apricots! The kids helped me to grab a bunch and then I had to convince them not to eat them all so that I could make this fresh apricot crisp.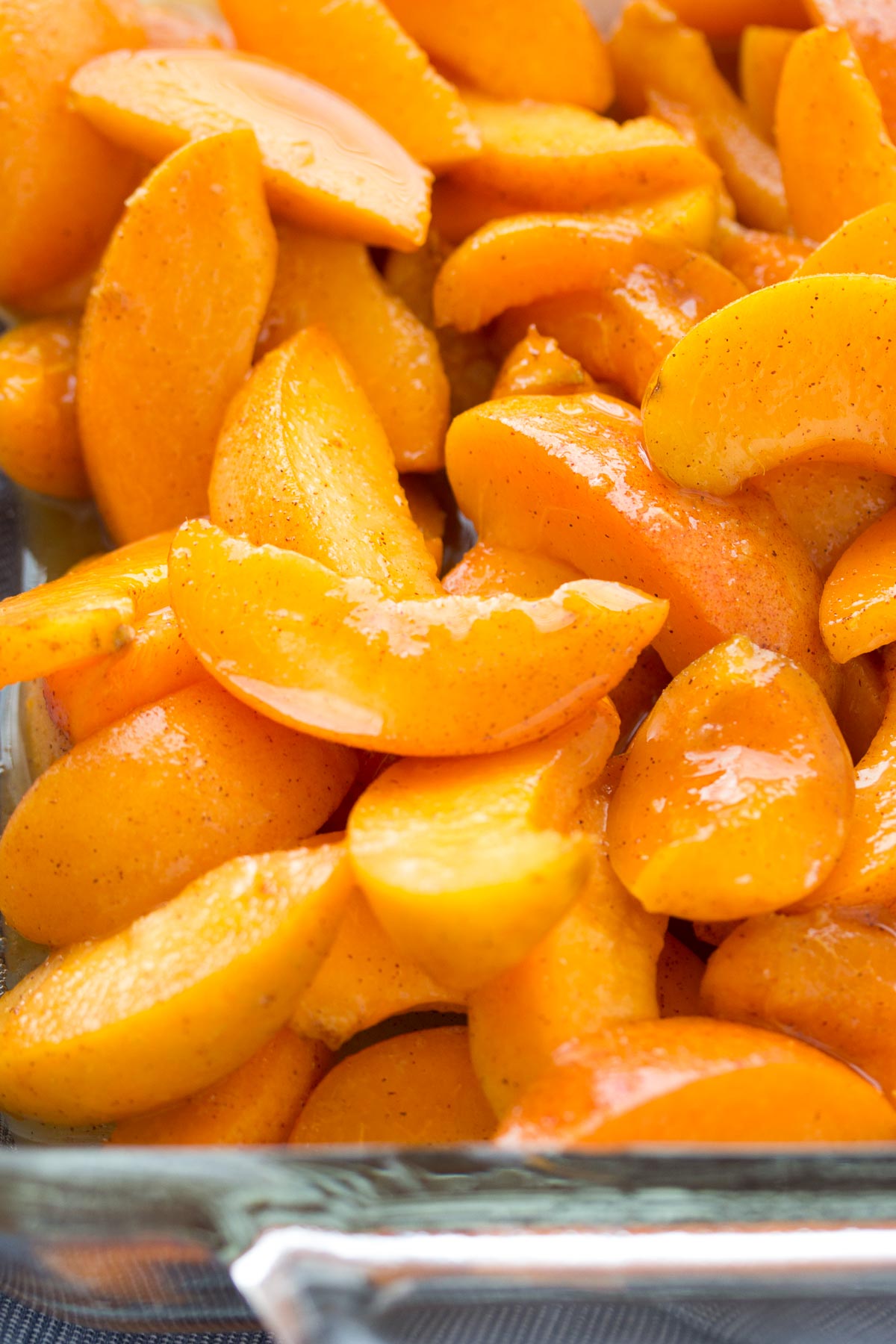 Like most moms, you are probably struggling to find the TIME to put a homemade dinner on the table for your family on busy weeknights. If you already had a plan, a grocery list, easy recipes and prep-ahead tips, you could have a REAL dinner on your table in a flash! I have been meal planning and prepping for years and now I am sharing my plan with YOU. You will save time, save money cooking at home, and eat real food.
Learn more about my Time-Saving Healthy Family Meal Plan.
Once they took a bite, I'm pretty sure they were glad that some of the apricots made it into this dessert! Julia immediately declared it, "so good!" and told me that yes, most definitely yes, I should put the recipe on my blog. 🙂
If you can't find fresh apricots where you live, give this recipe a try with peaches or nectarines. Or blueberries. I actually can't wait to try this healthier crisp recipe with fresh blueberries!
I'll definitely be making this Healthier Fresh Apricot Crisp again with apricots, too. You better believe we'll be at the farmer's market again next weekend looking for fresh apricots!
You would never guess this apricot crisp is actually healthier. The filling is sweet-tart and juicy, with a hint of cinnamon. And the crisp topping. It is hands down the BEST crisp topping I've ever had. Really. Maple syrup gives the topping the best flavor and texture.
So what makes this fresh peach crisp healthier? First, it's refined sugar free. So instead of white or brown sugar the filling and topping are naturally sweetened with honey and pure maple syrup. You can adjust the amount of honey to your tastes. If your apricots are on the sweeter side, use less sweetener.
The crisp topping is made with oats and whole wheat flour, so it's 100% whole grain. This healthier fresh apricot crisp can pass for both dessert and breakfast. And aren't those the best kind of recipes… the ones that you can enjoy no matter what time of day?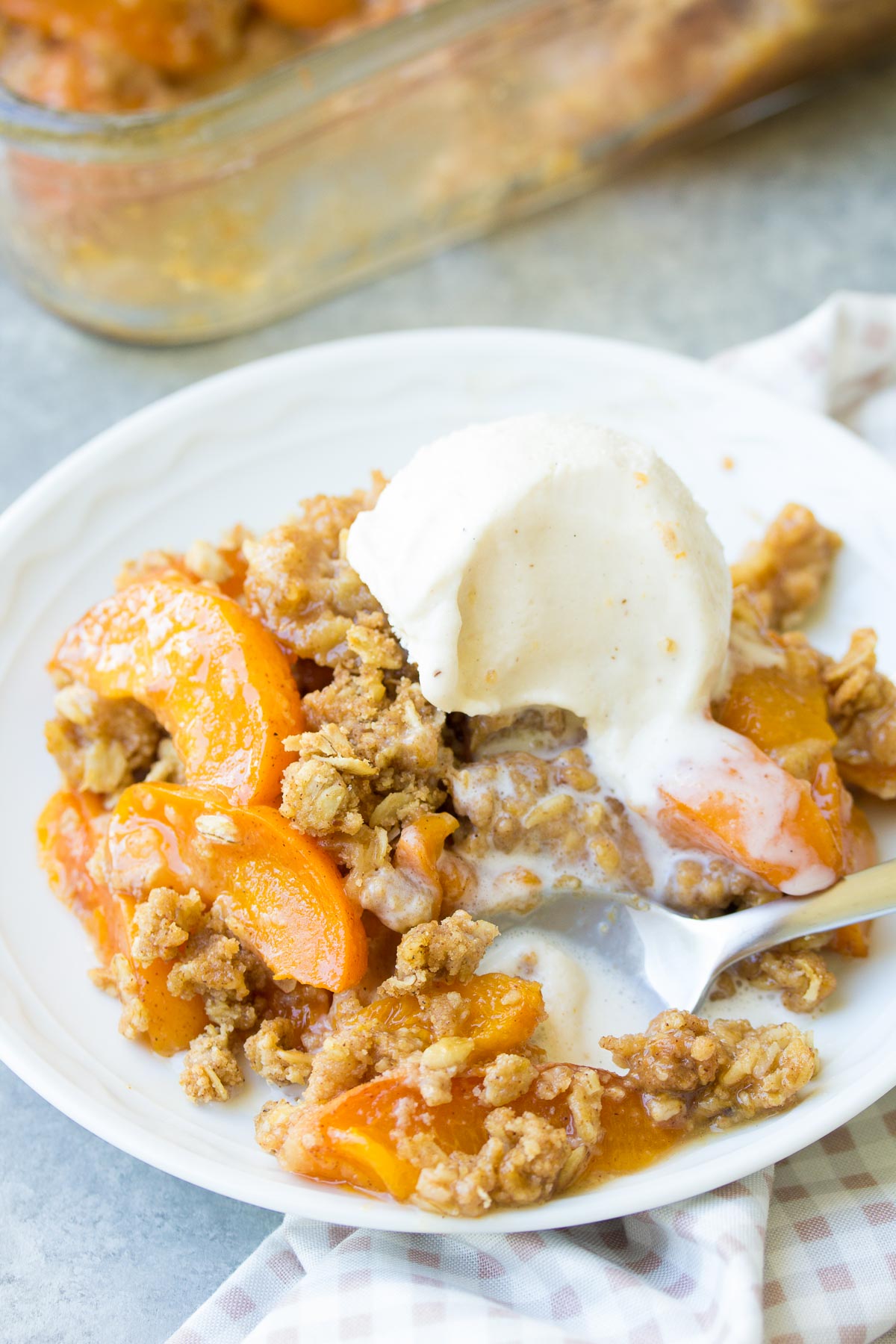 If you're as big of a fan of fruit desserts as I am, then be sure to take a peek at my recipes for Slow Cooker Blueberry Peach Cobbler, Slow Cooker Apple Crisp, and Cherry Pie with Almond and Oat Crumble!
Why we love this Healthier Fresh Apricot Crisp:
This healthier dessert is refined sugar free.
This recipe is really versatile, and works with a variety of fruits.
The maple oat crisp topping… well, you've just got to try it!
Like what you see? Be sure to follow along to never miss a recipe!
PINTEREST | FACEBOOK | INSTAGRAM | GOOGLE+ | TWITTER | EMAIL | RSS
Healthier Fresh Apricot Crisp
This healthier fresh apricot crisp is naturally sweetened with honey and pure maple syrup. This easy dessert recipe works well with peaches and nectarines, too!
Ingredients
For the filling:
6 cups pitted, sliced fresh apricots
zest of one small lemon (about ½ teaspoon)
1 tablespoon cornstarch
½ teaspoon ground ginger
½ teaspoon ground cinnamon
⅓ cup honey*
For the topping:
1 cup old-fashioned oats
¾ cup white whole wheat flour
1 teaspoon cinnamon
¼ teaspoon salt
4 tablespoons (½ stick) cold unsalted butter, cubed
3 tablespoons pure maple syrup
Directions
Make the filling:
Preheat oven to 350 degrees F. Lightly spray an 8x8-inch baking dish with cooking spray.
In a large bowl, toss together the apricots, lemon zest, cornstarch, ginger, and cinnamon. Stir gently until apricots are evenly coated with the spices, and then gently stir in the honey. Pour into the prepared baking dish.
Make the topping:
In a medium bowl, stir together the oats, white whole-wheat flour, cinnamon, and salt. Add the butter cubes and use your fingers to work the butter into the oat mixture until it begins to clump together and the butter pieces are small. Stir in the maple syrup. Sprinkle topping over apricots.
Bake in the preheated oven until filling is bubbly and topping is golden brown, 30-32 minutes. Let cool slightly before serving.
*Adjust the amount of honey depending on the sweetness of your apricots. We find ⅓ cup to be perfect for apricots that are sweet-tart.
Save
Save
Save
Save
Save
This site contains affiliate links. If you make a purchase through these links, I may receive a small commission. Thank you for supporting Kristine's Kitchen!