Pecan-Sour Cream Coffee Cake with Orange Glaze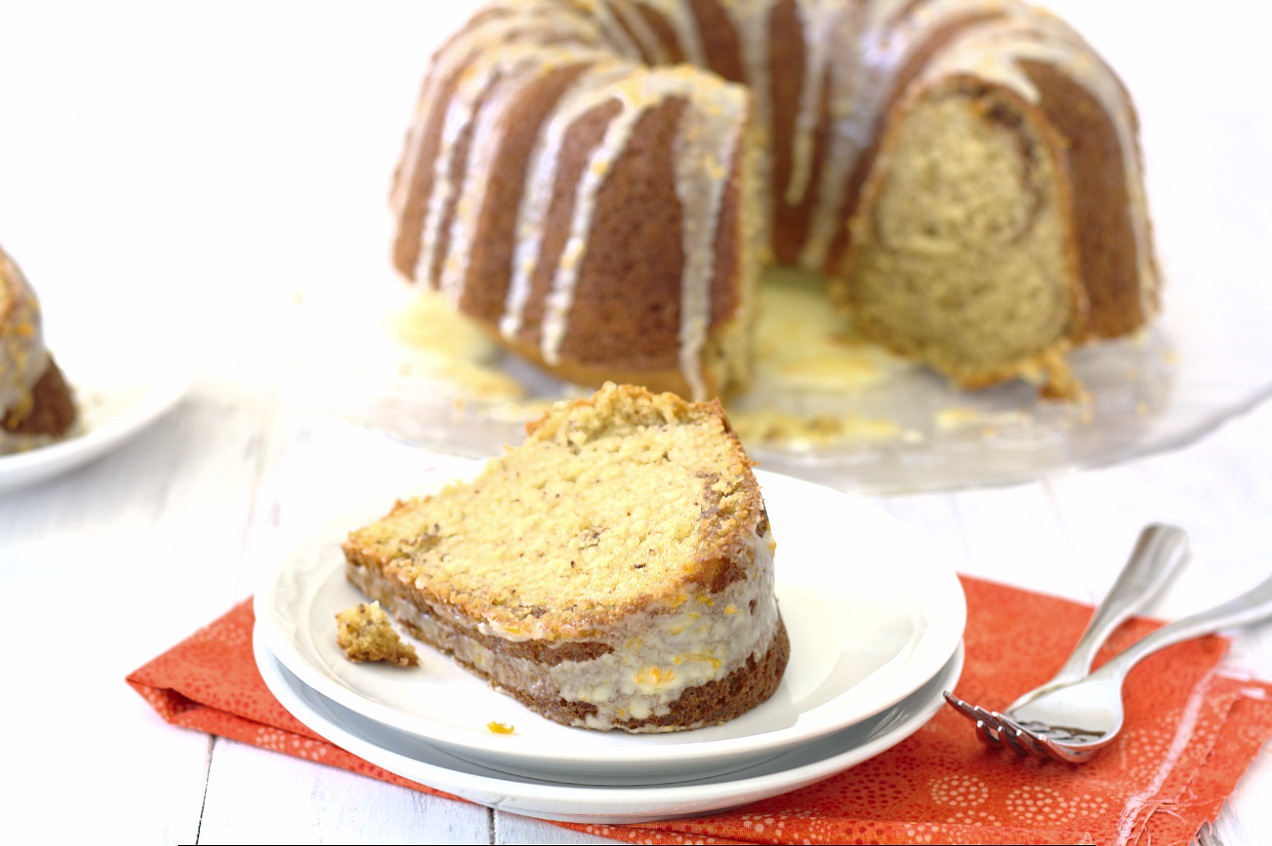 Are you one to make New Year's resolutions? I like to look at the new year as an opportunity to reflect on goals that I have for myself, rather than making strict resolutions. This year, when I think about what I'd like to accomplish, the theme is consistency. I'd like to consistently exercise at least 3 (well preferably 5 but I'm trying to be realistic 🙂 ) times each week. I'd like to be more consistent with devoting time to this blog and posting regularly. Most importantly, I want to remember to enjoy each day, because although the individual moments of the day have their ups and downs, we need to cherish the time we spend with family and friends.
What do I not plan to do once 2013 is here? Stop baking delicious treats, because consistency also means balance and enjoying a little something sweet each day. This pecan-sour cream coffee cake was a great way to ring in the new year with something sweet. The pecans are toasted, finely ground, and then mixed into both the cake batter and a streusel layer throughout the middle of the cake. An orange glaze adds just the right touch of sweetness to finish off the coffee cake.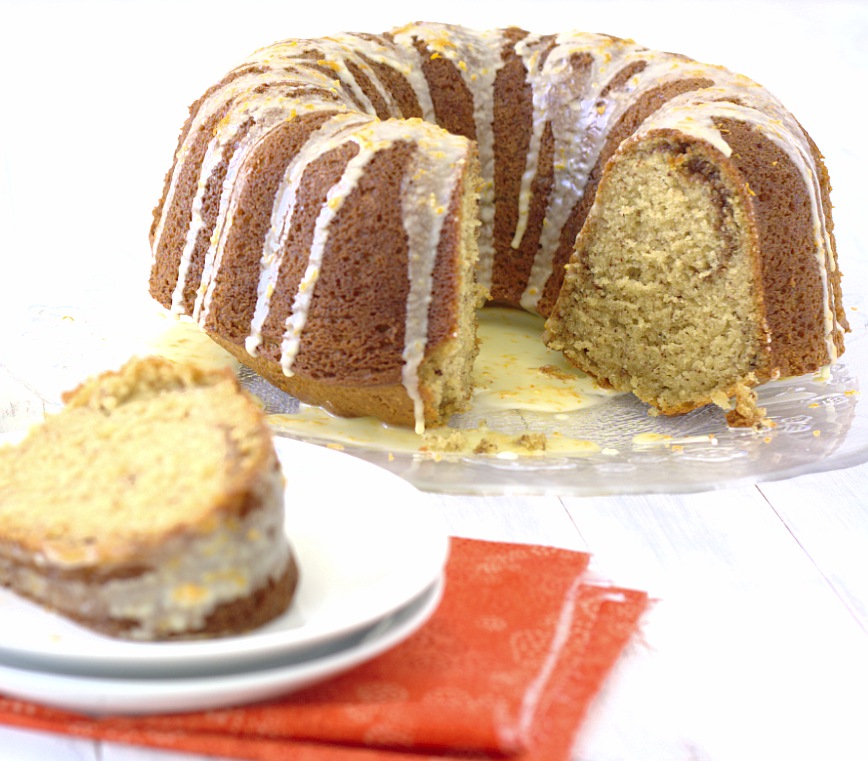 Pecan-Sour Cream Coffee Cake with Orange Glaze
Makes 12 to 16 servings
Ingredients:
For the streusel:
1 tbsp. all-purpose flour
3 tbsp. dark brown sugar
1 tsp. ground cinnamon
1/2 cup pecans, toasted, cooled, and ground fine*
For the cake:
16 tbsp. (2 sticks) unsalted butter, at room temperature and cut into 1/2-inch pieces
6 large eggs
1 3/4 cups sour cream
1/4 cup pure maple syrup
1 1/2 tbsp. vanilla extract
3 cups (15 ounces) all-purpose flour
1 1/4 cups (8 3/4 ounces) granulated sugar
1 1/2 tbsp. baking powder
1 1/4 tsp. baking soda
1 tsp. salt
1/2 cup pecans, toasted, cooled, and ground fine
For the glaze:
1 cup (4 ounces) confectioners' sugar, sifted
Zest of one orange
2 tbsp. freshly squeezed orange juice
Directions:
Make the streusel: Combine the flour, dark brown sugar, cinnamon, and pecans in a small bowl and set aside.
Make the cake: Adjust an oven rack to the lowest position and heat the oven to 350 degrees F. Spray a 12-cup nonstick Bundt pan with cooking spray or grease with softened butter.
Whisk the eggs, sour cream, maple syrup, and vanilla together in a medium bowl.
Using an electric mixer fitted with the paddle attachment, mix the flour, sugar, baking powder, baking soda, salt and pecans until combined. Add the butter pieces and half of the egg mixture and carefully beat on low speed until the mixture begins to come together, about 15 seconds. Scrape down the sides of the bowl, add the remaining egg mixture, and beat on medium speed until the batter is light and fluffy, about 2 minutes (scrape down the sides of the bowl again as needed).
Pour 5 cups of the batter into the prepared pan, using a rubber spatula to smooth the surface. Sprinkle the streusel evenly over the batter and then cover with the remaining batter, spreading it evenly.
Bake until a toothpick inserted into the middle comes out with just a few crumbs attached, about 50-60 minutes. Cool the cake in the pan on a wire rack for 30 minutes, then carefully invert the cake onto the wire rack to cool completely, about 1 hour.
Make the glaze: Whisk the confectioners' sugar, orange zest, and orange juice together in a medium bowl. Using a fork or small whisk, drizzle the glaze over the cake. Enjoy!
*Note: You'll also need 1/2 cup toasted, cooled, finely ground pecans for the cake batter. Be sure to toast them and grind them all at once to save time. A food processor works well for grinding the pecans; grind them until they are sandy and fine, but do not overprocess or they will form a paste and clump together.
**Make ahead note: The unglazed cake can be cooled completely, wrapped tightly in plastic wrap, and stored at room temperature for up to 3 days, or frozen for up to 1 month. To serve, thaw the cake, still wrapped, at room temperature, then remove the plastic wrap and glaze.
Source: Slightly adapted from The Best of America's Test Kitchen, 2007.
This site contains affiliate links. If you make a purchase through these links, I may receive a small commission, at no extra cost to you. Thank you for supporting Kristine's Kitchen!