Roasted Butternut Squash Lasagna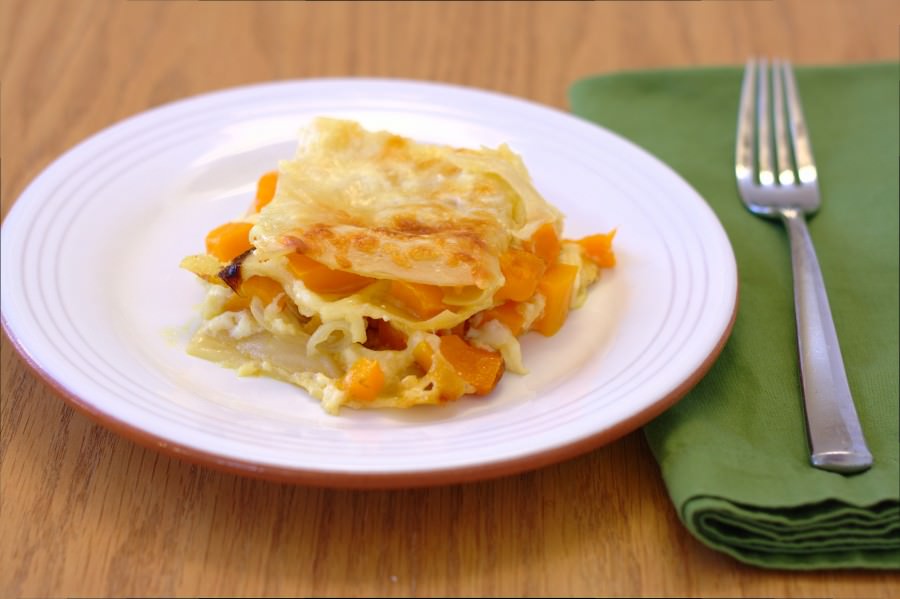 I love cooking with butternut squash this time of year. One of our favorite fall meals is butternut squash soup, homemade rolls, and a green salad. Roasted butternut squash, though, is hard to resist, especially when it's combined with a bechamel sauce and three cheeses in a lasagna. This lasagna reminded me of one of my other favorite butternut squash meals- butternut squash ravioli. It has all of the flavors of the ravioli, but is much easier to put together. The roasted squash, cheese, sage, and pasta, it's all there.
The lasagna requires minimal prep time, especially since it takes advantage of no-boil lasagna noodles. Plus, I always enjoy adding new and flavorful vegetarian meals to my recipe collection. You can assemble the lasagna, make a quick salad, and then sit down for a few minutes of relaxing, or, in my case, playing with the kids, before dinner is ready.
Roasted Butternut Squash Lasagna
Makes 8 servings
Ingredients:
For the vegetables:
1 butternut squash, peeled, seeded, and cut into ½-inch cubes
1 yellow onion, halved and sliced
2 tbsp. extra-virgin olive oil
Kosher salt
For the sauce:
2 tbsp. unsalted butter
10 sage leaves
¼ cup all-purpose flour
4 cups whole milk
Pinch of ground nutmeg
For the lasagna:
Unsalted butter or cooking spray, for the baking dish
4 ounces grated mozzarella cheese (about 1 cup)
4 ounces grated fontina cheese (about 1 cup)
4 ounces grated parmesan cheese (about 1 cup)
1 tbsp. all-purpose flour
9 no-boil lasagna noodles
Directions:
Prepare the vegetables: Preheat oven to 425 degrees F. Place the squash on a rimmed baking sheet and toss with 1 tbsp. olive oil and a sprinkling of salt. Place the sliced onions on a second rimmed baking sheet and toss with 1 tbsp. olive oil and a little salt. Roast vegetables, stirring and rotating baking sheets halfway through, until the vegetables are tender, about 20 minutes. Set aside and reduce oven temperature to 350 degrees.
Meanwhile, make the sauce: Melt the butter in a medium saucepan over medium heat. Add the sage and cook 1 minute. Whisk in the flour until smooth and cook, whisking constantly, until the flour is lightly golden, about 2 minutes. Slowly whisk in the milk until smooth. Bring to a boil, then reduce the heat to medium low and simmer, stirring often, until thickened, about 5 minutes. Stir in the nutmeg.
To assemble the lasagna, butter a 9×13-inch baking dish, or spray with cooking spray. Toss the mozzarella, fontina, parmesan and flour together in a medium bowl and set aside ½ cup for topping the lasagna. Evenly coat the bottom of the baking dish with ½ cup sauce. Lay 3 noodles side by side on top and then cover with 1/3 of the remaining sauce. Sprinkle with half of the cheese and top with half of the vegetables. Lay down 3 more noodles and repeat the layers- sauce, cheese, and vegetables. Top with the last 3 noodles and the rest of the sauce. Sprinkle on the reserved ½ cup cheese.
Cover with foil and bake until bubbly, about 45 minutes. Uncover and cook for about 5 minutes more to brown the cheese on top. Remove from the oven and let stand for 15 minutes before serving.
Source: Food Network Magazine, November 2013.
This site contains affiliate links. If you make a purchase through these links, I may receive a small commission, at no extra cost to you. Thank you for supporting Kristine's Kitchen!