Butternut Squash Stuffed Shells with Brown Butter Alfredo Sauce
---
FREE GROUND BEEF FOR LIFE when you order your first ButcherBox today. Claim Now.
---
The creamy butternut filling for these stuffed pasta shells is lightened up with a secret ingredient.  Plus, brown butter alfredo sauce!  Need I say more?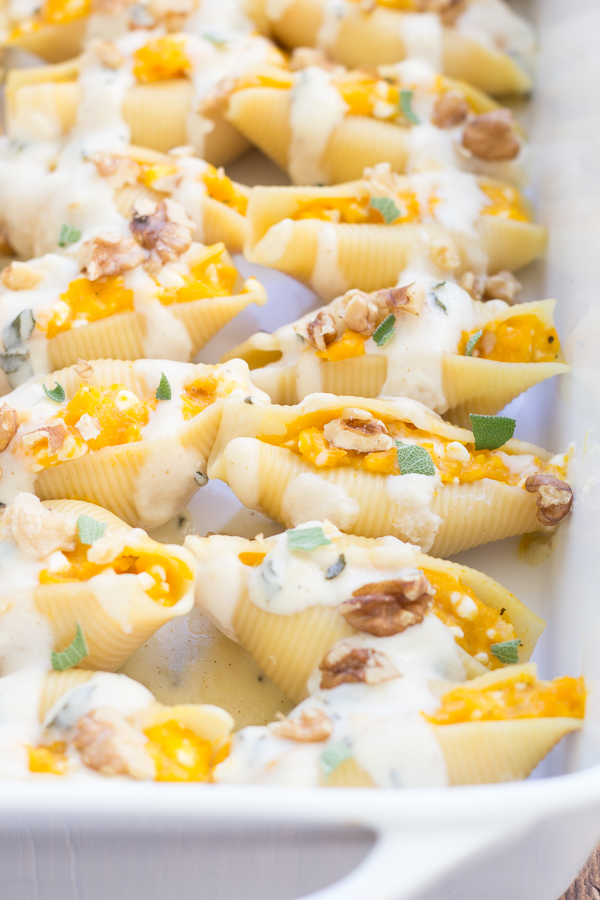 It's the middle of October, and I am ready for the fall season. This past week it was in the high 80's most days, and I know I shouldn't be complaining about this. California weather is certainly nothing to complain about. But I'm ready to feel a chill in the air, ready to wear boots and sweaters, ready to spend afternoons snuggling in and drinking hot cocoa with the kids.
This weekend was a tiny bit better, as there was a breeze in the air and our high temperatures were in the 70's rather than the 80's. I've been craving soup lately, and this weekend it was finally cool enough that I made one of our favorite butternut squash soups.  Our other favorite is this winter soup, full of squash, potatoes, and leeks.
We've been getting lots of butternut squash in our farm box, and I've had to get creative with how to use it. Sometimes I'll toss cubes of squash with some olive oil, salt, and pepper, and roast it. Hannah loves eating roasted squash for dinner.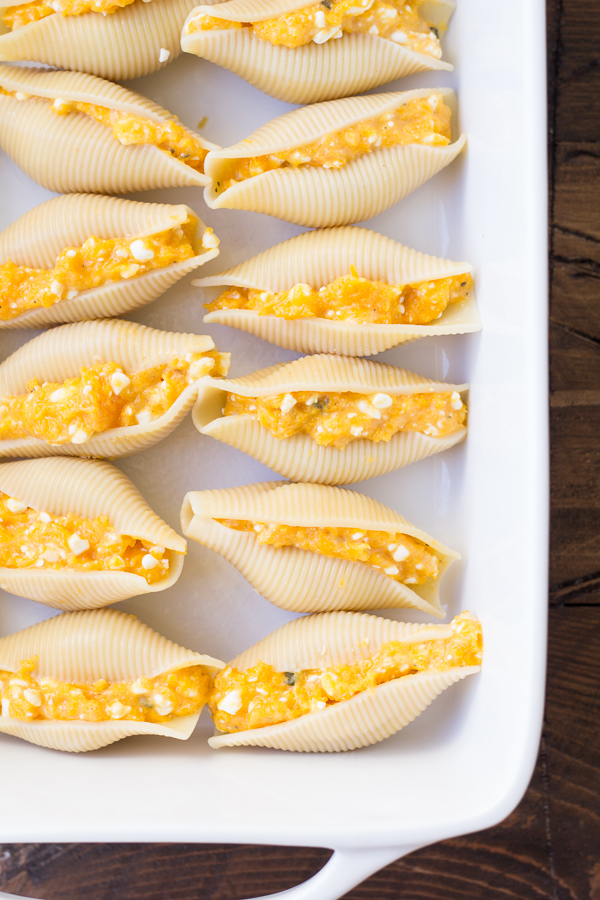 These stuffed shells are another favorite way to enjoy butternut squash. I've used a secret ingredient in these shells to lighten up the filling – cottage cheese. The cottage cheese blends in with the squash, adds some creaminess, and I find that I hardly know it's there when I'm eating these shells. If cottage cheese is just not your thing, go ahead and substitute ricotta.
Prepping these Butternut Squash Stuffed Shells with Brown Butter Alfredo Sauce involve a few steps, but they are all relatively simple. First you'll want to peel and chop your butternut squash, and you can find a great step by step tutorial on how to do that here.
You'll place the chopped squash in a baking dish, toss it with some olive oil, garlic, and Italian seasoning, and roast it in your oven until tender.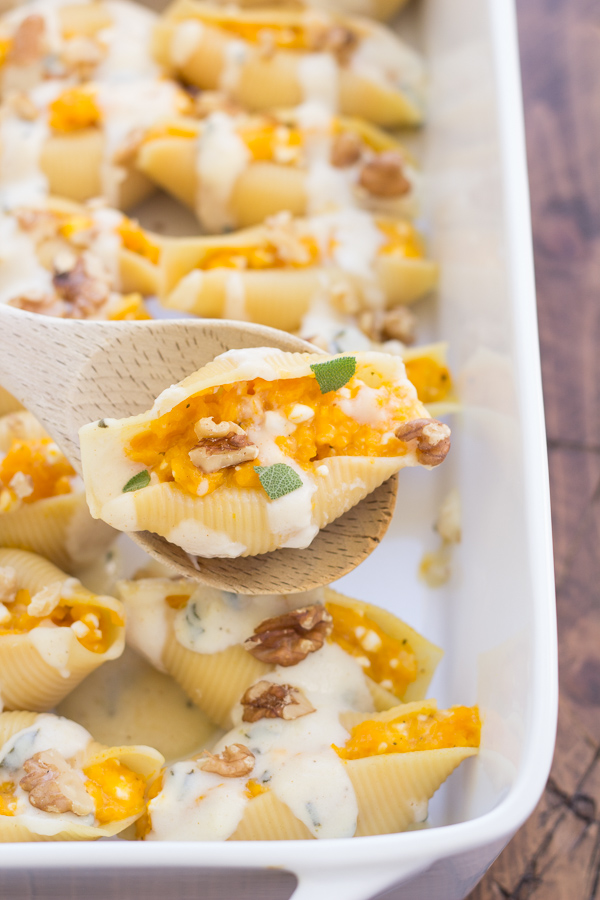 While the squash roasts, boil the jumbo shells and make the brown butter alfredo sauce. This creamy sauce starts with brown butter and fresh sage, and ends with Parmesan cheese and a dash of nutmeg. It's a delicious complement to the creamy mashed butternut squash. You'll mix some of the sauce into the mashed squash and pour the rest on top of the shells before baking.
Stuffing the squash/cottage cheese/alfredo mixture into the shells is really fast and easy. I like to sprinkle chopped walnuts on my shells before baking. The walnuts toast up as the shells bake and add another dimension of flavor and texture to the finished dish.
Brown butter, roasted squash, cheese, toasty walnuts… these Butternut Squash Stuffed Shells with Brown Butter Alfredo Sauce have so much deliciousness going on. They are a comforting fall meal that you'll want to sit down to many times this season.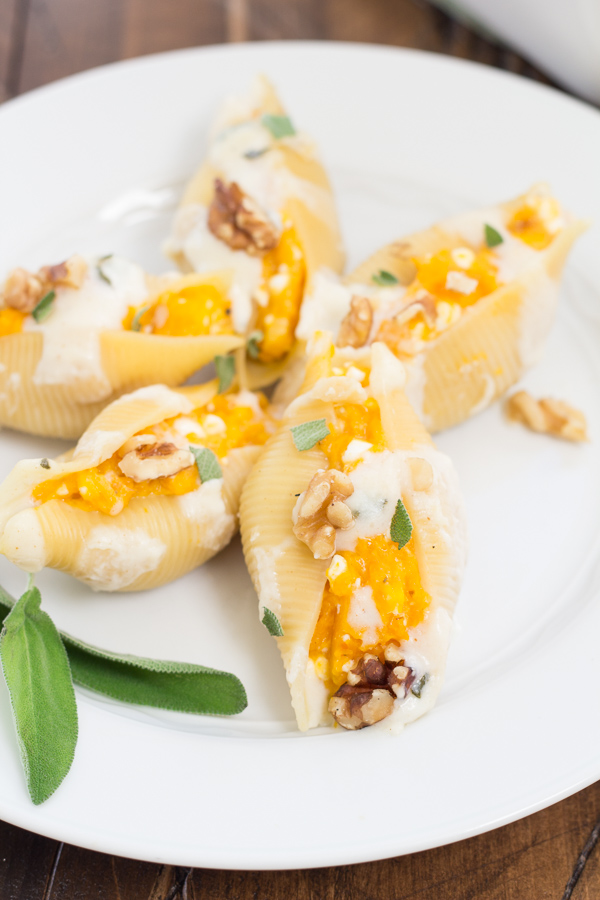 Butternut Squash Stuffed Shells with Brown Butter Alfredo Sauce
The creamy butternut filling for these stuffed pasta shells is lightened up with a secret ingredient. Plus, brown butter alfredo sauce! Need I say more?
Recipe type:
Main Dish, Pasta
Ingredients
For the Stuffed Shells:
1 medium butternut squash
1 tablespoon olive oil
2 cloves garlic, minced
½ teaspoon Italian seasoning
salt and pepper
24 jumbo pasta shells
1 cup cottage cheese*
½ cup chopped walnuts
For the Brown Butter Sage Alfredo Sauce
3 tablespoons unsalted butter
2 tablespoons chopped fresh sage
2 cloves garlic, minced
1 tablespoon all-purpose flour
1 ½ cups lowfat milk
1 cup grated Parmesan cheese
pinch of ground nutmeg
salt and pepper
Directions
Roast the squash:
Preheat oven to 425 degrees F. Peel, seed, and chop the butternut squash into ½-inch pieces. Place on a rimmed baking sheet and toss with the olive oil, garlic, Italian seasoning, ½ teaspoon salt, and a few grinds of black pepper. Roast in the oven for 25 minutes, until tender, stirring halfway through. Remove from the oven and lower oven temperature to 350 degrees F.
Cook the pasta shells:
Meanwhile, bring a large pot of salted water to a boil. Add the pasta shells and cook according to package directions for al dente, about 12 minutes. Drain and lay shells on a sheet of parchment paper to cool.
While the squash and pasta cook, prepare the brown butter alfredo sauce:
In a medium saucepan, melt the butter over medium-low heat. Add the sage and continue to cook, stirring constantly, until brown flecks appear in the butter. Be very careful as the butter can go from brown to burned very quickly. Remove the pan from the heat and add the garlic. Slowly whisk in the flour; return the pan to the heat and whisk in the milk. Cook, stirring, until sauce thickens. Remove from the heat and stir in the Parmesan, nutmeg, and salt and pepper to taste.
Fill the shells:
Scoop the roasted squash into a medium bowl. Use a fork to mash the squash. Add the cottage cheese and ½ cup of the alfredo sauce and stir to combine.
Spray a 9x13-inch baking dish with cooking spray. Scoop about 1 ½ tablespoons of the squash mixture into each shell and place shells, seam side up, in the baking dish. Pour the remaining alfredo sauce over the shells. Sprinkle with the chopped walnuts. Bake, uncovered, for 12-15 minutes until hot. Serve.
*You may substitute ricotta if you prefer.
This site contains affiliate links. If you make a purchase through these links, I may receive a small commission, at no extra cost to you. Thank you for supporting Kristine's Kitchen!