Tropical Granola {plus 5 reasons why you should make your own granola}
---
FREE GROUND BEEF FOR LIFE when you order your first ButcherBox today. Claim Now.
---
To kick off a week of granola recipes, I'm sharing 5 reasons why you should make your own granola, plus a recipe for Tropical Granola. Full of coconut, pineapple, and almonds, this granola will bring a taste of the tropics to your kitchen table!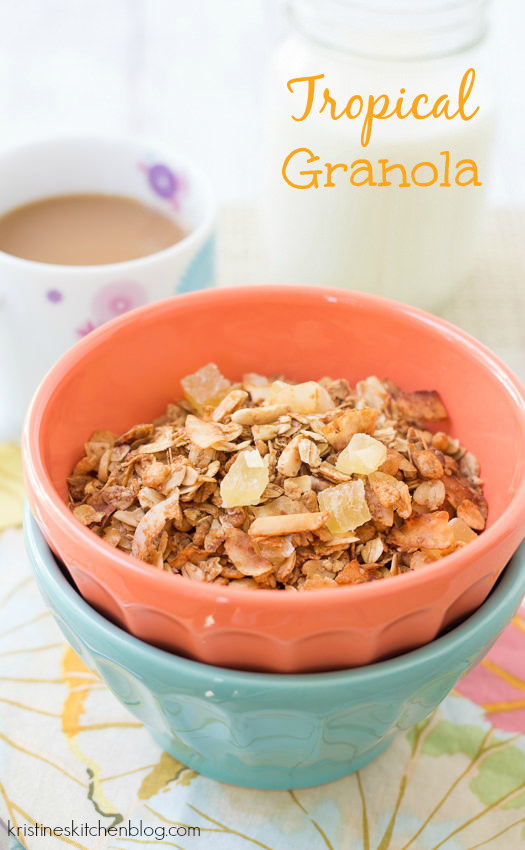 Hi there and Happy Memorial Day! I hope you have the day off and have some outdoor fun planned! I'm heading to our neighborhood park with the kids, and then this afternoon we'll be grilling out in the backyard at my parents' house. It's supposed to be about 90 here today, so we'll head indoors for the hottest part of the day. What have you been up to over this long weekend?
I am super excited about today's post because it kicks off a week of homemade granola recipes. Yes, that's right, here at Kristine's Kitchen it's Granola Week! I have five (five!) new and delicious granola recipes to share with you, one each day this week!  So be sure to check back every day this week for a new, yummy granola recipe!  I'm super excited about this week's recipes and I hope you are too!
Homemade granola is one of my very favorite breakfasts. I make a big batch almost every week, because when we run out of granola it's a very sad morning. I was stuck in a granola rut, making my same favorite granola recipe week after week. It's delicious, but I needed some variety. So, you know, I did what any normal person would do and created five new granola recipes. One day I started jotting down ideas for new twists on homemade granola and before I knew it I had at least five ideas. Which led us here, to a week full of granola recipes. 🙂
Why should you make your own granola?
It's a real, unprocessed food: As I learn more about healthy eating, I'm working towards eliminating processed foods from my family's diet. My grocery lists these days consist of fresh fruits and vegetables, low-fat dairy, ingredients for baking, and lean protein. I do buy the occasional box of crackers, and I don't usually have time to make all of our bread from scratch.  Breakfast cereal is one area where I'm still working. I'd love to stop buying boxes of cereal, except for the occasional box of Cheerios. By making a big batch of granola each week, I'm making great progress towards my goal. Every ingredient in my homemade granola is a real, recognizable food.

It's a healthy food: Old-fashioned oats are a heart-healthy way to start your day. I love a hot bowl of oatmeal, but it does get tiresome after a while, especially in the summer months. With homemade granola, I can control the amount of sugar in my breakfast. You will find that my granola recipes are lightly sweetened but still have plenty of flavor.  It's easy to add other good-for-you ingredients, like flaxseed, to homemade granola as well.

It's customizable: The possibilities for homemade granola are endless. This week I will share some of my favorite recipes, but you can easily invent your own or even modify mine. If a recipe calls for olive oil, for example, you can substitute coconut or canola oil. Don't have pure maple syrup? Use honey instead. Don't care for coconut? Leave it out, or add another mix-in in its place.
It's quick and easy to make: All of my granola recipes can be mixed up in 20 minutes or less. I often will make a double batch because it doesn't take any more effort and doesn't disappear quite so fast! One big tip I can give you is to use your kitchen scale to measure the ingredients by weight. It's faster, and you won't dirty so many measuring cups. I place a big bowl on my scale and add the ingredients one at a time, zeroing the scale before each new ingredient.
You will look forward to breakfast!: This is the reason that will keep you making batch after batch of granola. I have been known to mix up a quick batch in the late evening, just because I really, really wanted to wake up to homemade granola in the morning. It just makes mornings better. 🙂  Homemade granola tastes so much better than any granola you can buy at the store.
Now, on to today's recipe! This tropical granola is full of all sorts of yummy things. I mixed in coconut, slivered almonds, and dried pineapple. I added some puffed brown rice cereal to keep the granola light, and coconut oil to help the oats become crisp.
For years, I've believed that I didn't like coconut. I liked the flavor of coconut, but it was the texture that I couldn't stand. I knew coconut was pretty essential to a tropical granola, though, so I added some coconut flakes anyways. Guess what? It seems I do like coconut flakes, but only when they are toasted. Since making this tropical granola I've been experimenting with toasted coconut flakes in all sorts of recipes. I'm still not a fan of the texture of shredded coconut, but can't get enough of the flaked kind!
This granola will bring a little taste of the tropics into your morning! My favorite way to enjoy it is with a splash of milk and topped with some fresh mango.
Tropical Granola
Full of coconut, pineapple, and almonds, this tropical granola will bring a taste of the tropics to your kitchen table!
Serves:
Makes about 7½ cups
Ingredients
4 cups (340g) old-fashioned oats
1 cup (30g) puffed brown rice cereal
1 cup (40g) dried coconut flakes
½ cup (65g) slivered almonds
¼ cup (20g) wheat germ
1 tsp. cinnamon
¼ tsp. Kosher salt
¼ cup coconut oil, melted*
½ cup honey
½ tsp. vanilla extract
¾ cup (100g) chopped dried pineapple
chopped fresh mango, for serving (optional)
Directions
Preheat oven to 300 degrees F.
In a large bowl, stir together oats, brown rice cereal, coconut, almonds, wheat germ, cinnamon, and salt.
In a liquid measuring cup or bowl, whisk together coconut oil, honey, and vanilla. Pour over oat mixture and stir until well combined.
Spread granola in an even layer on a rimmed baking sheet. Bake, stirring every 10 minutes, until granola is lightly golden, about 30 minutes total.
Let granola cool completely before stirring in dried pineapple. Serve with chopped fresh mango, if desired. Granola will keep in an airtight container in the refrigerator for 2 weeks, but I'm betting it won't last that long!
*Note: I used virgin coconut oil in this granola, because it adds even more coconut flavor. You could also use refined coconut oil, but your granola won't have as much coconut flavor throughout.
Source:
Kristine's Kitchen
.
This site contains affiliate links. If you make a purchase through these links, I may receive a small commission, at no extra cost to you. Thank you for supporting Kristine's Kitchen!