*Updated 7/11/11 to reflect a few changes that I think improve the recipe and resulting pizza crust!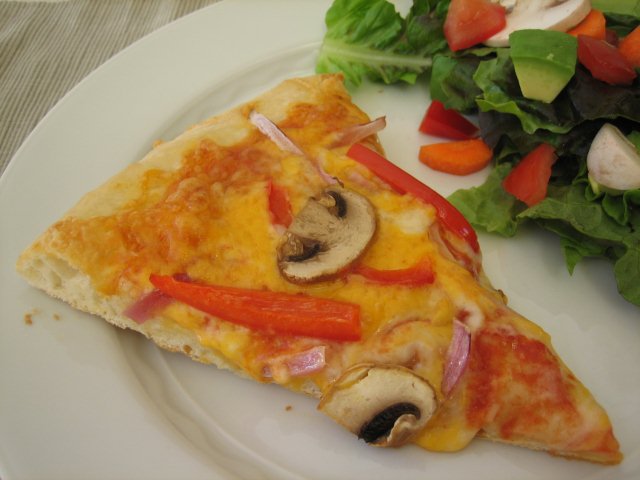 Brad and I have been making homemade pizzas for many years now, and we have tried many different pizza dough recipes.  This recipe is our clear favorite.  It calls for bread flour rather than all-purpose. The bread flour gives the pizza crust that chewiness and crispness that we all want.
The recipe makes two balls of dough for two large pizzas. Since we only need one pizza for the two of us, I usually freeze one ball of dough. To freeze, just lightly coat the dough ball in flour and place it in a zip top bag in the freezer right after kneading it (before letting it rise). The day before you want to use the frozen dough, place it in the refrigerator. Take it out of the refrigerator 2-4 hours before you need to assemble your pizza (the cold dough will take longer to rise).
This pizza is a simple vegetable pizza with tomato sauce, monterey jack, cheddar, and Parmesan cheeses, red bell pepper, mushrooms, and red onion as the toppings.
Pizza Dough
Makes 2 balls of dough (enough for 2 large pizzas)
Ingredients
½ cup warm water (about 110 degrees)
1 envelope (2 ¼ teaspoons) instant (rapid-rise) yeast
1 ¼ cups water, at room temperature
2 tablespoons extra-virgin olive oil
4 cups (22 ounces) bread flour, plus more for dusting work surfaces & hands (all-purpose flour may be used, but the resulting crust will be less crisp)
1 ½ teaspoons salt
Directions
Measure the warm water into a 2-cup liquid measuring cup.  Sprinkle in the yeast and let stand until the yeast dissolves and swells, about 5 minutes.  Add the room-temperature water and oil and stir to combine.
Place the flour and salt in the bowl of a stand mixer fitted with the paddle attachment.  Mix briefly to combine.  With the mixer on low speed, slowly pour in the wet ingredients and continue mixing until a cohesive mass forms.  Stop the mixer and replace the paddle with the dough hook.  Knead until the dough is smooth and elastic, about 5 minutes.
Form the dough into a ball and place it in a large oiled bowl.  Cover with plastic wrap and let rise until doubled in size, 1 ½ to 2 hours.
Transfer the dough to a lightly floured work surface and punch down to deflate it.  Divide the dough into two equal pieces and form each piece into a smooth, round ball.  (If desired, one ball of dough may be frozen at this point.)  Cover the dough with a clean, damp kitchen towel and let rest for about 10 minutes before shaping.
To bake, preheat a pizza stone in a 500 degree F oven for at least 30 minutes.  Place a piece of parchment paper on a rimless baking sheet and sprinkle with cornmeal. Roll out your pizza dough, and place it on the parchment.  Top your pizza as desired.
Reduce oven temperature to 425 degrees.  Slide the dough onto the heated pizza stone, using the baking sheet to help with the transfer (I just put the parchment paper and pizza directly onto the pizza stone). Bake until the crust edges brown and the cheese is golden brown in spots, 8-12 minutes.
Cut the pizza into wedges and serve immediately.
Recipe from Baking Illustrated