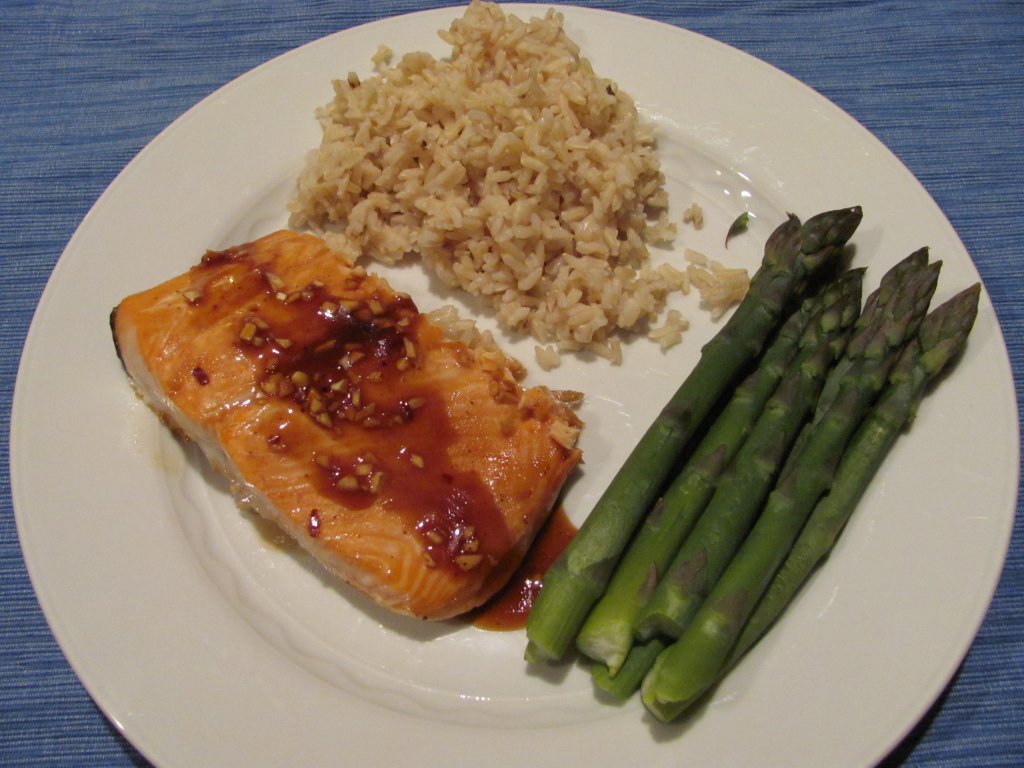 This Asian Glazed Salmon is full of flavor and fast and easy to prepare. All of the ingredients (except for the salmon) are mixed together to form a glaze. You spread half of the glaze on the salmon and then pop it in the oven. That's it! Once the salmon is cooked through, you drizzle it with the remaining glaze and serve.  How easy is that?
If you read over the ingredient list you'll see why this salmon is so delicious: Hoisin sauce, brown sugar, lime juice, soy sauce, ginger, garlic, red pepper flakes… these combine to create a wonderful Asian-inspired glaze that really complements the salmon. This is a dish that I'm sure I'll make again and again.
One year ago:  Pasta with Mini Turkey Meatballs
Asian Glazed Salmon
Makes 4 servings
Ingredients:
2 lb. piece of salmon, center cut with skin on
1/4 cup Hoisin sauce
2 Tbsp. light brown sugar
1 Tbsp. fresh lime juice
1 Tbsp. low-sodium soy sauce
2 tsp. finely chopped or grated ginger
1 medium garlic clove, minced
1 tsp. sesame oil (or olive oil if that's what you have on hand)
1/2 tsp. crushed red pepper flakes (or to taste)
1/4 tsp. ground black pepper
Directions:
Preheat the oven to 425 degrees. Line an 8×8 inch glass baking dish with foil and spray with cooking spray. Place the salmon, skin side down, in the dish.
In a small bowl, combine the remaining ingredients and stir well to combine. Spread half of the glaze on the fish. Bake for 15-18 minutes, depending on the thickness of the fish, or until it is done to your preference. To prevent the glaze from burning on the bottom of the pan, during the last few minutes of baking, add 1 to 2 tablespoons of water, or more as needed, to the pan. Garnish with wedges of lime and drizzle the remaining sauce on top.
Recipe slightly adapted from Cooking with Karen, originally adapted from Sur la Table