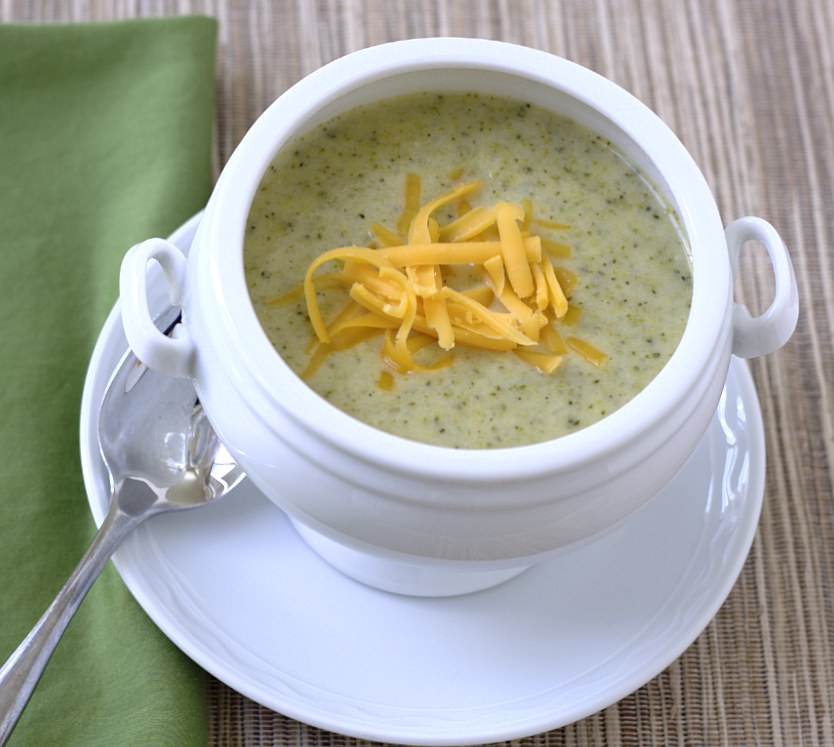 With the arrival of cooler weather I have been craving soup. Lately I've also been wanting a hot meal for lunch, as opposed to my usual sandwich and fruit. So today I decided to make some Broccoli Cheddar Soup for us. I also happened to have a few Honey Yeast Rolls in my freezer. The homemade rolls and soup were just right for a satisfying lunch on a fall day. And the best part is we now have leftover soup to enjoy for lunch the next few days. 

One year ago: Autumn Apple and Spinach Salad
Broccoli Cheddar Soup
Makes 6-8 servings
Ingredients:
2 tbsp. unsalted butter
1 medium onion, chopped
2 garlic cloves, minced
3 cups broccoli, cut into small florets
2 medium Yukon gold potatoes, diced small
4 cups low-sodium chicken broth
1 1/2 cups grated cheddar cheese
1/4 cup half n half
Salt and pepper
Directions:
Melt butter over medium heat in a large pot or Dutch oven. Add onion and cook 3-5 minutes, until soft. Add garlic and cook 1 minute, until fragrant. Add broccoli, potatoes, and chicken broth.
Bring to a boil and then reduce heat to a low simmer. Cover and cook 10-15 minutes, until broccoli and potatoes are tender.
Remove from heat and stir in cheese until melted. Using an immersion blender, puree the soup until smooth. (Alternatively, you can transfer the soup in batches to a blender or food processor to puree.)
Stir in half n half and season with salt and pepper to taste. Heat over low heat, if necessary.
Recipe is a Kristine's Kitchen original.