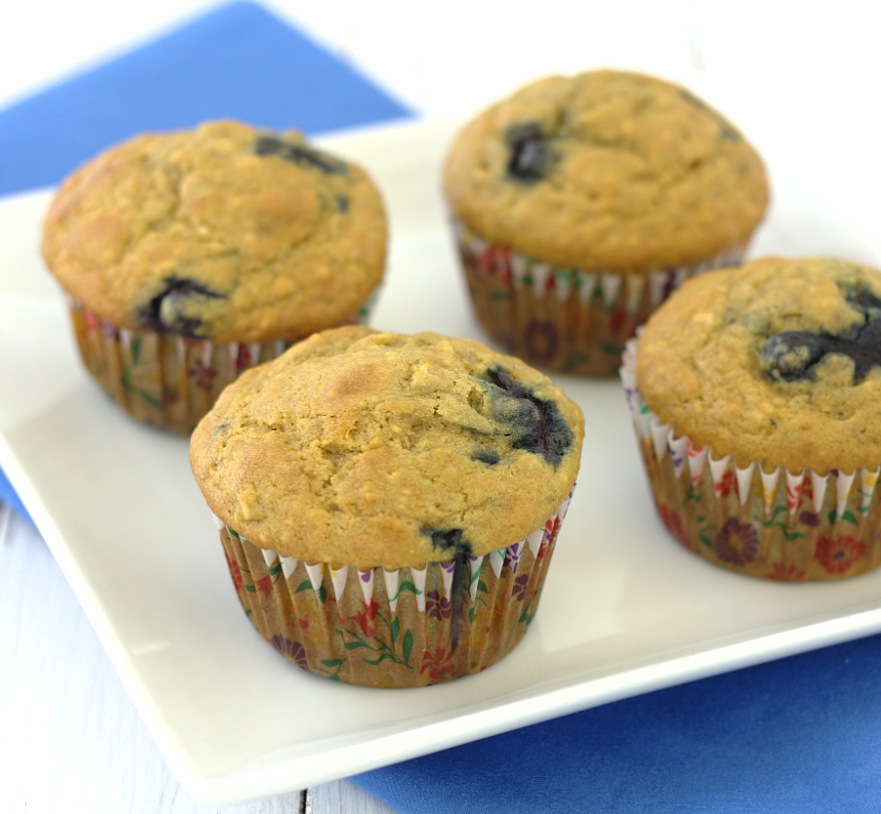 I have a number of great blueberry muffin recipes that I turn to time and time again. But, since I love to try new recipes, I didn't hesitate to try these banana blueberry muffins. They came with great reviews, plus I liked that they were a healthy version of a muffin, made with oats and whole wheat flour.
I enjoyed these every bit as much as I hoped I would. They are moist and tender with just the right amount of sweetness. The banana flavor is there but not overpowering, and I appreciate that the recipe calls for frozen blueberries, which I always have in my freezer.
The next time you go to bake a batch of blueberry muffins, I hope you will try these. They freeze well, making them an ideal breakfast snack to grab as you head out the door on a busy weekday morning.
One year ago:  Honey Roasted Sweet Potatoes
The Best (Healthy) Banana Blueberry Muffins
Makes 12 muffins
Ingredients:
1/4 cup (4 tbsp.) unsalted butter, room temperature
1/4 cup plain yogurt (I used plain Greek yogurt)
1/3 cup granulated sugar
1/3 cup packed light brown sugar
2 large eggs
1/4 cup quick or regular oats
1 3/4 cups whole wheat flour
1 tsp. baking soda
1/2 tsp. salt
2 ripe bananas, lightly mashed
1/3 cup milk
1 tsp. vanilla extract
1 cup frozen blueberries
2 tsp. all-purpose flour
Directions:
Preheat the oven to 375 degrees F. Lightly grease a 12-cup muffin tin with cooking spray or line with paper liners.
In the bowl of a stand mixer fitted with the paddle attachment, beat together the butter, yogurt, and sugars until the mixture is light and fluffy. Add the eggs and beat well. In a blender or food processor, process the oats until they are finely ground. Add the whole wheat flour, baking soda, and salt, and pulse a few times until combined.
Pour the dry ingredients into the wet and mix until just combined. Mix in the lightly mashed bananas. Stir in the milk and vanilla.
Toss the blueberries with the 2 tsp. flour and then gently fold them into the batter. Divide batter evenly between the muffin cups. Bake for 20-22 minutes or until a toothpick inserted in the center comes out clean. Let cool for 5 minutes in the pan and then remove to a wire rack to cool completely.
Source: Mel's Kitchen Cafe, originally from Everyday Food.