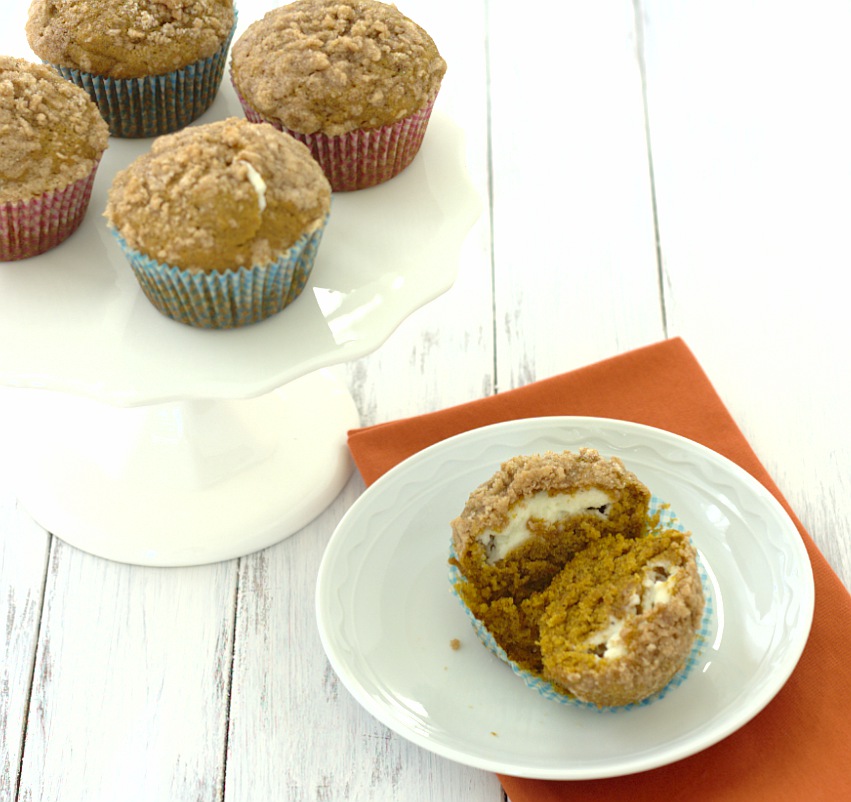 Have you done any fall baking yet? I've been slow to get into the idea of fall being here this year, possibly because we've still been having lots of warm weather. We did have a few cool days last week, but now we're back to temperatures in the 80's. I'm fully enjoying the sunshine and warm mornings at the park while we still can.  Soon enough I'll get to savor fall's crisp air and rainy afternoons spent indoors with a cup of tea.
These pumpkin cream cheese muffins are the first treat I've baked with pumpkin this season. They do require a little more effort than most muffins because there are three components to mix up: the pumpkin batter, a cream cheese filling, and a streusel topping. The three different parts are what make these so exceptional, though, so it's well worth the extra time in the kitchen. Be sure to plan ahead, as you'll need to freeze the cream cheese filling for at least 2 hours before you can bake the muffins.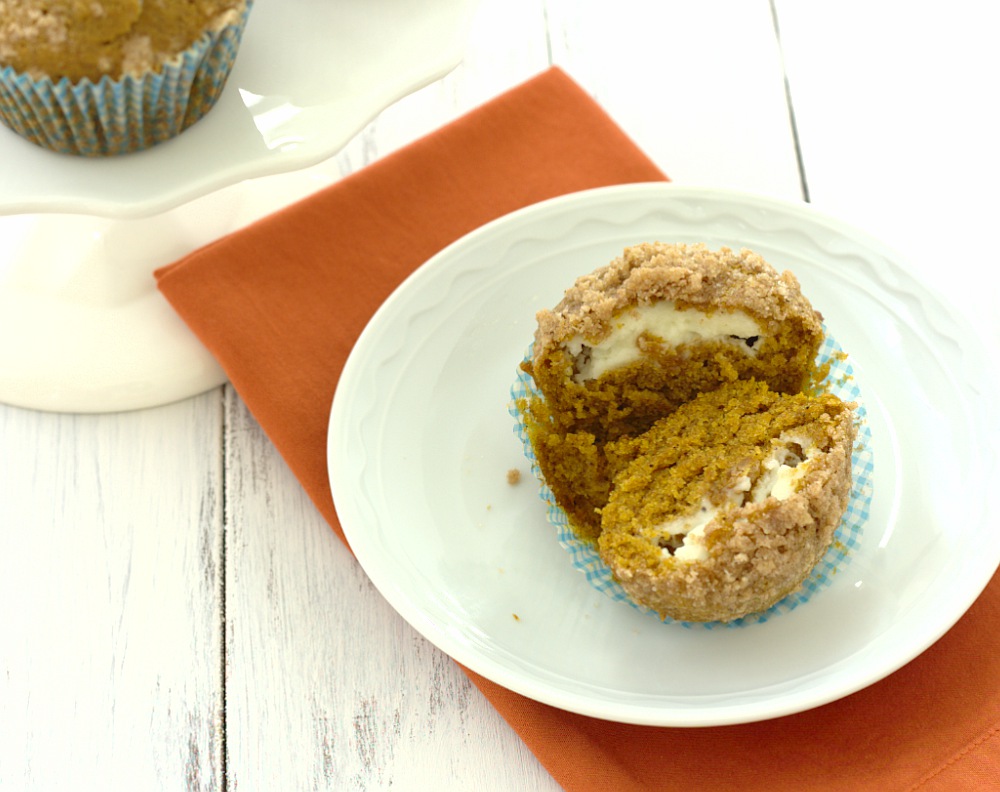 The muffins are perfectly spiced and the cream cheese filling is a sweet little surprise to complement the pumpkin muffin. One batch makes 24 muffins, and while that may seem like a lot, I recommend baking a full batch because these freeze really well, plus if you share a few you'll make someone very happy.

Pumpkin Cream Cheese Muffins
Makes 24 muffins
Ingredients:
For the cream cheese filling:
8 oz. cream cheese, softened
1 cup confectioners' sugar
For the muffins:
3 cups all-purpose flour
1 tsp. ground cinnamon
1 tsp. ground nutmeg
1 tsp. ground cloves
1 tbsp. plus 1 tsp. pumpkin pie spice
1 tsp. salt
1 tsp. baking soda
4 large eggs
2 cups sugar
2 cups pumpkin puree (one 15 oz. can works well)
1 1/4 cups vegetable oil
For the topping:
1/2 cup sugar
5 tbsp. flour
1 1/2 tsp. ground cinnamon
4 tbsp. cold unsalted butter, cut into pieces
Directions:
To prepare the filling, combine the cream cheese and confectioners' sugar in a medium bowl and mix well until blended and smooth. Transfer the mixture to a piece of plastic wrap and shape into a log about 1 1/2-inches in diameter. Smooth the plastic wrap tightly around the log, and reinforce with a piece of foil. Transfer to the freezer and chill until at least slightly firm, at least 2 hours.
To make the muffin batter, preheat the oven to 350˚ F. Line muffin pans with paper liners. In a medium bowl, combine the flour, cinnamon, nutmeg, cloves, pumpkin pie spice, salt, and baking soda; whisk to blend. In the bowl of an electric mixer, combine the eggs, sugar, pumpkin puree, and oil. Mix on medium-low speed until blended. With the mixer on low speed, add in the dry ingredients, mixing until just incorporated.
To make the streusel topping, combine the sugar, flour, and cinnamon in a small bowl; whisk to blend. Add in the butter pieces and cut into the dry ingredients with a pastry blender or two forks until the mixture is coarse and crumbly. Transfer to the refrigerator until ready to use.
To assemble the muffins, fill each muffin well with a small amount of batter, just enough to cover the bottom of the liner (1-2 tablespoons). Slice the log of cream cheese filling into 24 equal pieces. Place a slice of the cream cheese mixture into each muffin well. Divide the remaining batter among the muffin cups, placing on top of the cream cheese to cover completely. Sprinkle a small amount of the streusel topping over each of the muffins.
Bake for 20-25 minutes. Transfer to a wire rack and let cool completely before serving.
Source: Annie's Eats