You will love this vegetarian take on enchiladas!  These Sweet Potato and Black Bean Enchiladas are a spicy, cheesy, and filling meatless main dish.
What's your favorite Mexican entree?  For me, I'd have to say it's a tie between tacos and enchiladas.  I just never seem to tire of them, and I find myself adding a Mexican-inspired meal to my menu plan at least once a week.  Part of the reason why I love tacos and enchiladas so much is that there are endless ways to customize and adapt them.  These Sweet Potato and Black Bean Enchiladas are a healthy take on this favorite dish.
While the filling for these enchiladas is meatless, it's definitely not lacking in flavor.  Besides the sweet potato and black beans, these enchiladas are filled with onion, spices, and cheese.  They're topped with salsa, a little more cheese, and a drizzle of thinned out Greek yogurt, if you desire.
Like most moms, you are probably struggling to find the TIME to put a homemade dinner on the table for your family on busy weeknights. If you already had a plan, a grocery list, easy recipes and prep-ahead tips, you could have a REAL dinner on your table in a flash! I have been meal planning and prepping for years and now I am sharing my plan with YOU. You will save time, save money cooking at home, and eat real food.
Learn more about my Time-Saving Healthy Family Meal Plan.
Looking at the photos of these, I am totally craving them again!  It's been a while since I've made these enchiladas (they were stuck in my list of recipes to post for a while, for shame), and I'm thinking they need to go on my menu plan for next week.  Since they freeze wonderfully, the extras will be perfect to have on hand for the busy weeknights that are soon to come once the new school year begins.
Like what you see? Be sure to follow along to never miss a recipe!
PINTEREST | FACEBOOK | INSTAGRAM | GOOGLE+ | TWITTER | EMAIL | RSS
Sweet Potato and Black Bean Enchiladas
You will love this vegetarian take on enchiladas! These Sweet Potato and Black Bean Enchiladas are a spicy, cheesy, and filling meatless main dish.
Ingredients
2 medium sweet potatoes, peeled and chopped into ½-inch cubes (about 3 cups)
1 small red onion, finely chopped
15 oz. can black beans, rinsed and drained
4 oz. canned diced green chiles (about ½ cup)
1 tbsp. chili powder
½ tbsp. cumin
½ tsp. garlic powder
¼ tsp. Kosher salt
¼ tsp. freshly ground black pepper
2 cups salsa
8 oz. Colby jack cheese, shredded
8 8-inch whole-wheat flour tortillas
Greek yogurt or sour cream, for serving
Fresh chopped cilantro, for garnish
Directions
Preheat oven to 350 degrees F.
Place sweet potato cubes in a steamer basket atop a pot of water; bring to a boil. Cook until tender, about 15 minutes.
In a large bowl, combine the cooked sweet potato, red onion, black beans, green chiles, chili powder, cumin, garlic powder, salt, and pepper. Stir to combine.
Spread ¾ to 1 cup of the salsa in the bottom of a large baking dish. Warm the tortillas for a minute in the microwave. Fill each tortilla with a heaping ½ cup scoop of the filling, a few tablespoons of cheese, and roll it up. Place enchiladas seam-side down in the baking dish. Once all of the enchiladas have been assembled, top with the remaining salsa and cheese.
Bake for about 20 minutes in the preheated oven, until the filling is hot and the cheese is melted. To serve, garnish with Greek yogurt or sour cream (mix with a little bit of water to loosen it if desired) and fresh chopped cilantro.
Note:
Enchiladas can be frozen before baking. Wrap them well so they aren't exposed to any air, and then thaw in the refrigerator or microwave before baking.
Adapted from
A Couple Cooks
.
Need more enchilada inspiration?  Here are a few of my other favorites!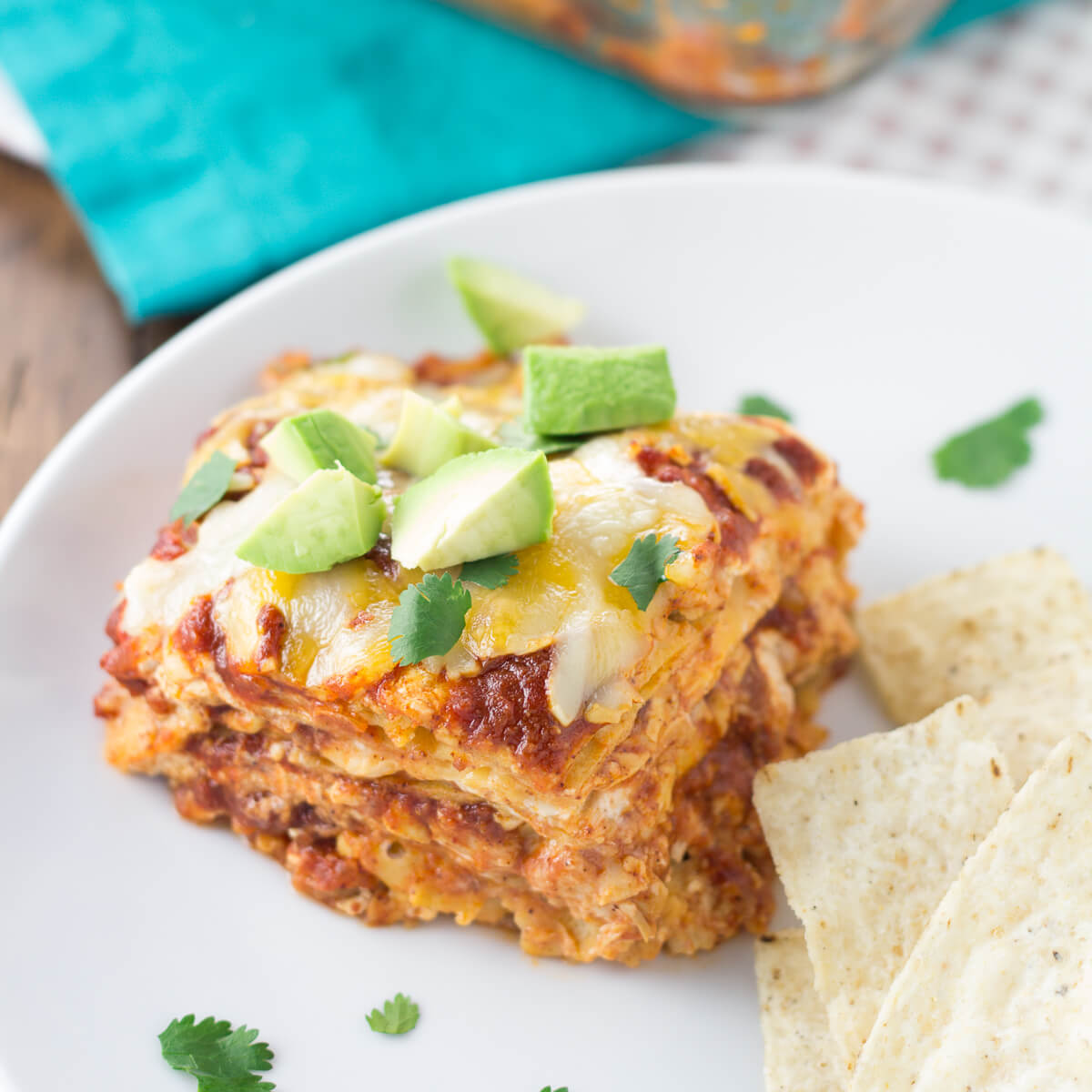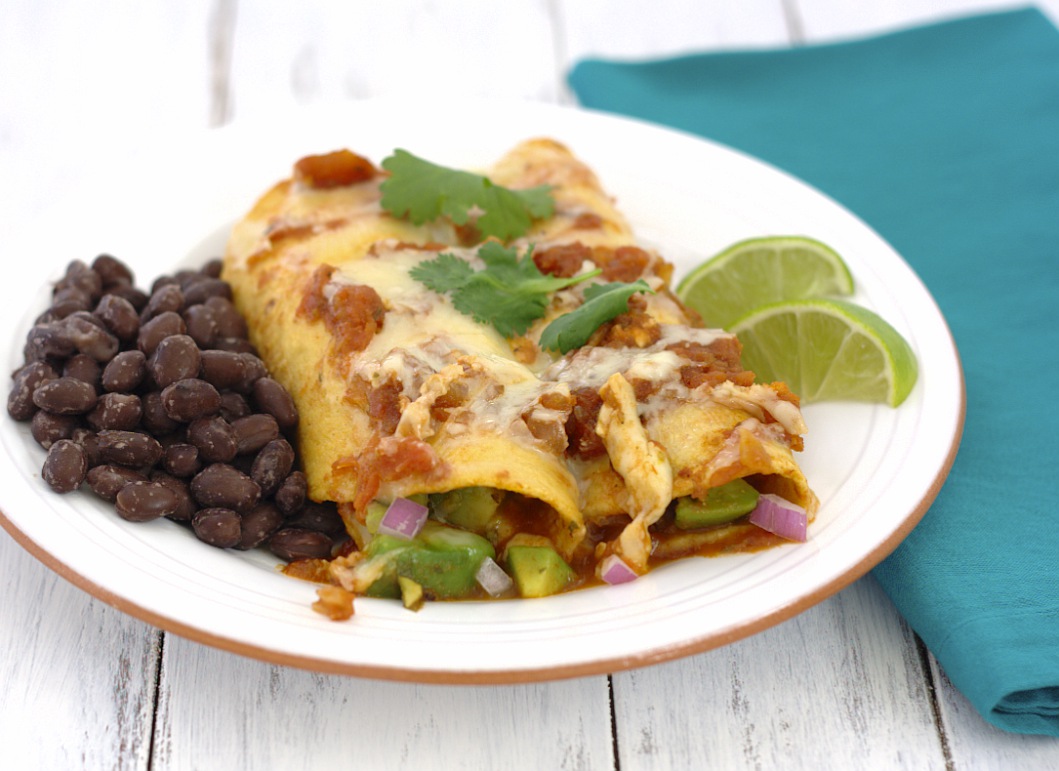 Quinoa and Sweet Potato Enchilada Casserole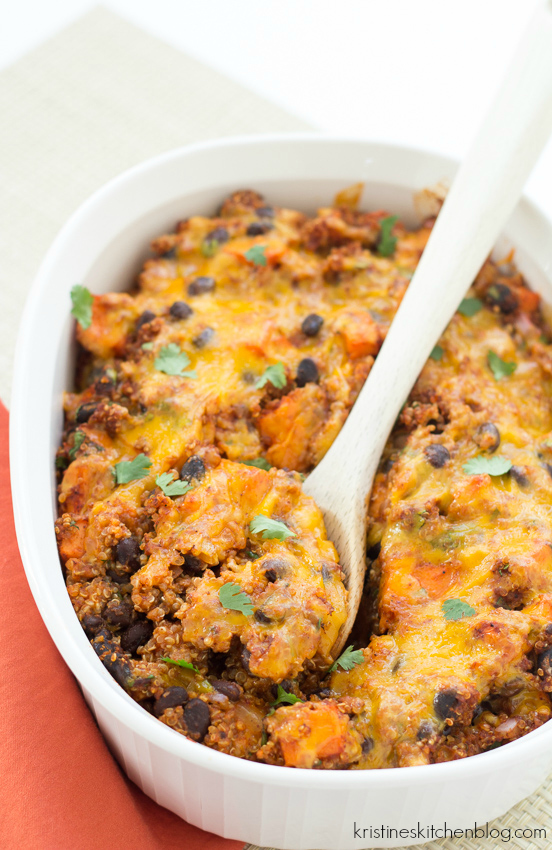 Quinoa Enchilada Stuffed Delicata Squash