Hummus Veggie Wrap
---
Which Instant Pot should you buy? See my guide.
---
This hummus veggie wrap makes a healthy and delicious lunch or easy dinner. It's quick to prep and packs well for work or school lunches!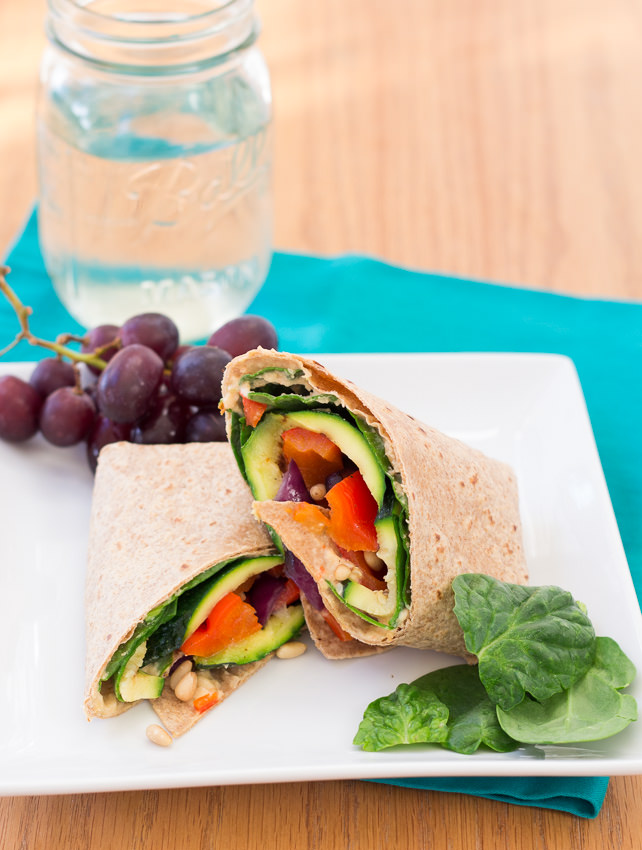 I'm always trying new recipes for dinner, snacks, and treats, but lunch often gets overlooked in my menu planning process. Which means we end up eating a lot of sandwiches, cheese quesadillas, and, sometimes leftovers. Usually I don't have much time to devote to preparing lunch, so if I'm going to make something out of the usual rotation it needs to be easy.
These hummus veggie wraps totally fit the quick and easy requirement. Besides assembling the wraps, the only prep work needed is to grill the zucchini and red onions. This can easily be done indoors, so long as you have a grill pan. Oh, and you can toss the pine nuts in a skillet to toast for two minutes while the vegetables are grilling. Not much effort is needed to do that.
I actually made these for dinner one night, and then I had the leftovers for lunch the next day. The grilled vegetable wraps make a filling meal, with a salad or some fresh fruit on the side. Since I made these for dinner, I had a few extra minutes to prep during nap time. While William slept, Julia helped me make homemade hummus and roasted bell peppers (she's great at peeling off the charred skins!). Each of these takes about 10 minutes. Sometimes, with kids at your feet or other obligations to attend to, you don't have a few extra minutes to spare. In that case, buy a jar of roasted red peppers and a container of hummus from the grocery store. I won't tell. 😉
How to make a Hummus Veggie Wrap
1. Spread a layer of hummus on a large tortilla.
2. Sprinkle on toasted pine nuts, for crunch.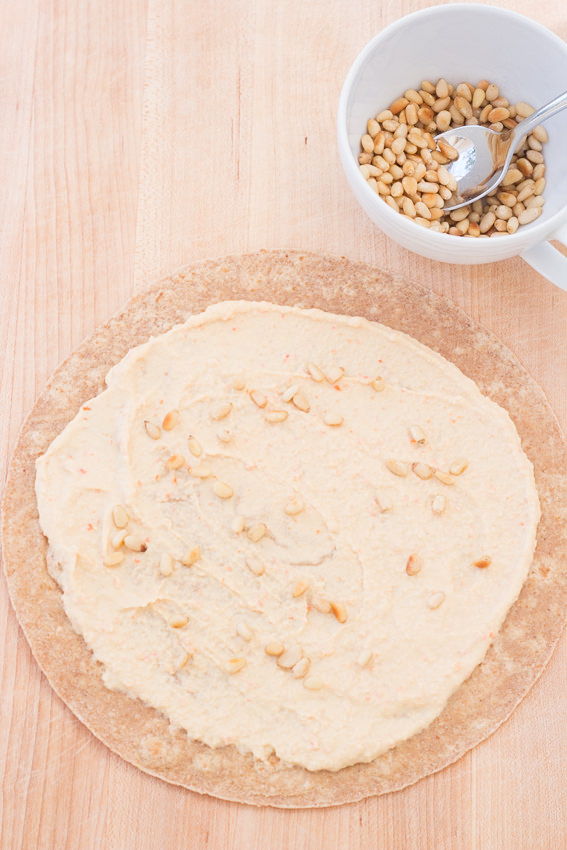 3. Add a layer of fresh spinach leaves.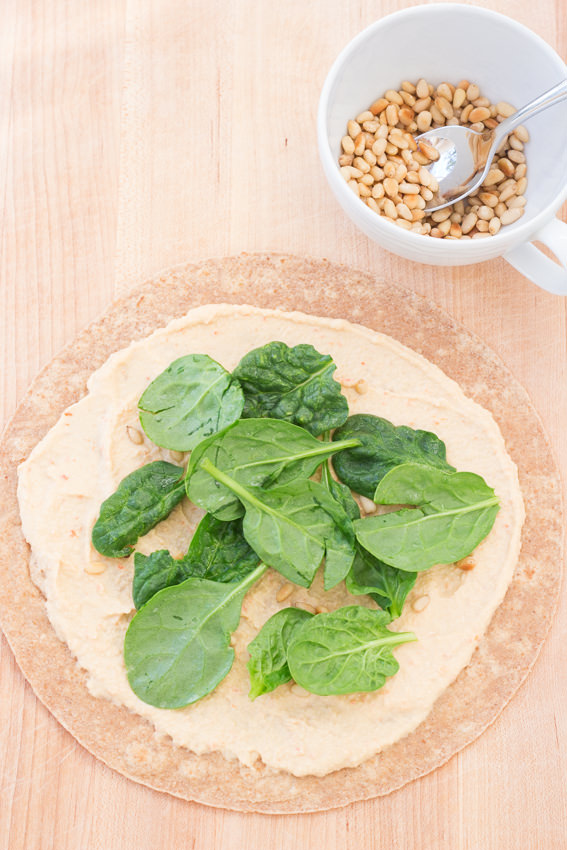 4. Pile on the grilled veggies! I like to use zucchini, bell peppers and red onions. You can use whatever vegetables you like. This veggie wrap recipe is a great way to use up leftover vegetables that you have in your refrigerator at the end of the week!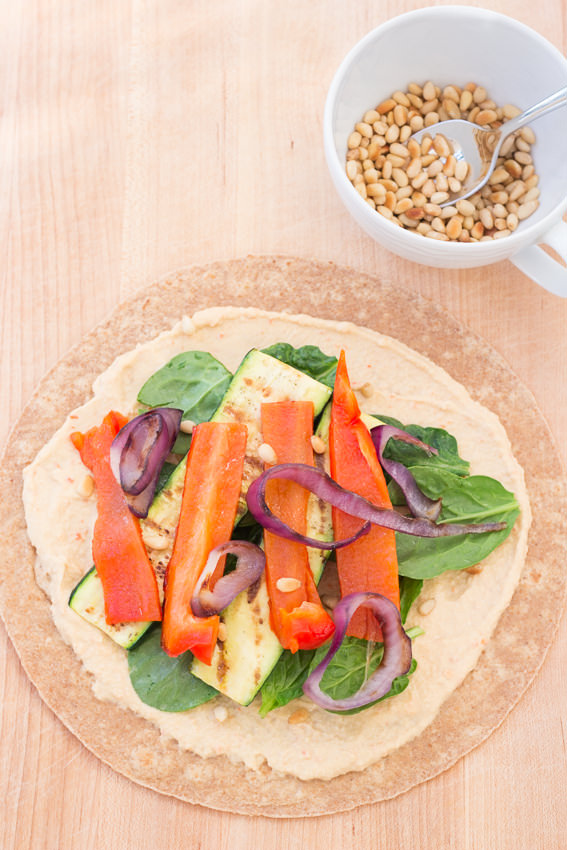 5. Roll up the tortilla, burrito-style and serve.
These wraps are great for grab and go work lunches. They also pack well in school lunch boxes.
More Healthy Lunch Recipes:
Hummus and Grilled Vegetable Wrap
This hummus and grilled vegetable wrap makes a healthy and delicious lunch or easy dinner.
Ingredients
2 medium zucchini, sliced lengthwise ¼-inch thick
1 small red onion, sliced into ¼-inch thick rounds
2 tsp. extra virgin olive oil
Salt and pepper
Four 9-inch whole-wheat wraps
1 cup hummus
¼ cup pine nuts, lightly toasted
2 ounces (about 2 cups) baby spinach leaves
2 roasted red peppers, cut into quarters (jarred or see how to roast bell peppers)
Directions
Heat a grill or grill pan over medium heat. Lightly brush both sides of the zucchini slices and red onion rounds with olive oil and season with salt and pepper. Grill until tender and slightly browned, about 4 minutes per side.
Spread ¼ cup hummus over each wrap. Sprinkle each with 1 tablespoon pine nuts and ½ cup of the spinach. Divide the zucchini slices, onions, and roasted red peppers between the wraps. Roll each wrap up and cut in half on the diagonal.
This site contains affiliate links. If you make a purchase through these links, I may receive a small commission, at no extra cost to you. Thank you for supporting Kristine's Kitchen!