Pan-Seared Tilapia with Melon Salsa
---
Which Instant Pot should you buy? See my guide.
---
A refreshing fruit salsa is the perfect counterpart to pan-seared tilapia. 
I feel like I'm stuck somewhere in between summer and fall. In the blog world, it's all about pumpkin and apples. Which, by the way, I am totally ready for. I've shopped for a few new pairs of maternity jeans (gotta have the skinny jeans to go with my boots!) and sweaters, and can't wait to wear them. The only problem? We've had temperatures in the nineties for the past week and according to the forecast, plenty more warm weather is to come. Maybe October will bring cooler days?  Sigh.
I'm balancing this all out by both baking with pumpkin and enjoying lighter, no-oven-necessary meals. Like this Pan-Seared Tilapia with Melon Salsa. The cool salsa is the perfect counterpart to the pan-seared fish. You can use your favorite white fish in this recipe. I like tilapia because it's affordable and cooks really quickly.
I made my favorite easy brown rice and some grilled zucchini to serve alongside the tilapia. This was an easy dinner and the perfect way to wrap up the weekend. Enjoy!

Pan-Seared Tilapia with Melon Salsa
A refreshing fruit salsa is the perfect counterpart to pan-seared tilapia.
Ingredients
1 cup chopped cantaloupe
1 cup chopped honeydew melon
¼ cup finely minced red onion
¼ cup minced fresh cilantro
juice of one lime
salt and pepper
1 ½ pounds tilapia filets
olive oil
Directions
In a medium bowl, combine cantaloupe, honeydew melon, red onion, cilantro, lime juice, and a pinch each of salt and pepper. Stir gently to evenly distribute everything. Set aside.
Season tilapia with salt and pepper. Heat a tablespoon of olive oil in a large nonstick skillet over medium heat. Working in batches if necessary, place tilapia in the skillet and cook until browned on both sides and cooked through, about 3-4 minutes per side.
Divide tilapia between 4 plates, spoon the melon salsa on top, and serve.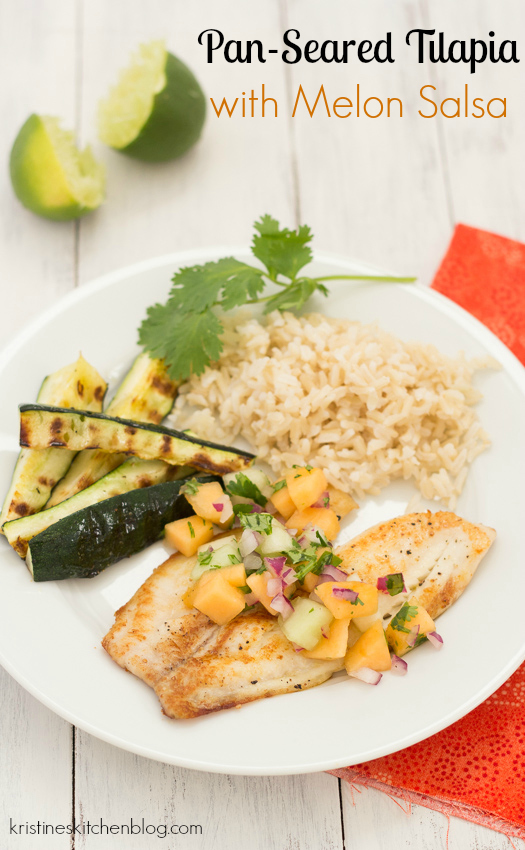 This site contains affiliate links. If you make a purchase through these links, I may receive a small commission, at no extra cost to you. Thank you for supporting Kristine's Kitchen!