Slow Cooker Lentil Tacos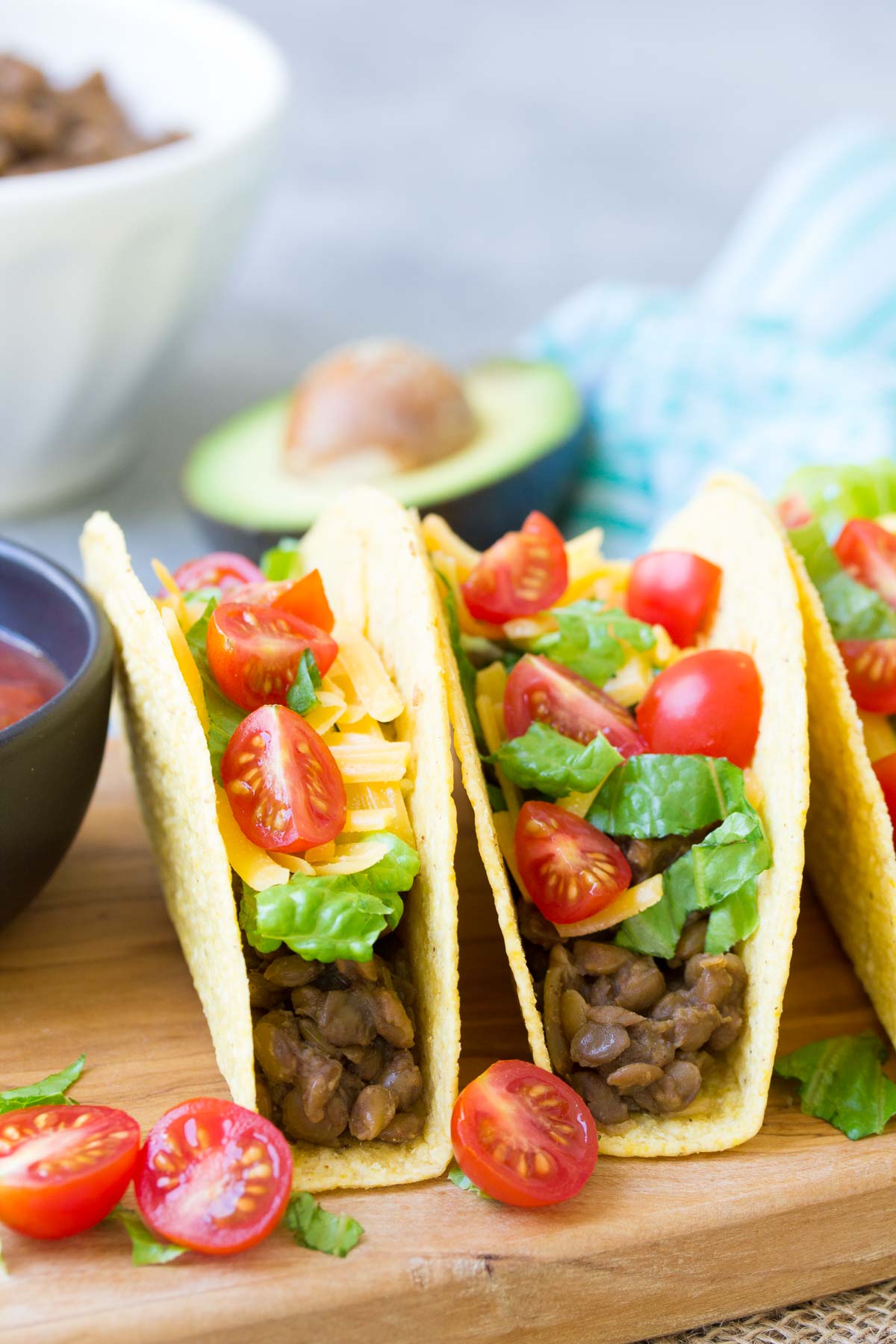 Which do you prefer, a crunchy taco or a soft taco? Usually, I'm partial to soft tacos, but in the case of these Slow Cooker Lentil Tacos I like a good crunchy taco shell. When we have these lentil tacos for dinner, we'll have them in crunchy shells the first night and soft tortillas the second. My family loves these vegetarian tacos both ways!
These Slow Cooker Lentil Tacos are what I make for dinner when I don't have time to cook. I'm sure you have some go-to recipes that take very little time to make and that you know your family will eat. These tacos are one of those staple recipes for me. Some others are this 5-ingredient one pot pasta, my 3-ingredient slow cooker chicken tacos, and this easy slow cooker chicken taco soup.
It takes just ten minutes to prep the lentil filling for the slow cooker. You'll need to chop an onion and mince some garlic (or use a garlic press). Then you add those along with dry lentils, chili powder, cumin, salt and pepper to your crock pot. Finally, add water or vegetable broth and stir everything together.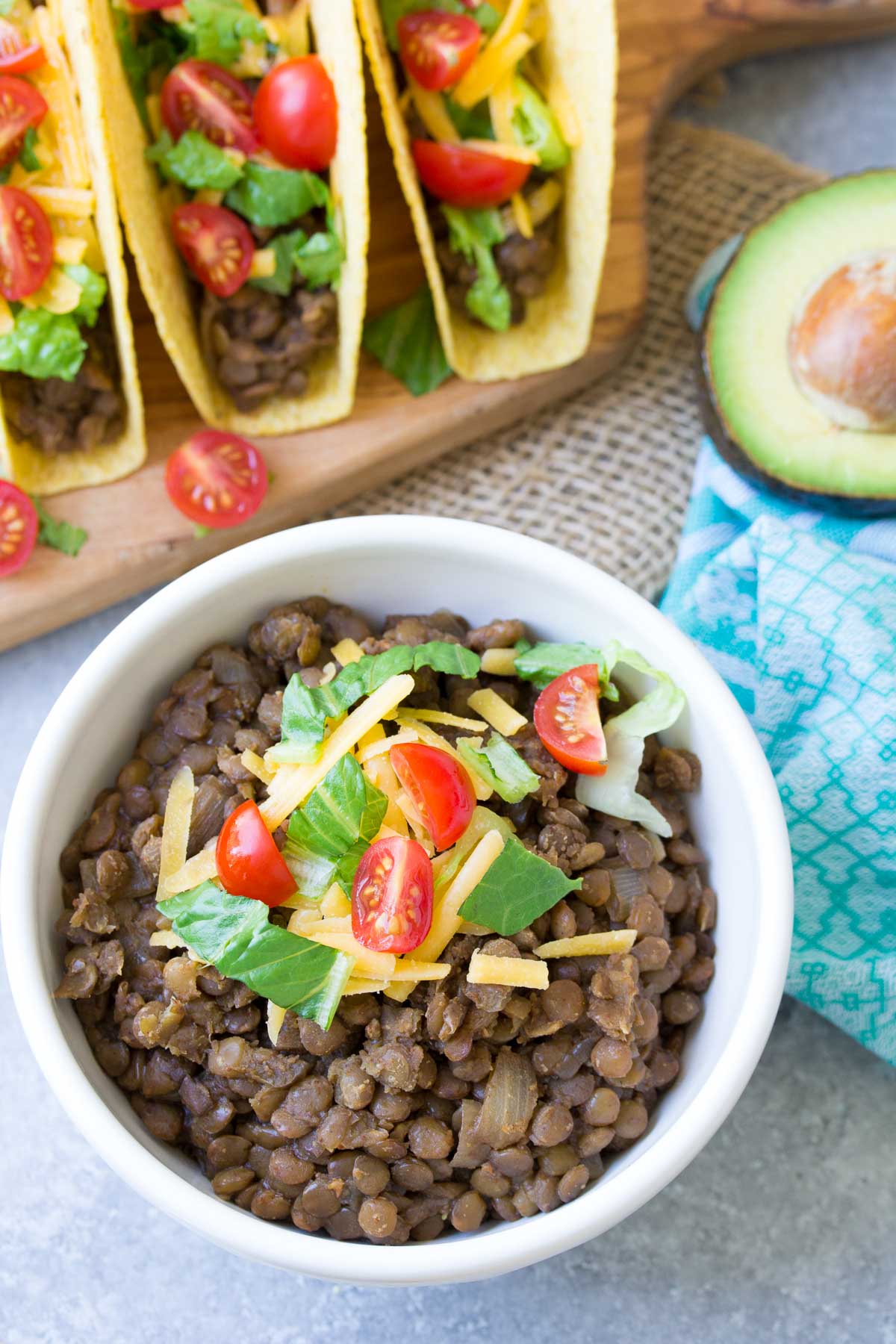 You can cook the lentils on low heat for 5 to 6 hours, or on high heat for 2 1/2 to 3 hours. About 3/4 of the way through the cook time you'll want to give the mixture a quick stir. Usually, opening your slow cooker in the middle of the cooking time is a big no no because it releases a lot of the heat inside. In this case, though, stirring the lentils helps to make sure that they cook evenly.
This recipe makes a lot of lentils, which is perfect if you have a large family to feed. The leftovers are delicious when stored in the refrigerator for up to two days. I've also frozen extra lentils in an airtight container (I love this set of freezer-safe containers – they're so handy for meal prep!) and they reheated wonderfully. Having this lentil taco filling ready to go in my freezer has saved me during these busy days with a newborn!
I haven't tried it, but I think you could halve this recipe with success. I would watch the lentils carefully, as they would likely need less cook time.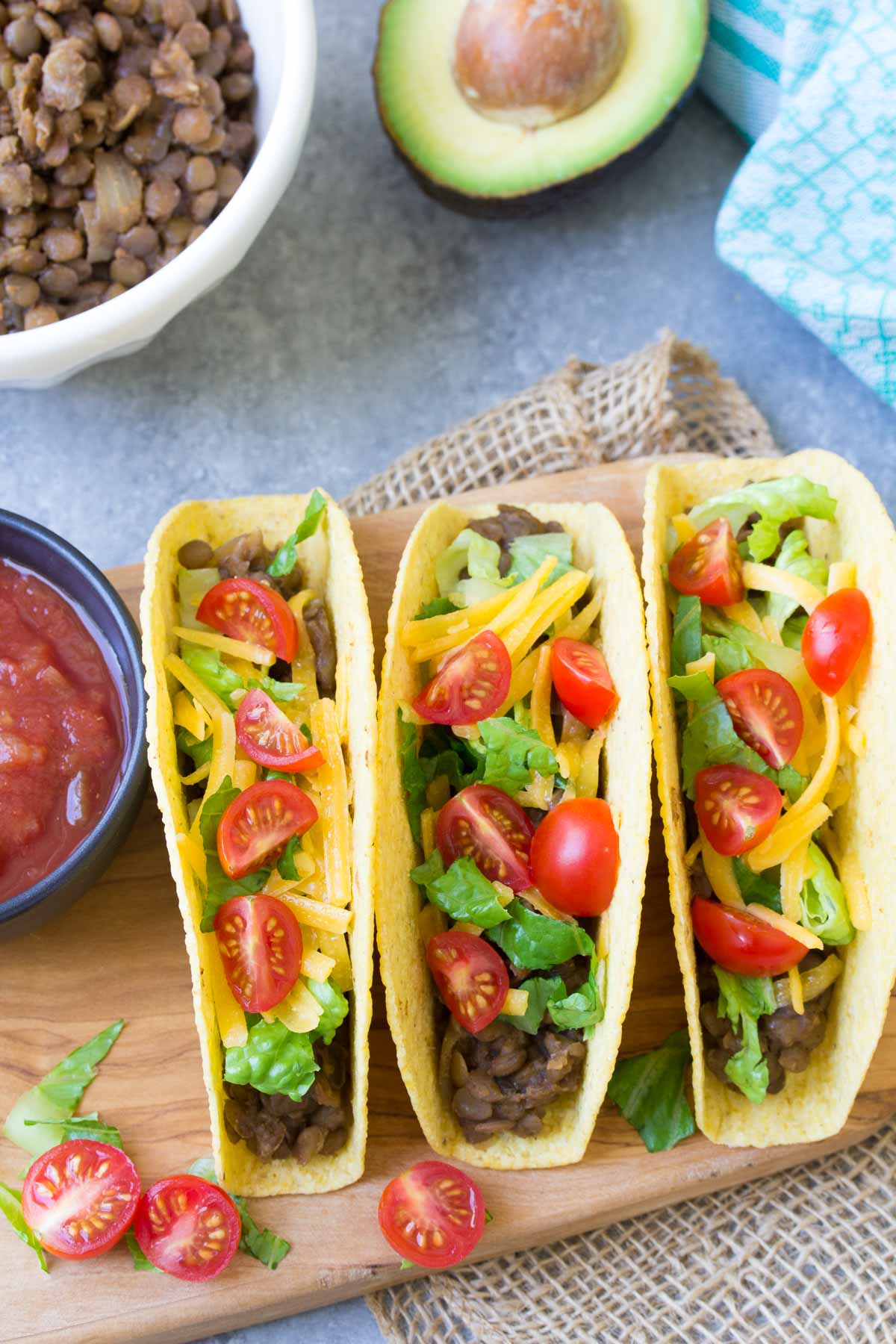 Since I often make this recipe when I'm short on time, I keep the taco toppings really simple. I always add some chopped tomatoes and grated cheese, and if I have lettuce on hand I'll add some shredded lettuce too.
Tips for making these Slow Cooker Lentil Tacos:
Be sure to rinse your lentils before adding them to the slow cooker. It's also a good idea to pick through them a bit to remove any small stones that may have gotten mixed in. I rinse my lentils in a fine mesh strainer, which is also great for rinsing quinoa!
The longer you cook the lentils, the softer they will get. I try to turn the heat off of mine when they are still slightly firm.
I think the flavor of this lentil taco filling is similar to that of black beans. My kids like beans and they eat these lentil tacos. That's the sign of a winning recipe in my book!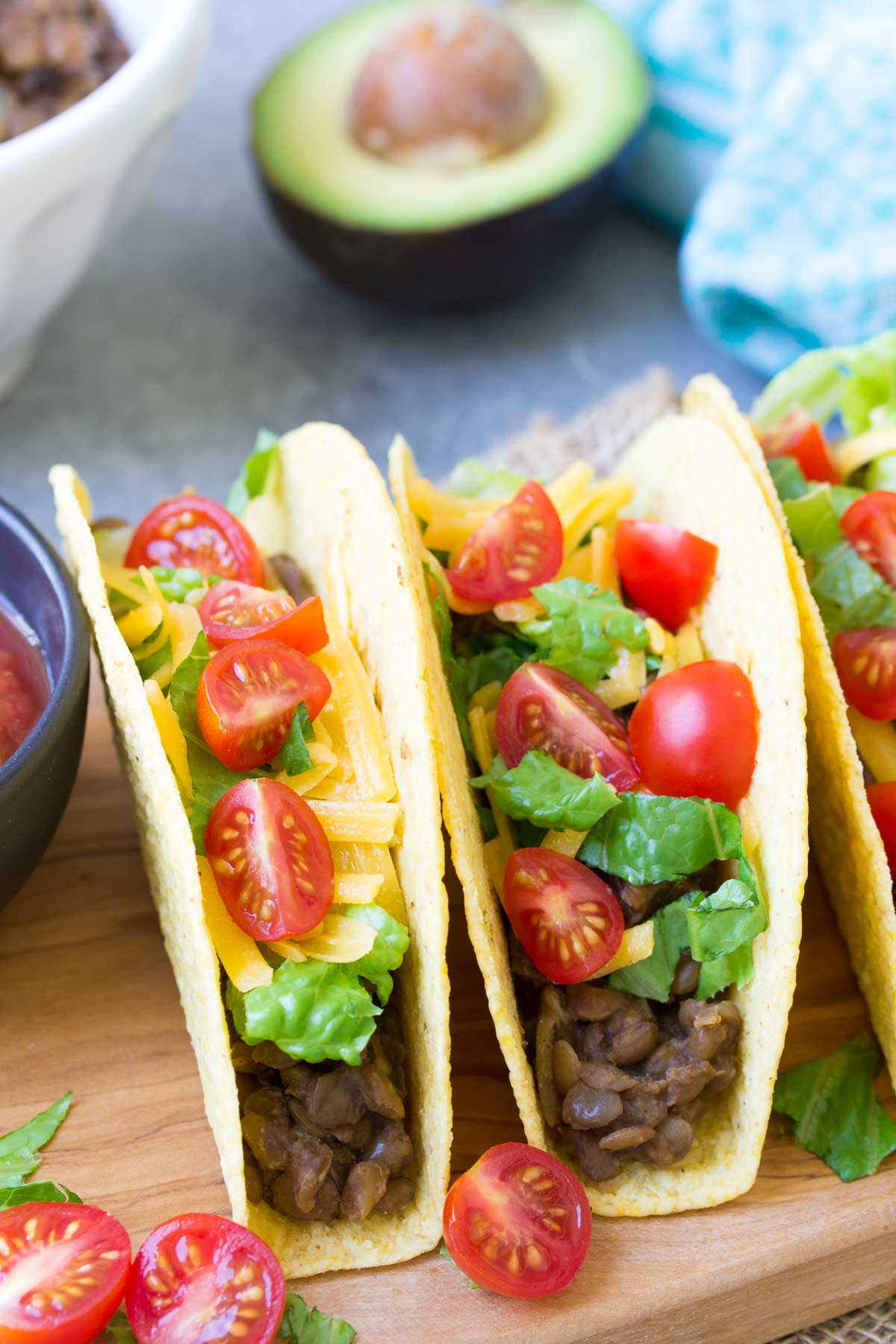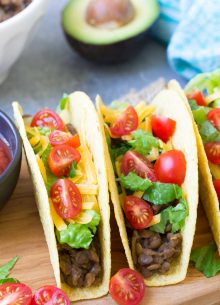 Slow Cooker Lentil Tacos
These Slow Cooker Lentil Tacos are easy to prepare and the filling is freezer-friendly. They are vegetarian and vegan (if you leave off the cheese).
Ingredients:
1 medium yellow onion, chopped
2 cups lentils, rinsed and picked over
4 cloves garlic, minced
3 tablespoons chili powder
1 tablespoon cumin
½ teaspoon salt
¼ teaspoon black pepper
3 ½ cups water (or vegetable broth)
For serving: taco shells or tortillas, shredded cheese, tomatoes, shredded lettuce, sliced green onions, sour cream or plain Greek yogurt, etc.
Directions:
Add all ingredients to the slow cooker, stir.
Cook on high for 2 ½-3 hours or on low for 5-6 hours, stirring once about ¾ of the way through the cook time.
Serve lentil filling in taco shells or tortillas with desired toppings.
Lentil filling may be frozen for up to two months in an airtight container. Defrost, reheat and serve.
Nutrition information calculated using My Fitness Pal and will vary based on specific ingredients used, etc.
Nutrition Information
Yield: 8, Serving Size: 2 tacos, nutrition info for lentil filling only
Amount Per Serving:
Calories:

169 Calories

Total Fat:

2g

Sodium:

240mg

Carbohydrates:

31g

Fiber:

8g

Sugar:

2g

Protein:

11g
All images and text ©
Save
This site contains affiliate links. If you make a purchase through these links, I may receive a small commission, at no extra cost to you. Thank you for supporting Kristine's Kitchen!