Easy Slow Cooker Chicken Taco Soup (No Chopping) + Video
Not only is this Easy Slow Cooker Chicken Taco Soup simple to make, it's also a family favorite! With a step by step how to recipe video.

This recipe was a hit. With me, with the hubby, and with the kids. It's going to be on repeat for the rest of the fall and winter season, I've decided!
My slow cooker is my favorite kitchen tool for getting a healthy dinner on the table fast. And this taco soup is one of the easiest slow cooker recipes out there! If you love taco flavors and easy slow cooker meals then I recommend you also try my Easy Slow Cooker Taco Pasta. It's healthy comfort food and I can't get enough of the stuff!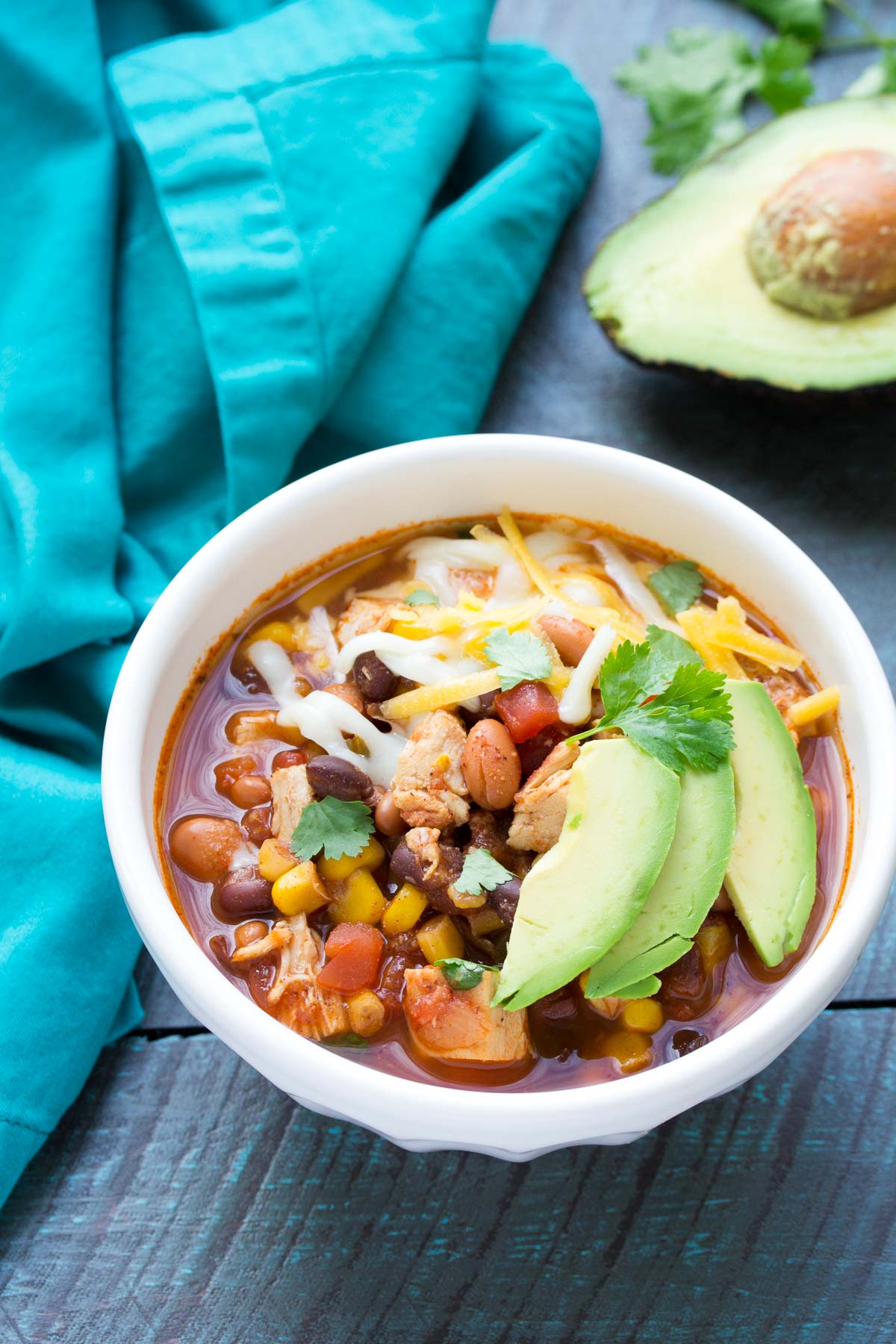 It took me a few tries to get this slow cooker chicken taco soup recipe juuust right. The first version was good, but took more effort than I wanted. That recipe took some chopping, and I want to give you a dump-and-go taco soup recipe that you can prep in just minutes.
For the second version, I tried making this soup creamy. We liked that one okay, but I decided that it didn't really need the cream that I added to it. We much prefer this simpler version, with a dollop of Greek yogurt on top if we're craving a little creaminess.
Finally, I decided to forgo all chopping and pour in some salsa. The salsa adds more flavor (and some extra spice!) to this soup, without extra effort. The one that I used already has onion and jalapeno in it, which saves us prep time and ingredients.
8 ready-to-go ingredients. Less than 10 minutes prep. Dump it into your crock pot, set it and forget it! That's how easy this flavor-packed Easy Slow Cooker Chicken Taco Soup is!
Watch my video to see exactly how it's made:
We like to serve this soup with tortilla chips for crumbling on top or scooping. My sweet honey cornbread recipe is also delicious with this taco soup.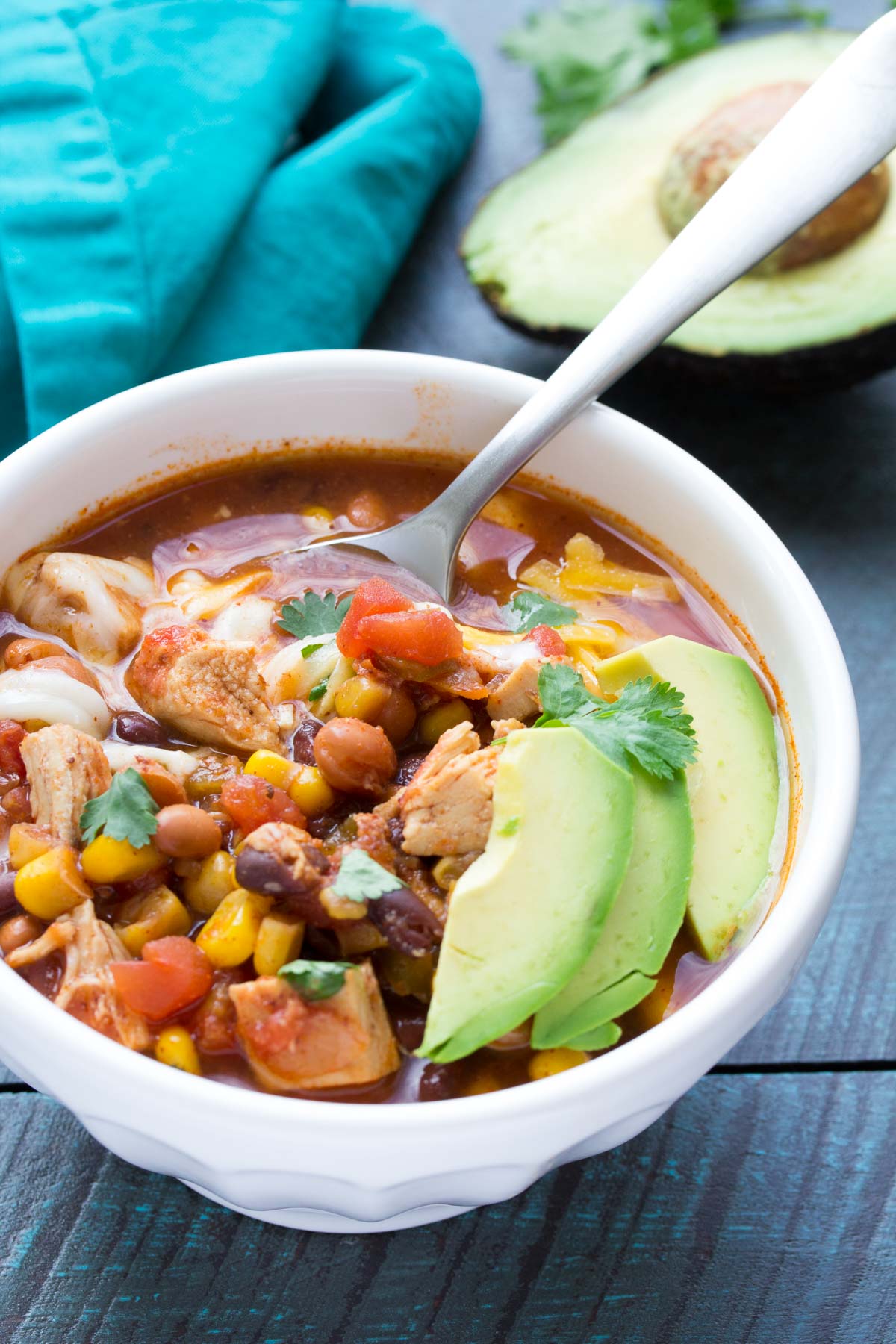 If you like this slow cooker chicken taco soup recipe, I also recommend:
Let me know if you try them!
Like what you see? Be sure to follow along to never miss a recipe!
PINTEREST | FACEBOOK | INSTAGRAM | GOOGLE+ | TWITTER | EMAIL | RSS
Easy Slow Cooker Chicken Taco Soup (No Chopping)
Not only is this Easy Slow Cooker Chicken Taco Soup simple to make, it's also a family favorite!
Recipe type:
Slow Cooker, Dinner
Ingredients
1 cup mild salsa
1 (15 ounce) can black beans, rinsed and drained
1 (15 ounce) can pinto beans, rinsed and drained
15 ounce can corn, drained
14.5 ounce can petite diced tomatoes
3 tablespoons homemade taco seasoning (or store-bought)
2 cups low sodium chicken broth
1 pound boneless skinless chicken breasts
Optional toppings: cilantro, plain Greek yogurt or sour cream, grated cheese, avocado, green onion, tortilla chips
Directions
Place salsa, black beans, pinto beans, corn, diced tomatoes, taco seasoning, and chicken broth in slow cooker. Stir to combine. Nestle chicken into the slow cooker so that it's completely covered by the liquid and other ingredients.
Cover and cook on low for 6 hours. Remove chicken and shred or cut into bite-size pieces. Stir chicken back into the soup.
Serve with toppings as desired.
As written, this soup is medium-spicy. You can use 1 tablespoon less taco seasoning for a mild version.
The taco soup can cook for longer than 6 hours if needed. I wouldn't recommend cooking it more than 8 hours (on low).
Save
Save
Save
This site contains affiliate links. If you make a purchase through these links, I may receive a small commission. Thank you for supporting Kristine's Kitchen!