Slow Cooker Turkey Chickpea Chili
---
FREE GROUND BEEF FOR LIFE when you order your first ButcherBox today. Claim Now.
---
Put your crock pot to work with this easy, protein-packed Slow Cooker Turkey Chickpea Chili. This is my favorite healthy chili recipe!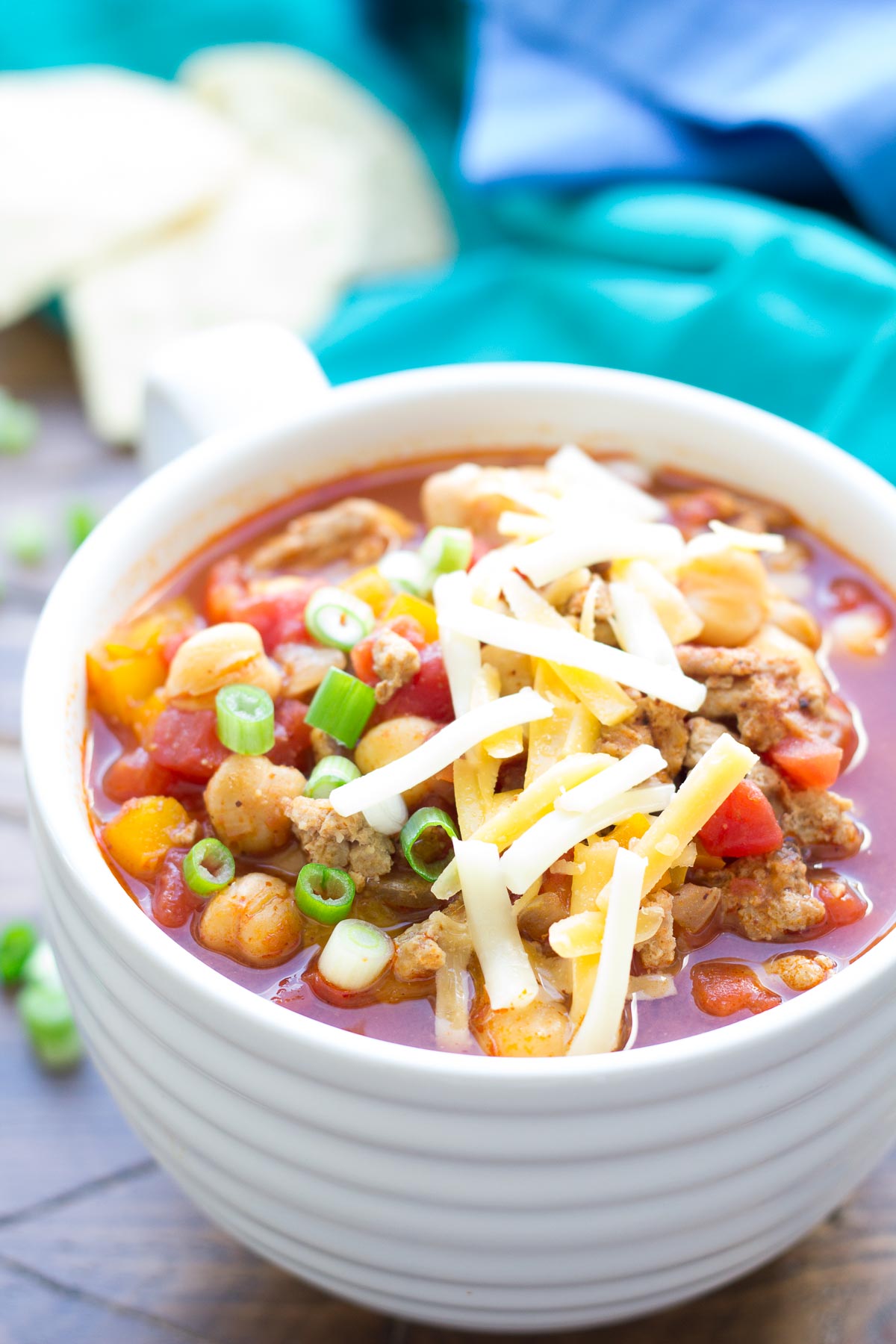 Meet my new favorite chili.
We've got chickpeas. And veggies. Some lean protein in the form of ground turkey (and more from the chickpeas!). And just enough spice to make both the grown ups and the kids happy. 🙂
That's a quadruple win.
Wait a second. We need to add one more win to the list because this turkey and chickpea chili is made in the slow cooker! The slow cooking process allows the flavors plenty of time to develop, and it also means that come dinner time all you have to do is spoon this deliciousness into your bowl.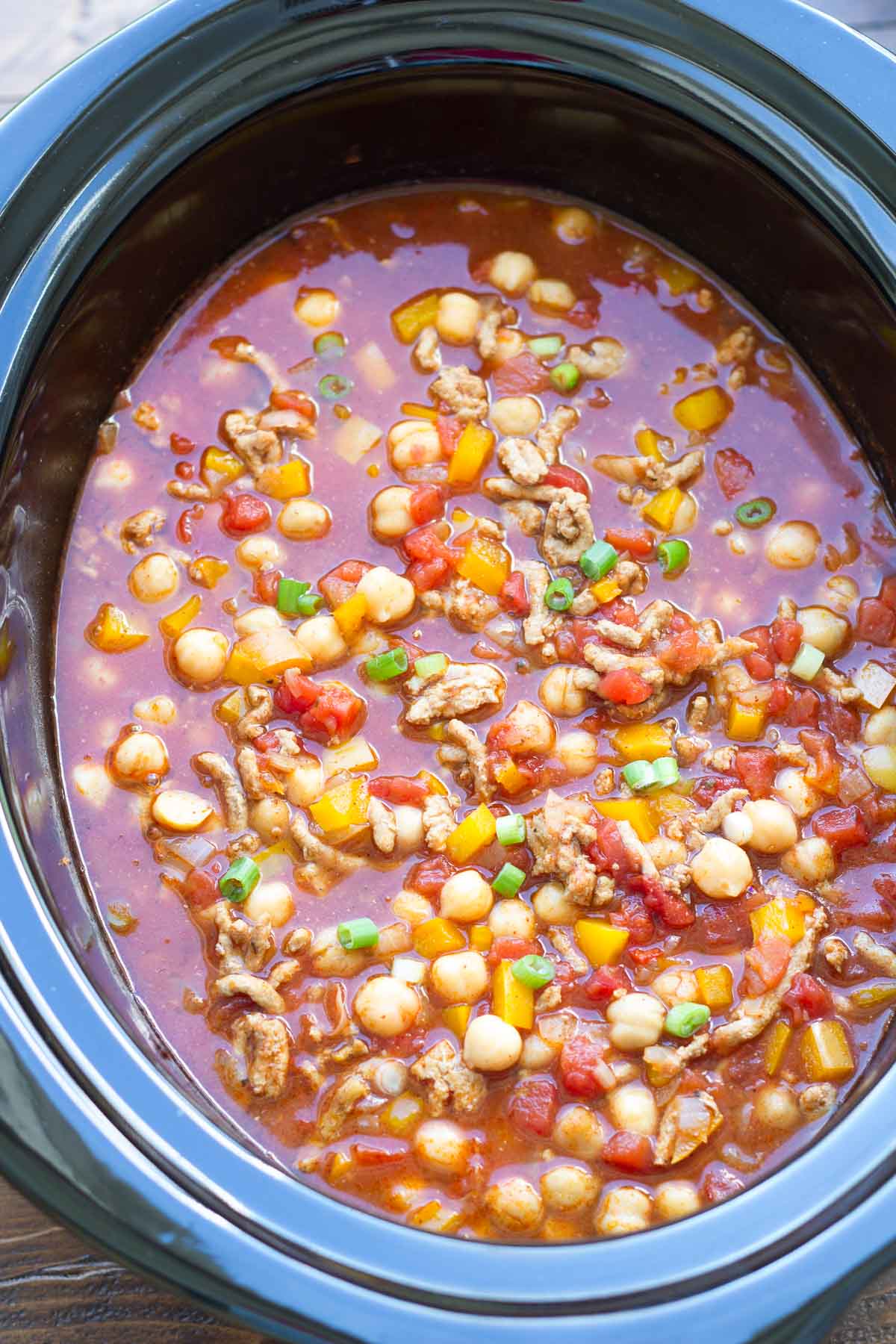 We like to serve this Slow Cooker Turkey Chickpea Chili with our favorite homemade 100% Whole Wheat Biscuits or my homemade cornbread (which I've made about a million times in the past few months and need to photograph so I can share the recipe with you!).
Perhaps most of all why I love this Slow Cooker Turkey Chickpea Chili is the fact that Julia loves it too. Those of you who have kids, I'm sure you can relate to my dinnertime struggles. When a recipe is a hit with the kids, it's surely going on repeat in this house. (For the sake of full disclosure, I'm still working on getting William to love this one. A little cheese and some crushed tortilla chips on top are bringing him around. 😉 )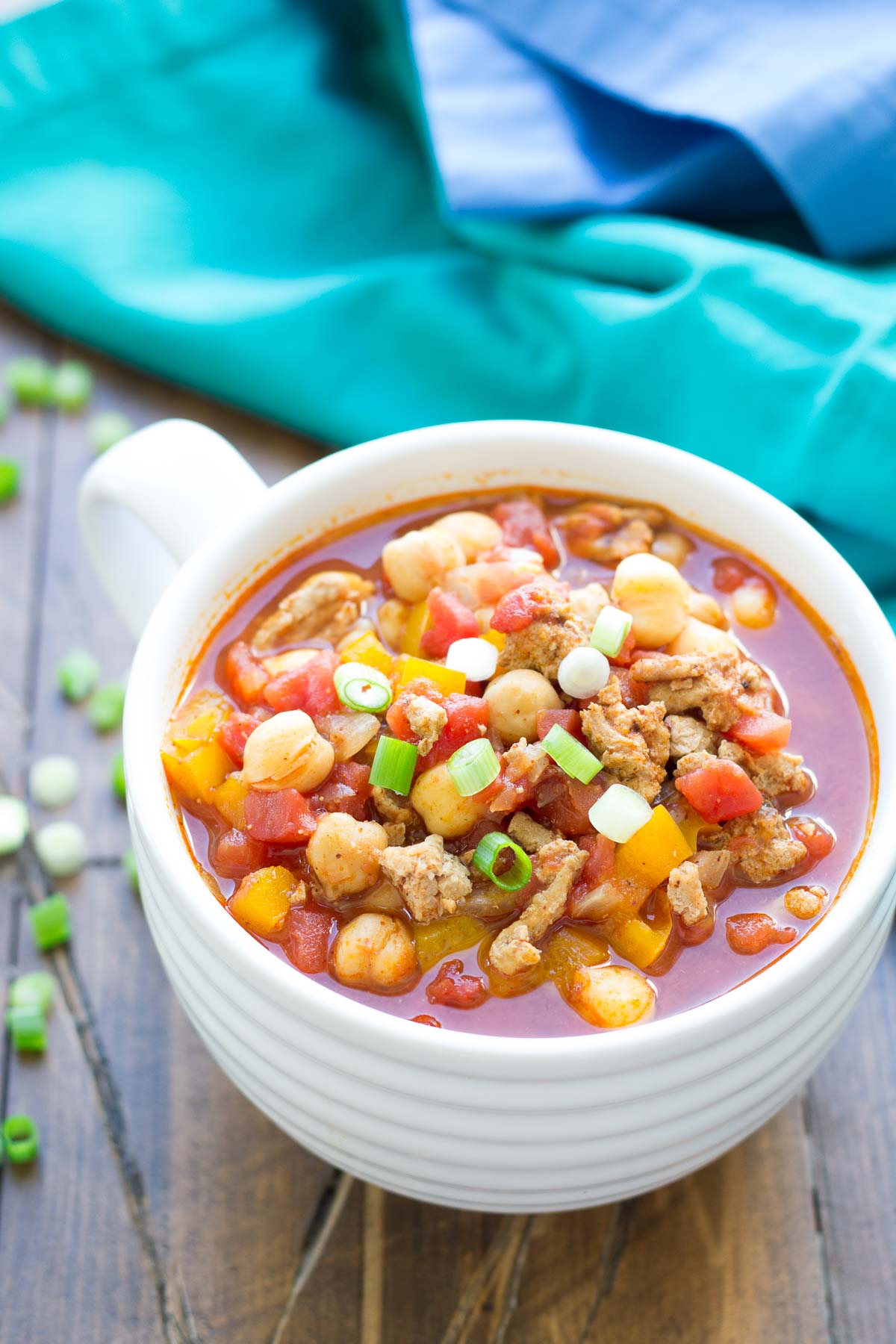 We're in the middle of lots of wet weather here, and I'm craving all of the warm and comforting foods. There's nothing better than using your slow cooker on cold, rainy days. I've been putting mine to work this week! What have you been cooking in your slow cooker lately?
Follow my Slow Cooker Pinterest board for more favorite easy recipes!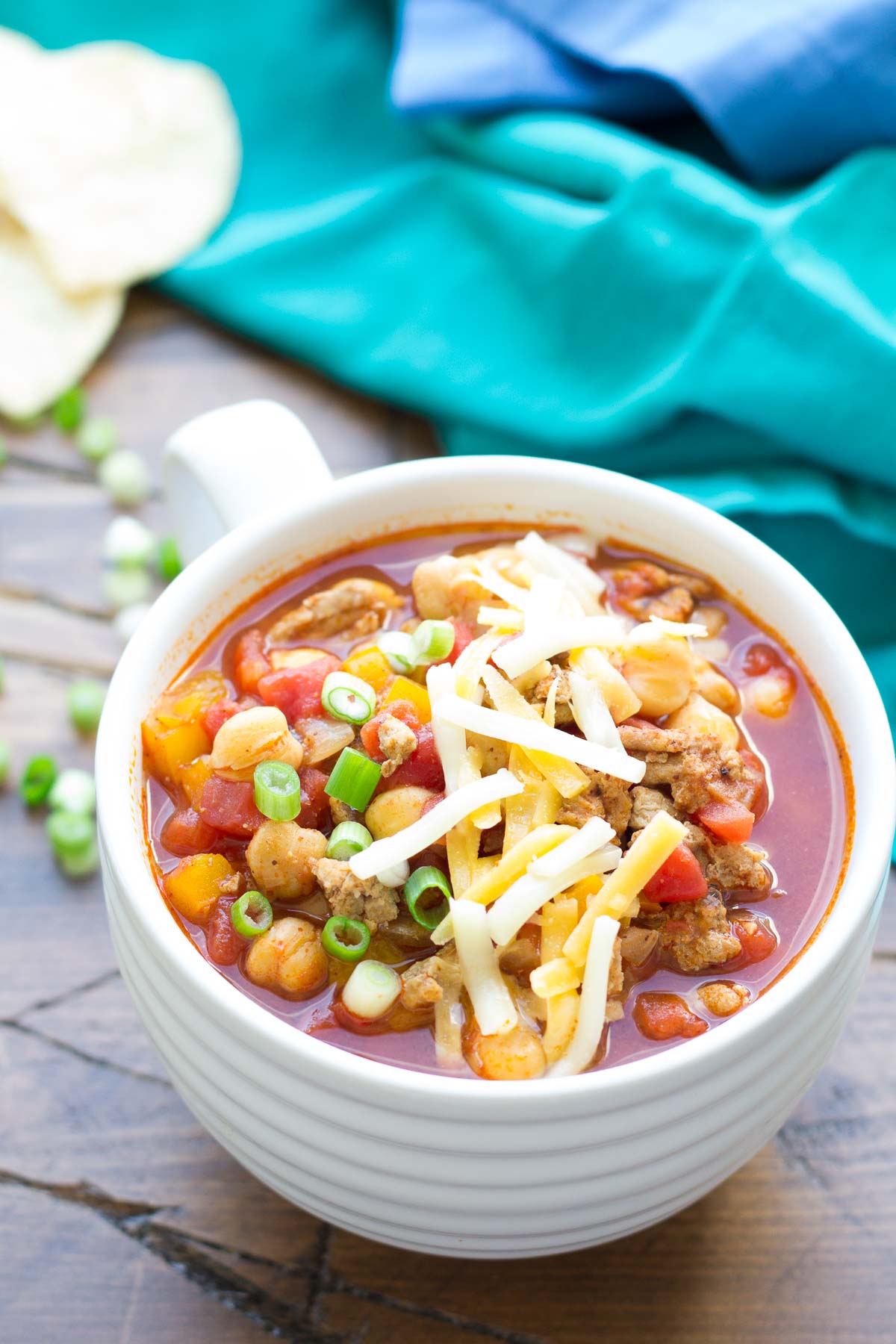 Like what you see? Be sure to follow along to never miss a recipe!
PINTEREST | FACEBOOK | INSTAGRAM | GOOGLE+ | TWITTER | EMAIL | RSS
Slow Cooker Turkey Chickpea Chili
Put your crock pot to work with this easy, protein-packed Slow Cooker Turkey Chickpea Chili. This is my favorite healthy chili recipe!
Recipe type:
Slow Cooker, Main Dish
Ingredients
2 teaspoons olive oil
1 medium onion, chopped
1 pound lean ground turkey
salt and pepper
3 cloves garlic, minced
1 tablespoon chili powder
2 teaspoons cumin
½ teaspoon onion powder
½ teaspoon oregano
¼ teaspoon cinnamon
2 bell peppers, chopped (I used orange and yellow)
2 (15 ounce) cans chickpeas, rinsed and drained
28 ounce can petite diced tomatoes, undrained
2 cups low sodium chicken broth
Optional toppings: grated cheese, sliced green onions, tortilla chips, avocado, Greek yogurt or sour cream
Directions
Heat olive oil in a skillet over medium heat. Add onion and ground turkey. Season with salt and pepper and cook, breaking up the turkey, until meat is browned. Add garlic and cook, stirring, for 1 minute. Transfer the mixture to the slow cooker.
To the meat in the slow cooker, add the spices, bell peppers, chickpeas, and diced tomatoes; stir. Then stir in the chicken broth.
Cover and cook on low for 5-7 hours (a little more or less time is ok). Serve with your favorite chili toppings. Enjoy!
Nutrition Information
Calories:
483
Fat:
16 g
Saturated fat:
3 g
Trans fat:
0 g
Carbohydrates:
73 g
Sugar:
7 g
Sodium:
1210 mg
Fiber:
19 g
Protein:
33 g

This site contains affiliate links. If you make a purchase through these links, I may receive a small commission, at no extra cost to you. Thank you for supporting Kristine's Kitchen!