Whole Wheat Blueberry Pancakes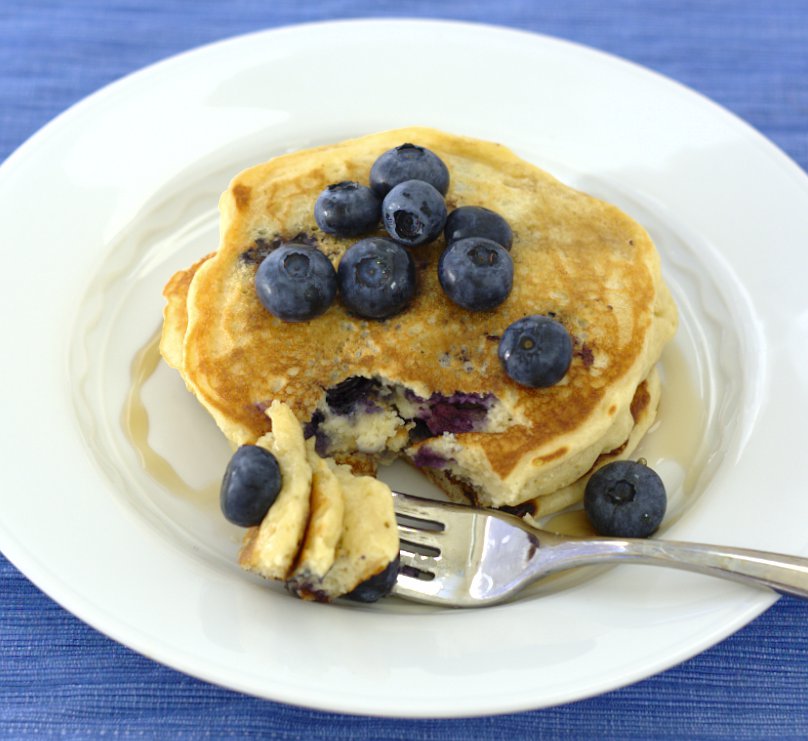 I have been searching for the best blueberry pancake recipe for a while now, and I am so excited to say that I have finally found my favorite. With each new recipe I hoped that it would be the one that I could post on the blog, but something was always not quite good enough. Until this recipe. And, as an extra bonus, it's also the healthiest out of the bunch.
Whole wheat flour, not too much sugar or butter, and juicy blueberries all contribute to the healthfulness of these pancakes. Please don't worry about the whole wheat flour in these pancakes; if I hadn't mixed up the batter myself I never would have known it was there.
The pancakes cook up light and fluffy, and the juicy blueberries add a little pop of flavor to each bite. This recipe calls for a unique method of adding the blueberries to the pancakes. Instead of mixing them into the batter, you place a few on top of each pancake after ladling the batter onto the skillet. This prevents the blueberries from breaking up into the batter and also makes sure that each pancake gets its fair share of blueberries. 🙂
I hope you'll try making some of these Whole Wheat Blueberry Pancakes for your next lazy weekend breakfast!
You might also like my easy healthy pancakes and my best buttermilk pancakes.
Whole Wheat Blueberry Pancakes
Makes 8-12, depending on size
Ingredients:
1 cup all purpose flour
1 cup whole wheat flour
1 tsp baking powder
1/2 tsp baking soda
1/4 cup sugar
1/2 tsp salt
2 cups buttermilk, plus about 1/4 cup milk to thin the batter
2 eggs, beaten
3 tbsp butter, melted and cooled slightly
about 1/2 cup blueberries, plus extra for serving
Directions:
Whisk the flours, baking powder, baking soda, sugar, and salt together in a medium bowl.
In another bowl, stir the eggs, buttermilk, and melted butter together.
Pour the wet ingredients into the dry ingredients and mix gently (it's fine if the batter stays a little lumpy). Gently mix in enough milk to thin batter to desired consistency.
Heat a griddle or large skillet over medium heat and spray with nonstick spray. Ladle a little batter onto the griddle, then sprinkle with a few berries. Let cook for a few minutes, until the bottom is golden brown. Flip and cook an additional minute or two. Repeat with remaining batter and berries. Serve with additional fresh berries.
Recipe adapted from Cate's World Kitchen
This site contains affiliate links. If you make a purchase through these links, I may receive a small commission, at no extra cost to you. Thank you for supporting Kristine's Kitchen!