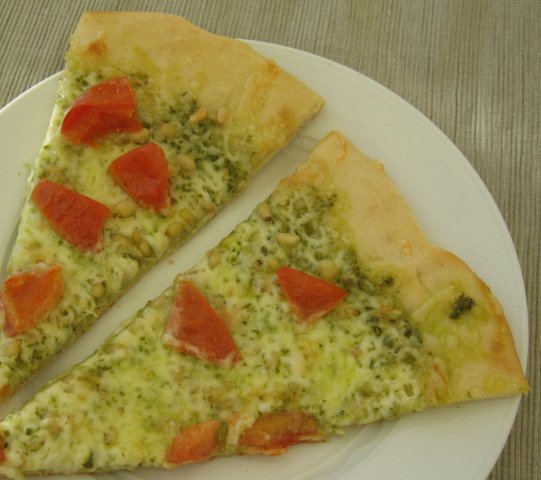 We have made this pizza three times now and it is quickly becoming one of our favorites. The recipe was inspired by a pizza that we enjoyed at a local pizza restaurant. I love the pesto as the pizza "sauce;" it is the perfect match for pizza crust. Tomatoes and pine nuts (and of course cheese) finish off the pizza. Enjoy!
Pizza with Pesto and Tomatoes
Ingredients:
1 rolled out pizza crust, on parchment paper (see recipe here)
About 1/2 cup pesto sauce (recipe below)
Mozzarella or monterey jack cheese
1 tomato, sliced
1/4 cup pine nuts
Directions:
Place a pizza stone on rack in lower third of oven. Preheat the oven to 500 degrees for 30 minutes.
Spread pesto sauce onto rolled out pizza dough. Top with desired amount of cheese, tomato, and pine nuts.
Reduce oven temperature to 400 degrees. Slide the pizza onto the heated pizza stone (you can keep the pizza on the parchment paper). Bake pizza about 8-12 minutes, until the crust edges brown and the cheese is golden brown in spots.
Pesto Sauce
Ingredients:
1-2 cloves garlic
1/2 cup pine nuts
2/3 cup (2 oz.) grated Parmesan cheese
3 cups loosely packed fresh basil
1/2 cup olive oil
salt and pepper to taste
Directions:
With food processor running, drop garlic through the feed tube to chop. Add pine nuts, Parmesan cheese, and basil; pulse until finely chopped. Add olive oil in a steady stream while the processor is running and blend until incorporated. Season with salt and pepper to taste.
Makes about 1 1/3 cups (We used less than half of this on the pizza. We tossed the rest of the pesto with whole wheat penne pasta the next night. Yum!)