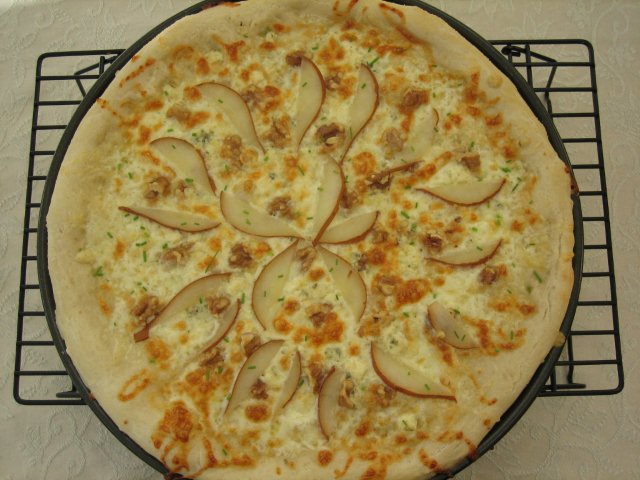 If you have never had pizza topped with pear, Gorgonzola cheese, and walnuts, you have been missing out. I don't know what it is about this flavor combination, but it is fabulous on pizza. We've made this for dinner guests at least four times, and each time it's been met with rave reviews. Have I convinced you yet that you need to make this pizza?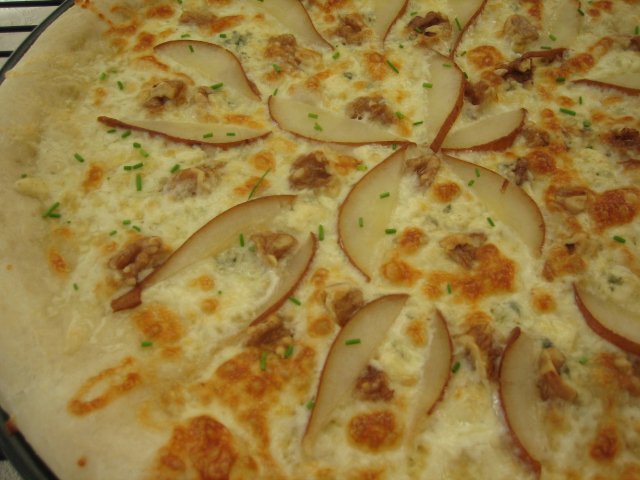 When I plan our weekly meals, I include a homemade pizza night about every other week. It is so easy to make your own pizza dough, and I like having control over the ingredients. Pear, Gorgonzola, and Walnut Pizza is a regular in our homemade pizza rotation.
Pear, Gorgonzola, and Walnut Pizza
Makes 1 pizza
Note: I do not measure my pizza toppings when making a pizza, so all measurements are approximations. You can modify the topping amounts to suit your tastes.
Ingredients:
1 rolled out pizza crust, on parchment paper (see recipe here)
1 cup grated mozzarella cheese
About 3/4 of a Bosc pear, sliced thin (or any kind of pear you prefer)
1/2 cup chopped walnuts
1/2 cup crumbled Gorgonzola cheese
1 Tablespoon chopped chives
Directions:
Place a pizza stone on rack in lower third of oven. Preheat the oven to 500 degrees for 30 minutes.
Top pizza dough with mozzarella cheese, pear slices, walnuts, and Gorgonzola.
Reduce oven temperature to 400 degrees. Slide the pizza onto the heated pizza stone (you can keep the pizza on the parchment paper). Bake pizza about 8-12 minutes, until the crust edges brown and the cheese is golden brown in spots. Remove pizza from oven and sprinkle with chives.