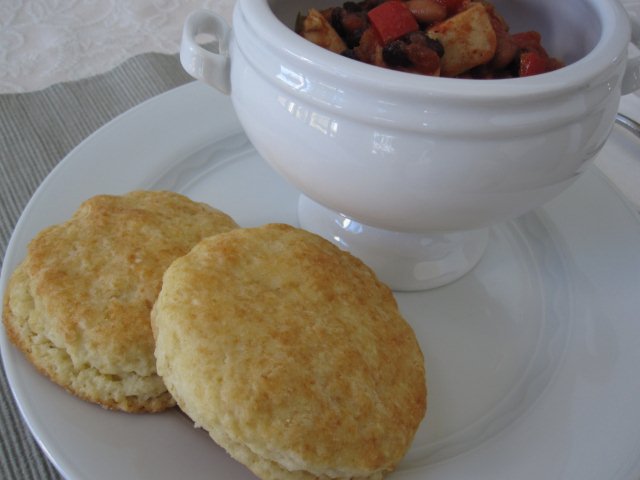 Now that we are heading into a few months of colder weather, I am excited to share this recipe for buttermilk biscuits with you. Biscuits are a great accompaniment to soups and chilis; I baked these to go along with the Chicken Chili that I made over the weekend. These biscuits were definitely a favorite part of the meal. They are great eaten plain, but are even more wonderful topped with just a bit of butter and some honey.
I have been searching for a great biscuit recipe for a while now. My old favorite recipe makes delicious, light, and tender biscuits, but it contains shortening, and I try to avoid partially hydrogenated oils (trans fats) whenever possible. After trying a few other recipes that produced dense, hard biscuits, I think I have finally found my new favorite. These buttermilk biscuits are tender and flaky with a delicious flavor. This is the only biscuit recipe that I've made that contains an egg, so perhaps that contributes to their extra special taste.
If you want to add a little extra something to your next soup or chili meal, make up a batch of these buttermilk biscuits. You can mix up and cut out the dough in a matter of minutes, so they are perfect for those days when you don't have the time to make more time-consuming yeast rolls, but want some homemade bread to go with your meal.
Buttermilk Biscuits
Makes 12 biscuits (recipe can be doubled)
Ingredients:
2 cups all-purpose flour
2 tablespoons sugar
1 1/2 tablespoons baking powder
1/2 teaspoon salt
8 tablespoons cold unsalted butter, cut into small pieces
1 whole egg
1 egg yolk (optional)
Scant 1 cup buttermilk
Directions:
Preheat oven to 400°F.
In a bowl, whisk together the flour, sugar, baking powder and salt. Add the butter and, using a pastry blender or 2 knives, cut in the butter until the mixture resembles coarse meal.
In a liquid measuring cup, combine the whole egg and egg yolk and whisk until blended. Add enough buttermilk to measure 1 cup. Add the buttermilk mixture to the flour mixture. Using a fork, mix just until the dry ingredients are absorbed.
Turn the dough out onto a floured work surface. Pat into a disk that is 1/2 inch thick. Using a 3-inch round biscuit cutter, cut out dough rounds. (Gently re-roll excess dough as needed to cut out more rounds.) Arrange the rounds on parchment-lined baking sheets about 1 inch apart. Bake until golden brown, 12 to 15 minutes. Remove from the oven and serve hot or warm.
Recipe adapted from Williams-Sonoma