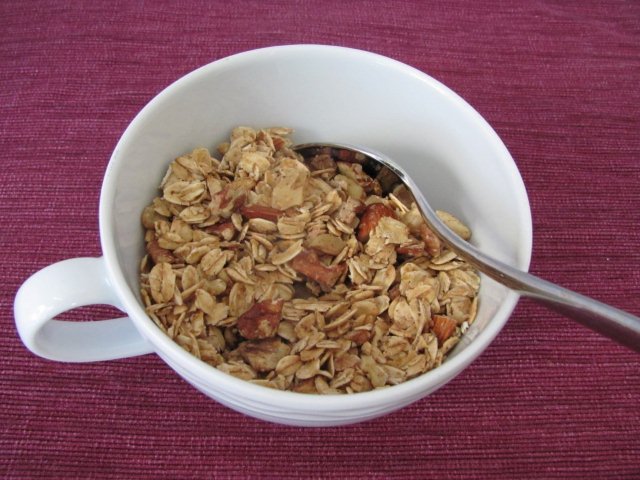 This healthy granola makes a delicious breakfast or snack. I like to eat it with a splash of milk or mixed into Greek yogurt. The recipe is so simple- mix nuts and oats with a bit of salt and cinnamon, and then stir in some real maple syrup. After that, all you have to do is bake the granola for about 30 minutes, stirring every ten minutes or so. It couldn't be easier!
The walnuts, almonds, and pecans contribute lots of filling protein and fiber, along with other nutrients, to the granola. If you like, you can also add raisins or other dried fruit. With its subtle sweetness and nutty crunch, this granola will give you the energy you need to tackle your day.
Nutty Granola
Makes 4 1/2 cups (9 one-half cup servings)
Ingredients:
Cooking spray
3 cups old-fashioned rolled oats
1/2 cup chopped walnuts
1/2 cup chopped almonds
1/2 cup chopped pecans
1/2 cup pure maple syrup
1/4 teaspoon salt
1/2 teaspoon ground cinnamon
1/2 cup raisins (optional)
Directions:
Preheat the oven to 300 degrees F. Coat a large baking sheet with cooking spray.
In a medium bowl, combine oats, nuts, salt, and cinnamon (and raisins, if using). Stir in maple syrup until it evenly coats the other ingredients. Spread on the baking sheet and bake until golden brown, stirring occasionally, about 30 minutes.
Transfer the baking sheet to a wire rack and let cool completely. Granola will keep stored in the refrigerator in an airtight container for about 2 weeks.
Recipe slightly adapted from The Food You Crave by Ellie Krieger