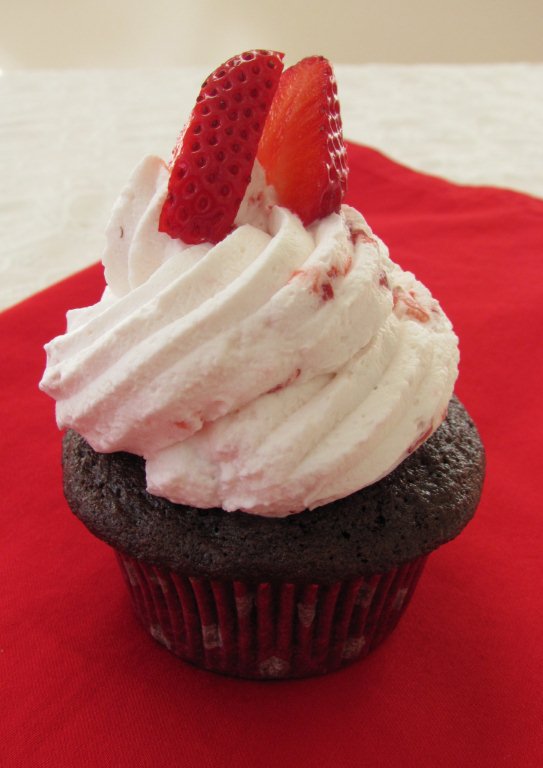 A few weeks ago I decided to bake some cupcakes for my birthday.  (I know it's typical to have someone else bake your birthday cake for you, but I'd been wanting to bake some cupcakes so I thought why not bake myself some birthday cupcakes.

)
I wanted to go with something light, and chose a recipe for angel food cupcakes. Those didn't turn out so well (more like shrunken mini cakes that didn't taste all that good). I couldn't let those be my birthday cupcakes; they were much too sad. So I went to my computer and searched the internet for another recipe. This time, I decided that I should just go for the chocolate. It's hard to go wrong with a chocolate cake recipe, and these cupcakes are no exception. I think these will be my go-to chocolate cupcakes from now on.
Even though the angel food cupcakes didn't work out, I still wanted to top my cupcakes with strawberry whipped cream. I chopped some strawberries up small, mashed them a bit with a fork, and then mixed them into some freshly whipped cream. The chocolate/strawberry/whipped cream combination made for a birthday treat that was just right.
Chocolate Cupcakes with Strawberry Whipped Cream
Makes about 16 cupcakes
Ingredients:
For the cupcakes:
1 2/3 cups all-purpose flour
2/3 cup unsweetened cocoa powder, sifted
1 1/2 tsp. baking soda
1 tsp. salt
1 tsp. espresso powder
8 Tbsp. unsalted butter, at room temperature
1 1/2 cups sugar
2 large eggs
1 tsp. vanilla extract
1 1/2 cups buttermilk
For the strawberry whipped cream:
1 1/2 cups fresh strawberries, washed and stems removed
1 1/2 cups heavy whipping cream
2 1/2 Tbsp. powdered sugar
Directions:
To make the cupcakes, preheat the oven to 350 degrees. Line 16 wells of two cupcake pans with paper liners. In a medium bowl, combine the flour, cocoa powder, baking soda, salt, and espresso powder together; whisk to blend, and set aside.
In the bowl of a stand mixer fitted with the paddle attachment, cream together the butter and sugar on medium-high speed until light and fluffy, about 3 minutes. Beat in the eggs one at a time until incorporated, scraping down the sides of the bowl as needed. Mix in the vanilla extract. With the mixer on low speed, mix in the dry ingredients in three additions alternately with the buttermilk, beginning and ending with the dry ingredients. Mix each addition just until incorporated.
Divide the batter evenly between the prepared cupcake liners, filling each about 3/4 of the way full. Bake 18-20 minutes, or until a toothpick inserted in the center comes out clean. Let cool in the pan for 5-10 minutes, then transfer to a wire rack to cool completely.
For the strawberry whipped cream, chop the strawberries into small pieces and then mash slightly with a fork. Using a stand mixer fitted with the whisk attachment, beat the heavy cream until it thickens and has the consistency of whipped cream. Beat in the powdered sugar. Using a spatula, gently mix in the mashed strawberries.
Frost cupcakes with strawberry whipped cream. Garnish with fresh strawberry slices, as desired. Serve immediately or refrigerate until ready to serve.
Cupcake recipe from Annie's Eats, who adapted it from Cupcake Project. Strawberry whipped cream recipe is a Kristine's Kitchen original.