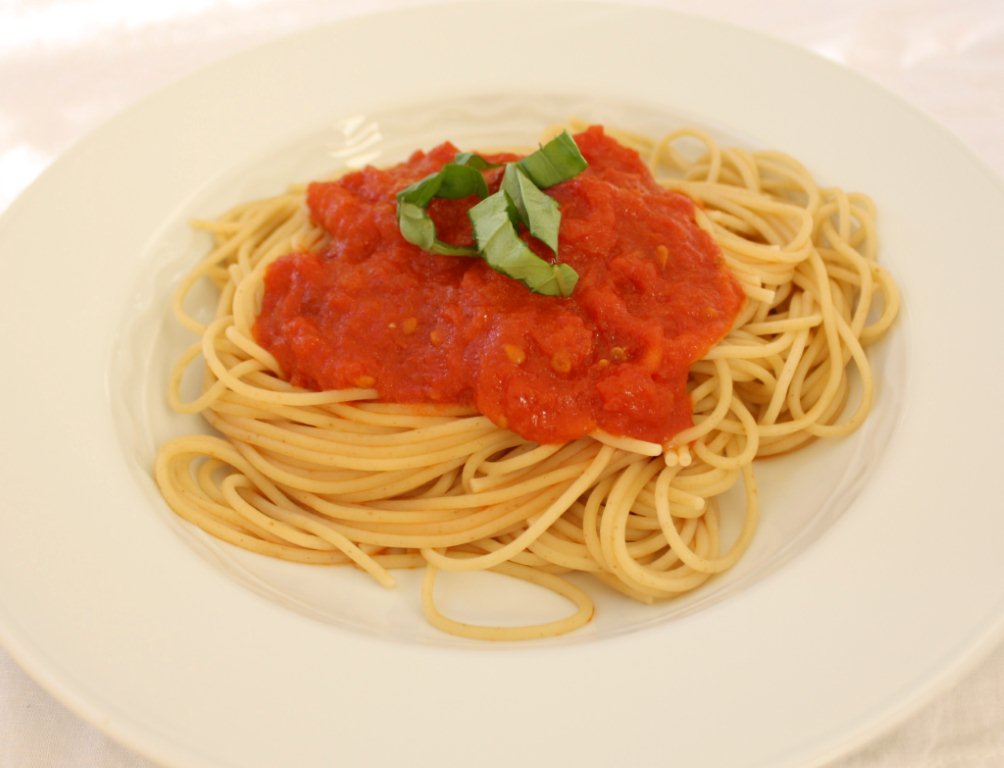 The recipe for this super simple tomato sauce has been appearing all over the blogosphere recently, so I knew it was only a matter of time before I had to try it myself. Then I realized that the recipe is from a cookbook that Brad and I received as a wedding gift, Essentials of Classic Italian Cooking by Marcella Hazan, a classic Italian cookbook. This is a cookbook that I really should have been making better use of, rather than let sit on my shelf untouched for years. As I turned to this tomato sauce recipe, I realized that it's one that I've tried before, many years ago. I can't remember anything about how it turned out that time, but after making it again I can tell you that it is as simple and delicious as all of the rave reviews claim.
What could be easier than pouring a can of plum tomatoes in a pot, adding in some butter and an onion that you've sliced in half, and then simmering for 45 minutes? You'll want to use the back of a wooden spoon to smash some of the large pieces of tomato from time to time, but that's as hard as it gets. This tomato sauce goes well atop many pasta shapes, including spaghetti, rigatoni, or penne. Serve it with a side salad and some garlic bread, and you'll have a satisfying Italian meal.
Tomato Sauce with Onion and Butter
Ingredients:
2 cups canned Italian plum tomatoes, with their juice (one 28 oz. can)
5 tablespoons butter
1 medium onion, peeled and cut in half
Salt
Directions:
Put the canned tomatoes in a saucepan or Dutch oven; add the butter and onion. Cook uncovered at a very slow, but steady simmer for 45 minutes. Stir from time to time, mashing any large pieces of tomato with the back of a wooden spoon. Add salt to taste. Discard the onion before serving the sauce with pasta.
Recipe slightly adapted from Essentials of Classic Italian Cooking by Marcella Hazan