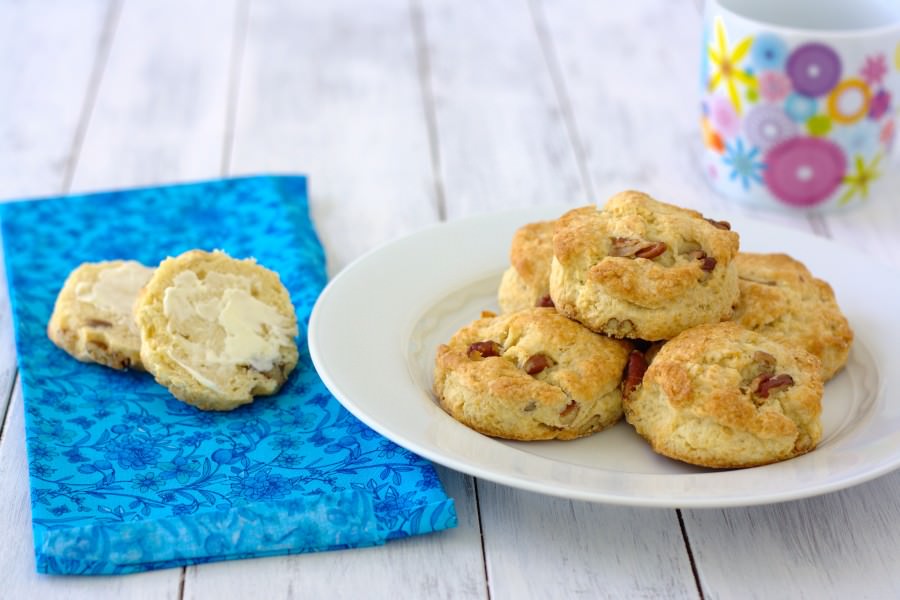 It's Friday- we made it! This week I am so ready for Friday to be here. It's been great to get to know my new students over the past few days, and I love the way a new school year is a fresh start to try new ideas, but I am exhausted. This first week of school business really takes it out of you. Plus, of course, I came down with a cold right at the beginning of the week, which made things much, much easier (sense a little sarcasm there, do you?).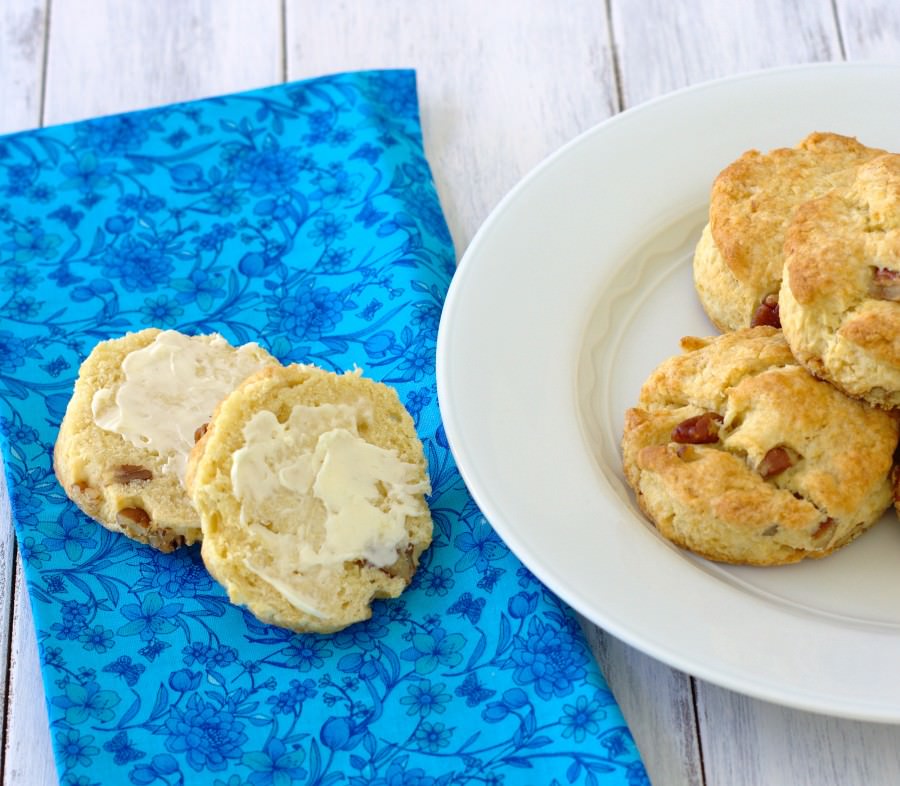 After a long week, I like to wake up and have a relaxed weekend morning. What does a relaxed weekend morning mean around here? A cup of coffee, some quiet time, then breakfast and lots of playing with the kids. These Pecan Sour Cream biscuits are made with toasted pecans and a hint of brown sugar, and are best enjoyed with breakfast or brunch. They taste best the day they are made, warm and spread with a little butter. I made my dough the night before, shaped the biscuits, and then froze them overnight. In the morning all that I had to do was pop them in the oven, scramble some eggs, slice some fresh fruit, and we had a perfect weekend breakfast.
Pecan Sour Cream Biscuits
Makes 12 biscuits
Ingredients:
2 cups all-purpose flour
1 tbsp. baking powder
¼ tsp. baking soda
½ tsp. salt
¼ cup packed light brown sugar
5 tbsp. cold unsalted butter, cut into 1/2-inch pieces
½ cup cold sour cream
¼ cup cold whole milk
1/3 cup chopped pecans, toasted
Directions:
Center a rack in the oven and preheat to 425 degrees F. Line a baking sheet with parchment or a silicone baking mat.
Whisk together the flour, baking powder, baking soda, and salt in a large bowl. Stir in the brown sugar, making sure there are no lumps. Add in the cold butter pieces. Quickly, using either your fingers or a pastry blender, cut and rub the butter into the dry ingredients until the mixture is pebbly, and the largest pieces of butter are the size of small peas.
Stir the sour cream and milk together and pour over the dry ingredients. Using a fork, gently mix the ingredients together until you have a soft dough. Use your hands to gently and quickly knead the dough 3 or 4 times, just until the dough comes together (err on the side of under-mixing). Toss in the pecans and knead another 2 or 3 times to incorporate them.
Lightly dust a work surface with flour and turn out the dough. Dust the top of the dough very lightly with flour and either pat or roll the dough out until it is about ½-inch thick. Try not to handle the dough too much, so that the biscuits will be tender and flaky.
Using a sharp, 2-inch biscuit cutter, cut out as many biscuits as you can. Transfer to the lined baking sheet. Gather together the scraps, pat out to 1/2-inch thick, and cut as many additional biscuits as you can. (At this point, you can freeze the biscuits on the baking sheet, then wrap them airtight and store in the freezer for up to 2 months. Bake them without defrosting, adding a few minutes to the baking time if needed.)
Bake the biscuits for 14 to 18 minutes, until they are golden brown. Serve immediately.
Source: Baking: From My Home to Yours, by Dorie Greenspan.