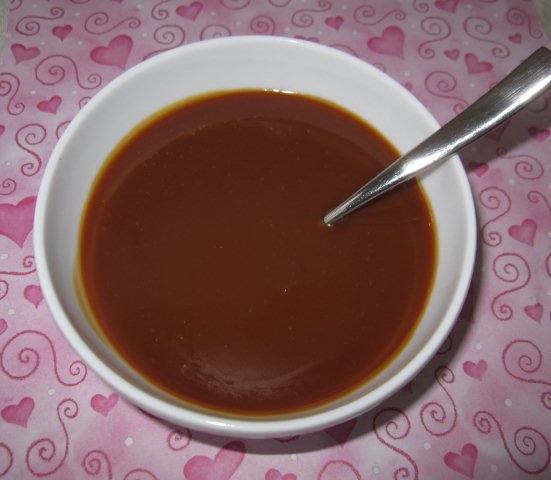 I almost didn't try this recipe. I had planned to make a new type of ice cream, which included a caramel swirl. First, I thought I'd make my own caramel sauce. Then I thought, no, I'll just buy some because that will be easier. Finally I decided to just go for it and I'm so glad I did. It ended up being a lot of fun to make homemade caramel sauce! (And it wasn't very difficult, either.)
The caramel sauce has an almost butterscotch-like flavor and goes really well with vanilla ice cream. If you are going to try this recipe, I suggest having all of your ingredients and tools ready before you begin. Measure out the heavy cream ahead of time, and have a whisk and potholders ready. When the melted sugar turns deep amber and just begins to smoke, you have to work very quickly to remove it from the heat and whisk in the cream right away, or the caramel will burn (I didn't have a whisk ready and almost burned mine).
Here are a few photos of the process. My sister, Karen, was visiting, so she assisted in making the caramel and taking pictures. It's so much fun to have a baking partner!
Caramel Sauce
Makes 1 1/2 cups
Note: The sugar gets very hot as it liquefies. Wear an oven mitt while stirring in the cream, and be careful not to look too closely into the pot because it may bubble up some.
Ingredients:
1 cup sugar
1 1/4 cups heavy cream
1/4 teaspoon coarse salt
1/2 teaspoon vanilla extract
Directions:
In a large, deep, heavy-duty saucepan or Dutch oven, spread the sugar in an even layer. Cook the sugar over low to medium heat, watching it carefully. When it begins to liquefy and darken at the edges, use a heatproof spatula to very gently stir it to encourage even cooking.
Tilt the pan and stir gently until all of the sugar is melted, and the caramel begins to smoke and turns a deep amber color. Immediately remove from the heat and whisk in half of the cream, which will steam and bubble up furiously. Carefully stir until the sugar is dissolved, then gradually whisk in the remaining cream and the salt and vanilla. If there are any bits of hardened sugar, whisk the sauce over low heat until smooth. Serve warm.
Storage: The sauce can be stored in the refrigerator for up to 2 weeks. Rewarm it gently in the microwave or in a saucepan over very low heat. If the sauce is too thick, you can thin it by adding a small amount of milk or cream.
Recipe from The Perfect Scoop by David Lebovitz