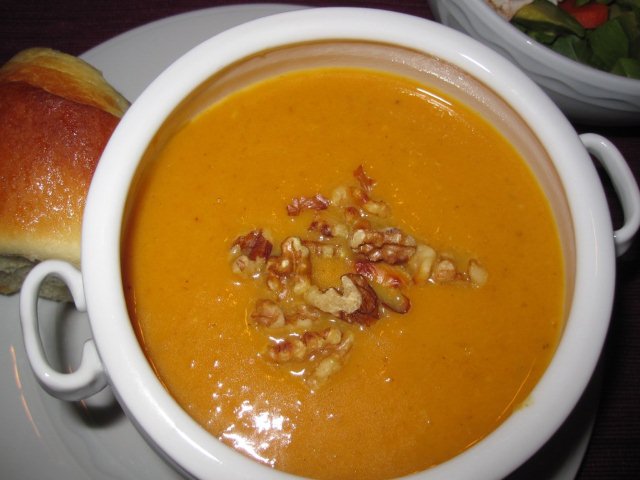 Do you ever have really high hopes for a new recipe, but at the same time worry that it might not turn out well at all? That was my thinking about this pumpkin soup recipe before I tried it. For some reason, I wasn't sure if the ingredients were going to meld together well into the flavor I wanted. Happily, this pumpkin soup exceeded my highest expectations. It was so delicious, I could hardly wait until the next night when I could eat the leftovers for dinner.
Another positive aspect of this recipe is that it is so easy! The only chopping involved is the chopping of one onion and two garlic cloves. After sauteing the onion and adding the other ingredients, a quick 15 minute simmer allows the flavors to come together. Finally, you puree the soup, stir in a little half-and-half, and you're done! (By the way, if you don't have an immersion hand blender, I highly recommend getting one. It is so much easier to puree soups using an immersion blender than by transferring the soup to a blender or food processor, and saves a lot of clean-up!)
Toasted walnuts make a nice garnish for this pumpkin soup, which was just perfect with these honey yeast rolls and a simple green salad.
Harvest Pumpkin Soup
Makes 4 to 6 servings
Ingredients:
2 tbsp. unsalted butter
1 medium onion, finely chopped
2 medium garlic cloves, chopped or pressed through a garlic press
1/2 teaspoon ground cumin
1/2 teaspoon ground coriander
1/4 teaspoon ground nutmeg
2 (14.5-ounce) cans low-sodium chicken broth
1 (15-ounce) can pure pumpkin
1/4 cup maple syrup
1/2 cup half-and-half
Salt and ground black pepper
Toasted walnuts (optional garnish)
Directions:
Melt the butter in a large Dutch oven over medium heat. Add the onion and cook until softened, 5 to 7 minutes. Stir in the garlic, cumin, coriander, and nutmeg and cook until fragrant, about 30 seconds.
Stir in the broth, pumpkin, and maple syrup, scraping up any browned bits, and bring to a boil. Reduce to a simmer and cook until the flavors have come together, about 15 minutes.
Puree the soup until smooth, either with an immersion hand blender, or by transferring it in batches to a blender or food processor.
Stir in the half-and-half. If the soup has cooled, heat it gently over low heat until hot, but do not boil. Season with salt and pepper to taste. Garnish with toasted walnuts, if desired.
Recipe adapted from Cook's Illustrated:  Soups, Stews & Chilis