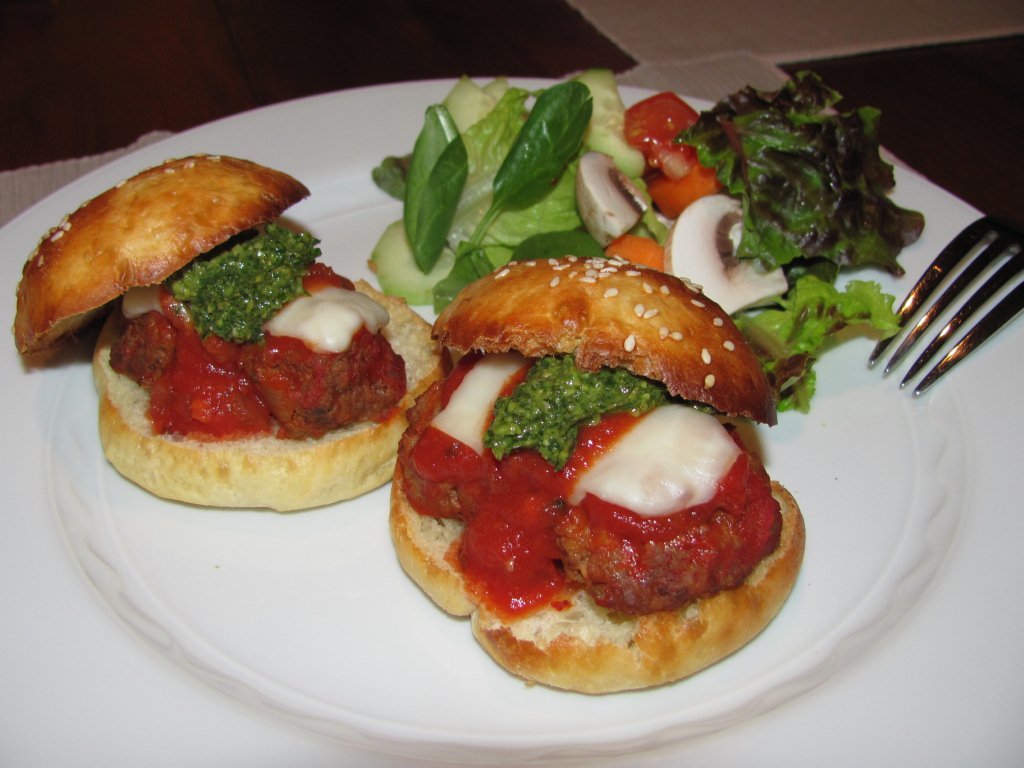 These slider sandwiches are amazing. I have made meatball sub sandwiches in the past, but the addition of basil pesto to these sliders makes them exceptionally delicious. The pesto is a great complement to the flavors of the tomato sauce and meatballs. I served my sliders on my favorite homemade burger buns, and I think that also had a big positive impact on the flavor of the sandwich. The toasted homemade buns were able to stand up to the tomato sauce and pesto toppings without becoming soggy, which I think is so important in a sandwich. I made the buns half-size for the sliders, and they were perfect. You can certainly buy slider buns at the store if you don't have the time or desire to make them. But if you have the time, the homemade buns are well worth the minimal effort it takes to make them. They also freeze well, and I now have enough leftover buns in my freezer for another few meals.
There was a fair amount of cooking involved to put this meal together, but if you enjoy cooking, that's not a bad thing, right? Plus, my time in the kitchen produced enough food for three meals, for our family of three. I made the meatballs and tomato sauce one day, and that night we had spaghetti and meatballs for dinner. When I made the sauce and meatballs, I froze some sauce and a few uncooked meatballs for a future meal. The second day, all I had to do to get the sliders on the table was make the pesto and assemble the sandwiches. Quick and easy! (And, I made a double batch of pesto so that I could make this pizza for dinner the following night. Yum!) Now that I know how good these sliders are, next time I think we'll have to have them for dinner two nights instead of only one.

One year ago: Pasta with Spinach, Zucchini, Pine Nuts, and Ricotta
Meatball Sliders with Basil Pesto
Makes about 20 sliders
Ingredients:
For the sauce:
2 tablespoons olive oil
1 large yellow onion, chopped
4 cloves garlic, minced
1 (28 oz.) can tomato puree
1 (28 oz.) can tomato sauce
2 teaspoons dried parsley
1 teaspoon dried basil
1/2 teaspoon dried oregano
1 teaspoon salt
2 tablespoons sugar
Water (optional)
For the meatballs:
1/2 cup breadcrumbs, divided (I used panko)
1/4 cup milk
1 lb. ground beef
1 egg
1 clove garlic, minced
1 teaspoon kosher salt
1/2 teaspoon black pepper
1 teaspoon dried parsley
1/2 teaspoon dried basil
Olive oil
For the pesto:
1 cup packed fresh basil leaves
1 clove garlic
2 tablespoons pine nuts
1/4 cup olive oil
1/4 cup freshly grated Parmesan cheese
Salt and pepper, to taste
For the sliders:
About 2 dozen white dinner rolls
Sliced provolone or jack cheese
Directions:
To make the sauce, heat the olive oil in a large pot or Dutch oven over medium heat. Add the onion to the pot and saute until tender, 5-8 minutes. Add the garlic and saute until fragrant, stirring, about 1 minute. Add the tomato puree, tomato sauce, parsley, basil, oregano, salt, and sugar. Add water to thin the sauce to your desired consistency. Bring to a boil, then lower the heat to a simmer. Let simmer for at least 2 hours.
To make the meatballs, combine 1/4 cup of the breadcrumbs with the milk in a large mixing bowl. Let stand 10 minutes. Add the remaining breadcrumbs, ground beef, egg, garlic, salt, pepper, parsley, and basil to the bowl. Mix well until thoroughly combined. Form into meatballs, about 1 1/4 inches in diameter. Heat about 1 tablespoon of olive oil in a large skillet over medium heat. Brown the meatballs on all sides and then add them to the simmering sauce about 45 minutes before the sauce is finished. Cover and let simmer until the meatballs are cooked through, 35-45 minutes.
To make the pesto, combine the basil, garlic, and pine nuts in the bowl of a food processor. Pulse until finely chopped. Scrape down the sides of the bowl. With the processor running, add the olive oil in a steady stream through the feed tube until well incorporated. Transfer the mixture to a small bowl and stir in the grated Parmesan. Season with salt and pepper to taste.
To assemble the sliders, preheat the oven to 400 degrees. Slice the dinner rolls in half and lay open on a baking sheet. Bake for 5 minutes, just until lightly toasted. Slice a cooked meatball in half and place both halves on the bottom portion of a roll, flat side down. Spoon a small amount of sauce over the meatball. Top with sliced cheese. Repeat with remaining rolls. Bake again, 5 minutes more, just until the cheese is melted. Spoon a small amount of additional sauce over the cheese, and finish with a small spoonful of pesto on top. Serve immediately.
Recipe slightly adapted from Annie's Eats, originally adapted from The Comfort of Cooking