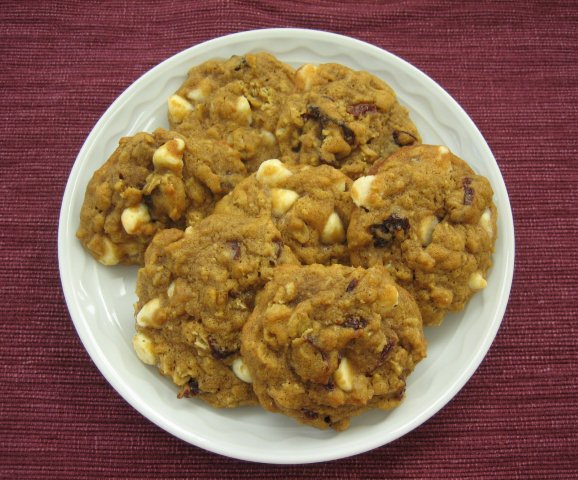 As the seasons have started to change, I have seen so many wonderful pumpkin recipes featured on the blogs I read. Since we've finally had some fall-like temperatures here over the past few days (before that we had a number of 100-degree plus days!), I decided that it was finally time for me to bake something with pumpkin. There were so many recipes to choose from, and I finally decided on these pumpkin cookies.
The pumpkin flavor of these cookies is enhanced with pumpkin pie spice and cinnamon, as well as dried cherries and white chocolate chips. I think they would also be good with come chopped pecans or walnuts.
The pumpkin cookies have a very soft, moist texture. I stored mine in the freezer and they are perfect either right out of the freezer or defrosted on the counter for just a few minutes. The next time you have a few minutes to spare on a chilly fall afternoon, I recommend that you bake some of these pumpkin cookies. They will make your kitchen smell amazing, and they taste delicious with a hot cup of tea or coffee.
Pumpkin Oatmeal Cookies
Makes 48 cookies
Ingredients:
2 cups all purpose flour
1 1/2 cups old-fashioned oats
1 teaspoon baking soda
1 1/2 teaspoons ground cinnamon
1 teaspoon pumpkin pie spice
1/2 teaspoon kosher salt
1 cup (2 sticks) butter, softened
1 cup packed brown sugar
1 cup granulated sugar
1 cup pure pumpkin puree
1 large egg
1 teaspoon vanilla extract
1 cup white chocolate chips
1 cup dried cherries, roughly chopped
Directions:
Preheat oven to 350 degrees F. Line a baking sheet with parchment paper.
Combine flour, oats, baking soda, cinnamon, pumpkin pie spice, and salt in a medium bowl. Beat butter, brown sugar, and granulated sugar in a large mixer bowl until light and fluffy.
Add pumpkin, egg, and vanilla extract; mix well. Add flour mixture; combine until all ingredients are incorporated. Fold in white chocolate chips and dried cherries.
Drop by rounded tablespoons onto prepared baking sheets.
Bake for 12-14 minutes or until cookies are lightly browned. Cool on baking sheets 2 minutes; transfer to wire racks to cool completely.
Recipe from My Baking Addiction