We love this Roasted Butternut Squash Wild Rice Salad with Apple and Cranberries so much that we can't save it just for the holidays!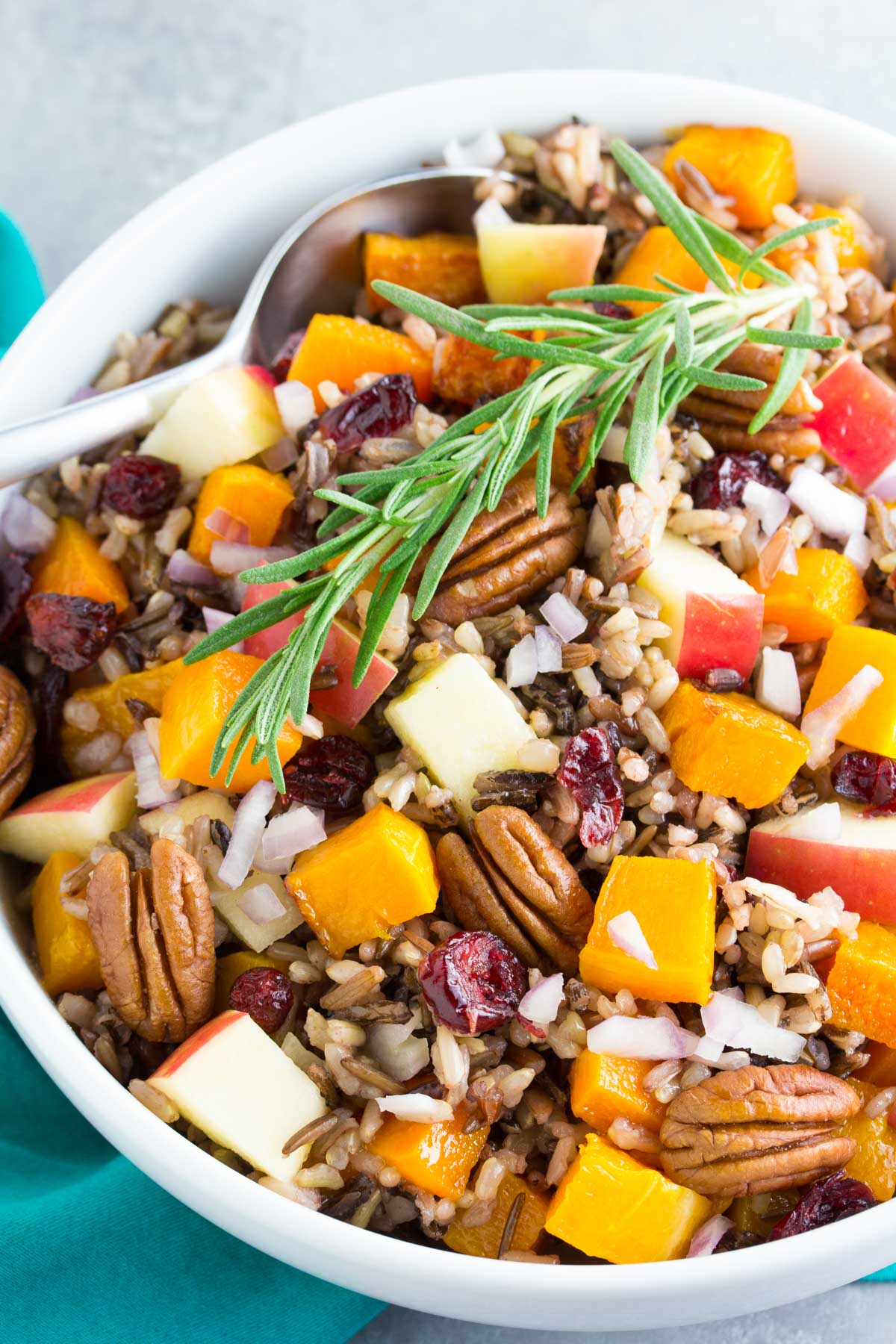 I first shared this recipe on RecipeGirl, where I'm a monthly contributor. I'm so excited to share the recipe for this delicious salad with all of you today!
I originally made this roasted butternut squash wild rice salad as a holiday side dish. And then I proceeded to eat the leftovers for lunch for the next two days. And I was so sad when it was gone!
Like most moms, you are probably struggling to find the TIME to put a homemade dinner on the table for your family on busy weeknights. If you already had a plan, a grocery list, easy recipes and prep-ahead tips, you could have a REAL dinner on your table in a flash! I have been meal planning and prepping for years and now I am sharing my plan with YOU. You will save time, save money cooking at home, and eat real food.
Learn more about my Time-Saving Healthy Family Meal Plan.
You'll love this recipe because it's extremely versatile. So long as butternut squash is in season, I know you'll find a reason to make this wild rice salad. Thanksgiving dinner? Of course. Christmas? Definitely. A random Tuesday in October? You bet! You're doing Sunday food prep and you need make ahead lunches for the week? This salad is just the thing!
This healthy salad will last for at least 3 days in the refrigerator, and it gets better each day as the flavors develop. The make ahead option is super convenient whether you're prepping ahead for your own meals or for a holiday dinner.
Along with my new favorite kale salad recipe, this Roasted Butternut Squash Wild Rice Salad with Apple and Cranberries is one of my very favorite recipes that I've created this fall. The roasted butternut squash is a big part of that. I haven't yet met a butternut squash recipe I didn't like, and when butternut squash is roasted it's the very best. It's both sweet and savory at the same time, and when the edges begin to get caramelized… yum!
This salad was my first time cooking with wild rice, and I'm now wholeheartedly a fan. Why have I not experimented with wild rice dishes before? I can say with certainty that there will be more wild rice dishes happening in my kitchen, and hopefully coming your way soon!
In addition to the wild rice and butternut squash, this salad has all sorts of goodies. The toasted pecans, fresh apple and dried cranberries are all wonderful with the rice and squash. Shallots add a pop of flavor. I lightly dressed this salad because the ingredients themselves already bring so much flavor that I didn't want them to be overwhelmed with dressing. I chose an easy apple cider vinaigrette for this salad.
Although there are a few steps to get this roasted butternut squash wild rice salad together, none are difficult or time-consuming. I've written the process out step by step for you below, so that it will seem easy. Enjoy!
We love this Roasted Butternut Squash Wild Rice Salad for…
a healthy holiday side dish
make ahead lunches
a simple, healthy weeknight dinner
Like what you see? Be sure to follow along to never miss a recipe!
PINTEREST | FACEBOOK | INSTAGRAM | GOOGLE+ | TWITTER | EMAIL | RSS
Roasted Butternut Squash Wild Rice Salad with Apple and Cranberries
We love this Roasted Butternut Squash Wild Rice Salad with Apple and Cranberries so much that we can't save it just for the holidays!
Ingredients
For the salad:
2 ½ cups water
1 ½ cups wild rice
5 cups butternut squash (about 1 medium squash), peeled, seeded, and cut into 1-inch cubes
1 ½ tablespoons olive oil
¾ cup pecans
1 large apple, cut into ½-inch pieces
½ cup dried cranberries
¼ cup finely chopped shallot (or red onion)
fresh rosemary, for garnish, if desired
For the dressing:
¼ cup extra virgin olive oil
2 tablespoons apple cider vinegar
1 tablespoon honey
1 teaspoon Dijon mustard
¼ teaspoon salt
⅛ teaspoon pepper
Directions
Place water and rice in a medium saucepan and bring to a boil. Cover, reduce heat to a low simmer, and cook for 40-45 minutes until water is absorbed. Remove from heat and let stand for 10 minutes with the lid still on. Fluff with a fork.
Meanwhile, preheat oven to 425 degrees F. Place butternut squash on a rimmed baking sheet and toss with the 1 ½ tablespoons of olive oil. Roast in the preheated oven for 35-40 minutes, turning once halfway through, until tender.
Toast the pecans by placing them in a small skillet over medium heat until fragrant. Watch them closely as they can go from toasted to burnt quickly.
In a large bowl, combine the cooked rice, roasted squash, toasted pecans, apple pieces, dried cranberries, and shallot.
In a small bowl, whisk together all dressing ingredients. Pour dressing over the salad and toss gently to combine. Salad can be served warm, at room temperature, or chilled.
Save
Save