This summer Julia and I have been making smoothies almost every day. Sometimes we will have a smoothie and sandwich for lunch, but most often we enjoy our smoothies at snack time. We are in the middle of the to-nap or not-to-nap phase right now with Julia. Most days, she really needs at least a short nap to make it through her day and the evening routine without being overly tired. The problem is that if I don't wake her up after an hour or so, she will nap for way too long and then have trouble going to bed at night. And waking her up sometimes does not go very well, but I totally understand. I don't like being woken up before I'm ready, and I bet you don't either. This is where a smoothie sometimes helps. There's nothing like the promise of a smoothie to turn a not-quite awake, grumpy 4-year-old into a smiling one.
I call this smoothie the Strawberry Milkshake Smoothie because, you guessed it, it tastes like a strawberry milkshake. But this smoothie is completely without the guilt that comes along with a real strawberry milkshake. It's purely fruit, yogurt, and milk, plus some ground flaxseed for an added nutritional boost. The smoothie has natural sweetness from the fruit and a little tang from the Greek yogurt. I like to add a few frozen peach slices to this smoothie, but the strawberry flavor remains the most prominent. If you use pineapple instead of peach, you will taste a hint of pineapple in your smoothie. The banana helps to smooth out the texture of the smoothie.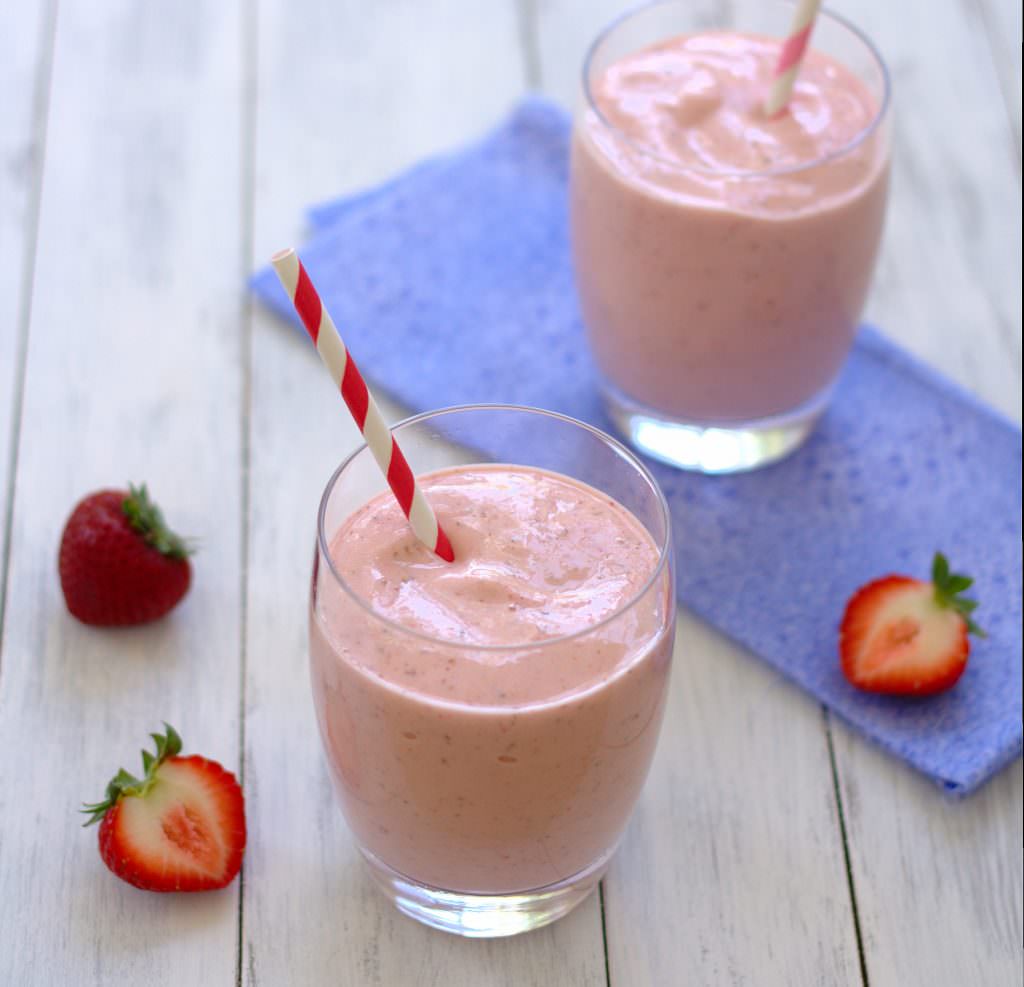 This Strawberry Milkshake Smoothie is perfect for breakfast, lunch, a snack, or even dessert! Plus, since it's made with frozen fruit, you can make it year-round. The recipe below makes two adult-size smoothies, which is just enough for Julia, William, and I to share. Yep, the little guy loves smoothies already, too. What's not to love?
Strawberry Milkshake Smoothie
Makes 2 smoothies
Ingredients:
½ banana
¾ cup Greek yogurt
1 cup lowfat milk
1 tbsp. ground flaxseed
1 ½ cups frozen strawberries
½ cup frozen peaches (or pineapple)
Directions:
Place banana, Greek yogurt, milk, flaxseed, and about half of the frozen fruit in a blender. Blend until mostly smooth, and then add the rest of the frozen fruit. Blend until smooth. Pour into glasses and serve immediately.
Source: Kristine's Kitchen Original.