Apple Cinnamon Overnight Oats
This easy Apple Cinnamon Overnight Oats recipe is a favorite make ahead breakfast for busy mornings!
This post is sponsored by Bob's Red Mill. As always, all opinions are my own.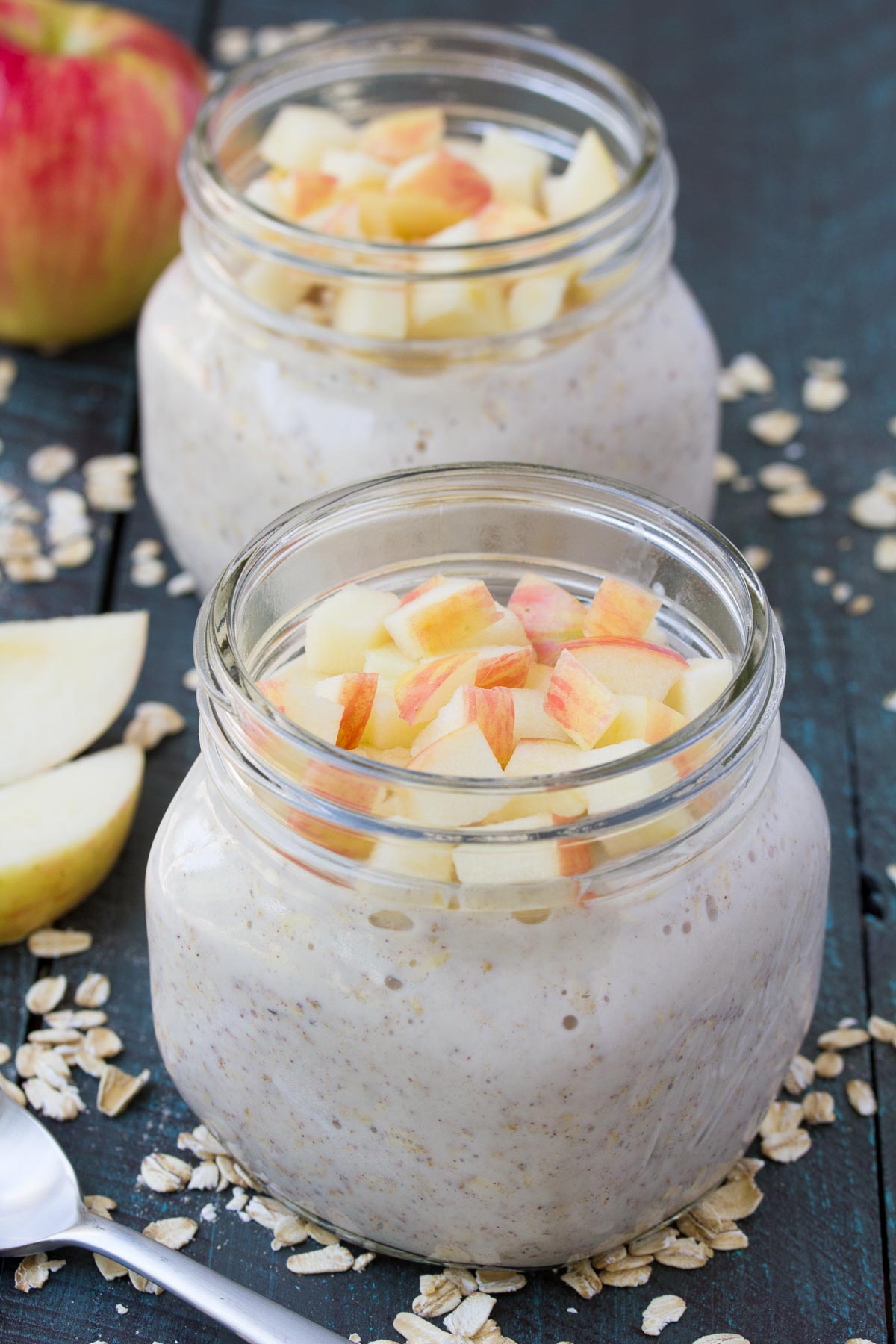 I have a secret.
Like most moms, you are probably struggling to find the TIME to put a homemade dinner on the table for your family on busy weeknights. If you already had a plan, a grocery list, easy recipes and prep-ahead tips, you could have a REAL dinner on your table in a flash! I have been meal planning and prepping for years and now I am sharing my plan with YOU. You will save time, save money cooking at home, and eat real food.
Learn more about my Time-Saving Healthy Family Meal Plan.
I crave sweet treats in the morning with my coffee. A cinnamon roll or muffin, perhaps?
You too?
Or even a slice of apple pie. We can do pie for breakfast, right?
Wait… which blog is this? Aren't we supposed to be focusing on healthy, nutritious foods?!
No worries! We can have all the delicious apple pie flavor we want, and still keep it healthy.
These Apple Cinnamon Overnight Oats taste like a treat but have wholesome oats, fresh fruit, and natural sweetness. No need for processed treats or calorie laden baked goods. Instead we'll start our day with a breakfast that gives us energy, rather than a sugar rush and energy crash. These oats are so filling, they'll keep you from craving sweets all morning long.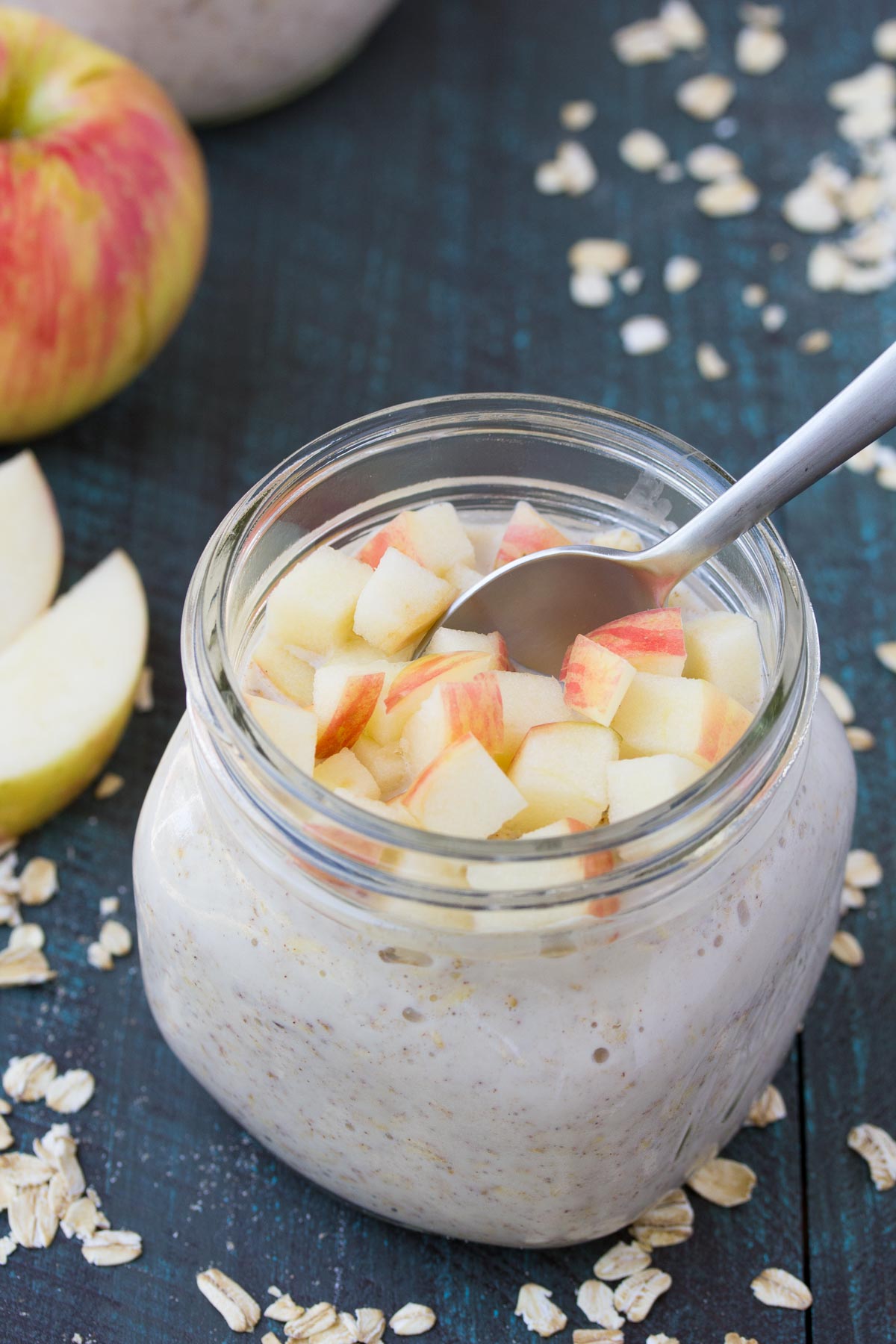 This time of year, it seems everyone is going crazy for pumpkin bread and pumpkin spice lattes. Me, I'm loving the crisp, sweet-tart apples that are in season right now. We enjoy apples year round, but right now is their peak season.
These Apple Cinnamon Overnight Oats are one of my favorite ways to enjoy fresh apples. You can eat the oats cold or warm them up in the microwave. Either way, they are hearty, filling, and full of cinnamon spice!
This apple cinnamon overnight oatmeal couldn't be easier to make. You mix the ingredients together in a mason jar or bowl and refrigerate overnight. While you sleep, the oats absorb the milk, applesauce and cinnamon. In the morning you have yourself a delicious bowl of oatmeal that's infused with the flavors of apple pie!
The star ingredient in this recipe is the oats, and my favorite brand of oats is Bob's Red Mill. Bob's Red Mill old-fashioned rolled oats have a perfectly hearty texture that is delicious in your favorite oatmeal recipes. My family eats a lot of oats, and I can't say enough about the quality of Bob's Red Mill products. Their quick cooking steel cut oats are another favorite of mine.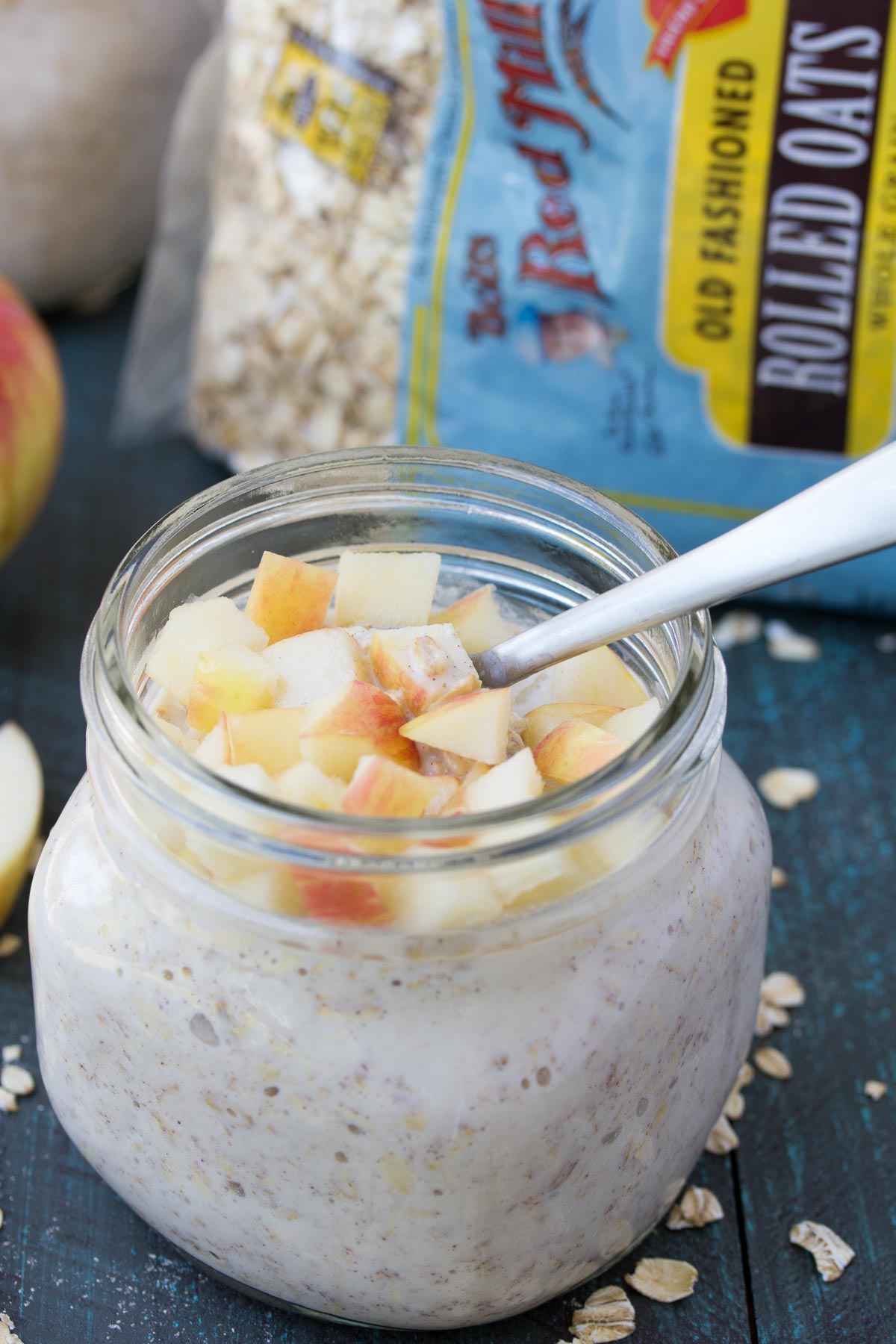 I like to wait and stir the fresh apple pieces into my oats in the morning, right before serving. Fresh apples are so full of flavor right now, and they add a healthy dose of sweetness to these Apple Cinnamon Overnight Oats. I also like to add a half teaspoon of pure maple syrup to my oats. That's just enough to bring the flavors of apple and cinnamon together and make each bite of oats irresistible.
With this make ahead recipe, you can spend 3 minutes at night preparing your breakfast for the next day. How easy (and deliciously healthy) is that?
Like what you see? Be sure to follow along to never miss a recipe!
PINTEREST | FACEBOOK | INSTAGRAM | GOOGLE+ | TWITTER | EMAIL | RSS
Apple Cinnamon Overnight Oats
This easy Apple Cinnamon Overnight Oats recipe is a favorite make ahead breakfast for busy mornings!
Ingredients
½ cup Bob's Red Mill old-fashioned rolled oats
2 tablespoons unsweetened applesauce
1 tablespoon plain Greek yogurt
½ teaspoon pure maple syrup
¼ teaspoon cinnamon
½ cup milk of your choice
½ apple, chopped
Directions
Place all ingredients, except chopped apple, in a wide-mouth mason jar (or bowl). Place lid on jar and shake until everything is well combined. (Or stir if using a bowl and then cover with plastic wrap.)
Refrigerate overnight.
When ready to serve, stir in chopped apples and enjoy.
Delicious twists on these Apple Cinnamon Overnight Oats:
Add some chopped pecans, almonds, or walnuts for crunch and extra protein.
Saute the chopped apples in a little bit of butter and maple syrup – instant apple pie filling in your oatmeal!
Add ¼ teaspoon of pumpkin pie spice for a pumpkin-apple breakfast treat.
This post is sponsored by Bob's Red Mill, one of my favorite brands for cooking and baking ingredients. Thank you for supporting the brands that support Kristine's Kitchen!
Save
This site contains affiliate links. If you make a purchase through these links, I may receive a small commission. Thank you for supporting Kristine's Kitchen!