Mexican Quinoa and Sweet Potato Skillet
This Mexican Quinoa and Sweet Potato Skillet is an easy one pot meal that you can have on your table in 30 minutes.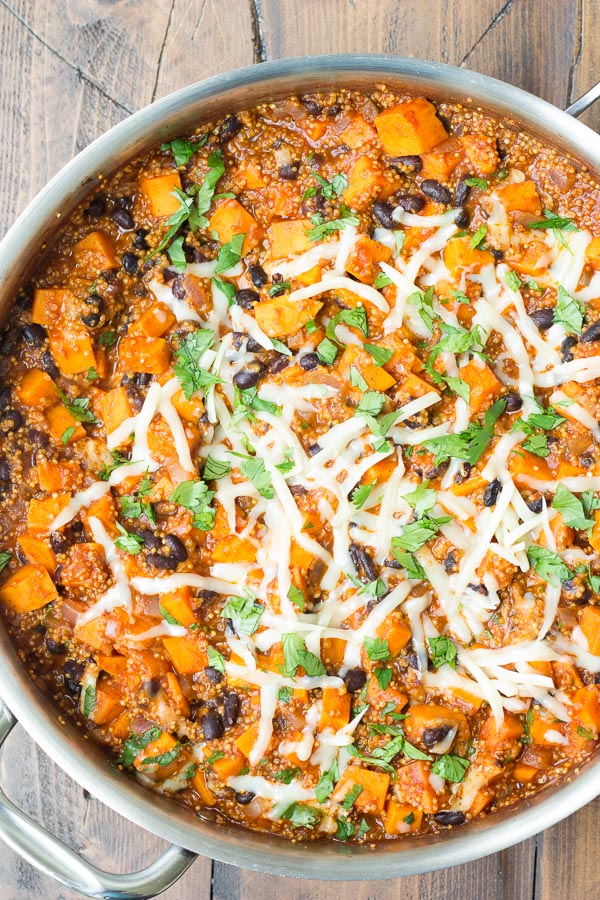 Here we are again… it's a new month and another 30 Minute Thursday! If you're new here, let me explain. On the first Thursday of each month a few of my blogging friends and I each share a recipe that can be made in 30 minutes or less, start to finish. We want to help you get dinner on the table, and fast!
Since today also happens to be Cinco de Mayo, I couldn't help but share a Mexican-inspired recipe! I took this Quinoa and Sweet Potato Enchilada Casserole, one of my all-time most popular recipes, and adapted it to get today's Mexican Quinoa and Sweet Potato Skillet. I kept the flavors and key ingredients in the casserole, but cooked everything in one pot on the stove to speed things up. Preparing this dish in a skillet also creates less dishes, which is a major plus.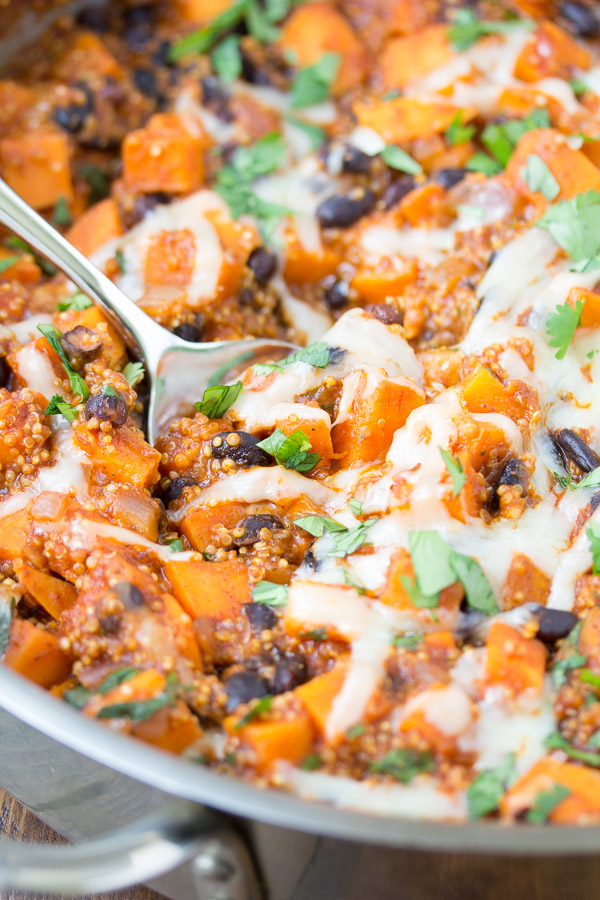 This skillet has a mildly spicy enchilada-style sauce, onion, black beans, cilantro, and cheese. And, of course, plenty of quinoa and sweet potatoes!
We like to serve this Mexican Quinoa and Sweet Potato Skillet either wrapped in whole grain tortillas or with tortilla chips for scooping. The leftovers are delicious for lunch the next day.
Happy Cinco de Mayo! I hope you enjoy some delicious food today! Be sure to check out the recipe links below for more dinner inspiration. Many of the recipes are Mexican-themed this month! 🙂
Why you'll love this Mexican Quinoa and Sweet Potato Skillet:
This meal is meatless, yet still full of protein thanks to the quinoa and black beans. Quinoa is also naturally gluten-free and a good source of fiber and other nutrients.
Sweet potatoes are an excellent source of many nutrients, including Vitamins A and C, magnesium, potassium, and fiber.
It's ready in 30 minutes!
You will only have one pan to wash after making dinner. Enough said.
Like what you see? Be sure to follow along to never miss a recipe!
PINTEREST | FACEBOOK | INSTAGRAM | GOOGLE+ | TWITTER | EMAIL | RSS
Mexican Quinoa and Sweet Potato Skillet
This Mexican Quinoa and Sweet Potato Skillet is an easy one pot meal that you can have on your table in 30 minutes.
Recipe type:
Main Dish, One Pot, 30 Minute Meal
Ingredients
2 medium sweet potatoes
2 teaspoons olive oil
1 small red onion
2 cloves garlic, minced
1 ½ tablespoons chili powder
½ tablespoon cumin
¼ teaspoon salt
15 ounce can tomato sauce
1 ½ cups water
1 cup uncooked quinoa, rinsed well and drained
15 ounce can black beans, rinsed and drained
1 cup grated Monterey jack cheese, divided
½ cup chopped fresh cilantro, divided
tortilla chips or whole grain tortillas, for serving
Directions
Peel and chop the sweet potatoes into ½-inch cubes.
Heat olive oil in a large skillet over medium low heat. Add the sweet potatoes and cook, stirring occasionally, for 2 minutes.
Meanwhile, chop the onion. Add the onion to the skillet and cook for 2 minutes. Stir in the garlic, chili powder, cumin, and salt and cook for 30 seconds.
Stir in the tomato sauce, water, quinoa, and black beans. Cover and bring to a boil; reduce heat to a simmer and cook until the quinoa has absorbed most of the liquid, about 15 minutes.
Stir to make sure everything is evenly distributed. Remove from the heat and stir in ½ cup of the cheese and ¼ cup of the cilantro. Sprinkle the remaining cheese and cilantro over the top. Serve with tortilla chips or wrap in tortillas, if desired.
You might also like: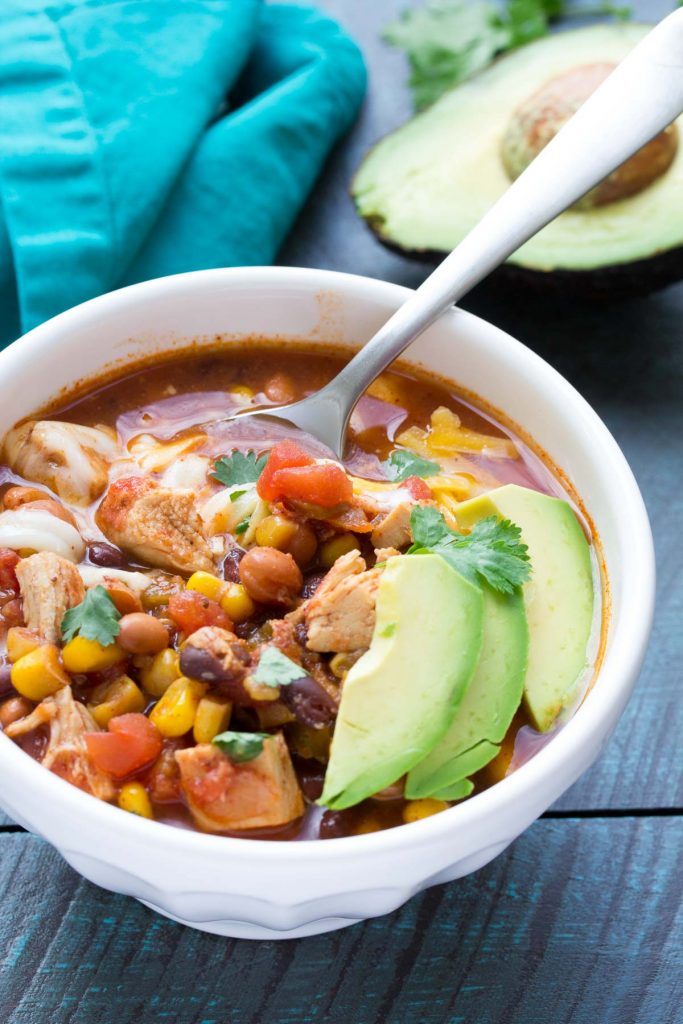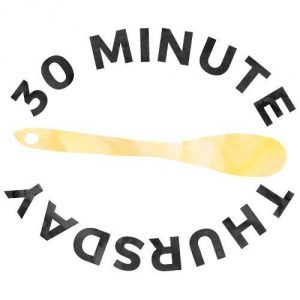 More Quick & Easy Dinner Inspiration!
30-Minute Inside Out Enchiladas with Black Beans & Sweet Potato from She Likes Food
Baked Honey Garlic Chicken from Pumpkin N' Spice
Chicken Taco Pizza from My Kitchen Craze
Plantain and Black Bean Tacos with Chimichurri Sauce from Floating Kitchen
20 Minute Ground Beef Tacos from Bake.Eat.Repeat
Fish Tacos with Strawberry Avocado Salsa from Flavor the Moments
Southwestern Kale Chickpea Salad with Greek Yogurt Caesar Dressing from Sweet Peas & Saffron
Honey Lime Chicken Quesadillas from The Recipe Rebel
Tropical Grilled Chicken Mexican Salad Bowls from Whole and Heavenly Oven
Balsamic Grilled Chicken with Strawberry Mint Salsa from With Salt and Wit
Mango Shrimp Tostadas from Flying on Jess Fuel
Hawaiian BBQ Chicken Tacos from Savory Nothings
This site contains affiliate links. If you make a purchase through these links, I may receive a small commission, at no extra cost to you. Thank you for supporting Kristine's Kitchen!