Skillet Baked Penne
Perfect for weeknight suppers, this Skillet Baked Penne has all of the comfort of baked pasta without all of the fuss.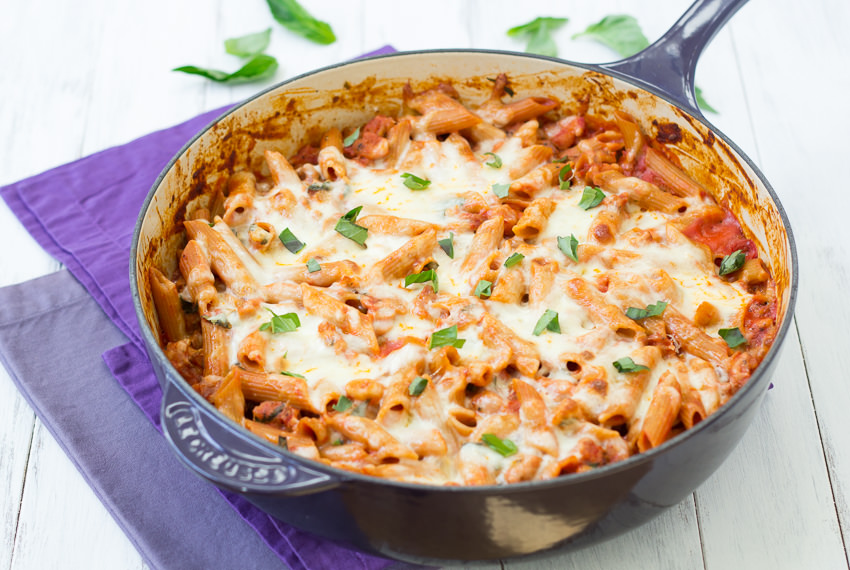 Baked Penne is comfort food at it's best. Pasta, sausage, a tomato cream sauce, and gooey cheese all combine into one satisfying dish. The only problem? Typical baked pasta recipes are hardly practical on a weeknight. This Skillet Baked Penne recipe, however, can be made from start to finish in less than an hour. Plus, you will only have one pan to clean at the end. And, it makes a generous amount of food, so you will likely have leftovers (in other words, a night off from cooking!). Triple win!
To make this, you start by browning some Italian sausage in an oven-safe skillet. I like to use mild Italian chicken sausage. Next you add in garlic and red pepper flakes (plenty of flavor here!) and some crushed tomatoes. The uncooked pasta is added straight into the skillet so that it cooks in the sauce and absorbs so much flavor. Stir in a touch of cream, top it all with some mozzarella and Parmesan cheese, pop it in the oven for a few minutes, and that's it.
I can see this recipe going into regular rotation in our house. My family's favorite pasta shape is penne, but this would work with ziti, rigatoni, rotini, or any short pasta shape that you like.

Skillet Baked Penne
Perfect for weeknight suppers, this Skillet Baked Penne has all of the comfort of baked pasta without all of the fuss.
Serves 6
Ingredients:
1 lb. mild Italian sausage, removed from casings
6 cloves garlic, minced
Pinch of red pepper flakes (or more to taste)
1 (28 oz.) can crushed tomatoes
Kosher salt and freshly ground black pepper
3 cups water
12 oz. penne, or other short pasta shape
½ cup half-n-half or heavy cream
¾ cup Parmesan cheese, divided
¼ cup chopped fresh basil
4 oz. (1 cup) grated mozzarella cheese
Directions:
Preheat oven to 400 degrees F.
In a 12-inch oven-safe skillet set over medium-high heat, brown the sausage until no longer pink, breaking up any large pieces, about 6 minutes. Stir in the garlic and red pepper flakes and cook until fragrant, about 1 minute. Stir in the crushed tomatoes and ½ teaspoon of salt. Reduce heat to medium-low and cook at a low simmer for 8-10 minutes.
Add the water and penne and stir to combine. Cover, increase heat to medium, and cook at a vigorous simmer, stirring often, until the pasta is just tender, 15 to 18 minutes. Remove from the heat.
Stir in the cream, ½ cup of the Parmesan, and 3 tablespoons of the basil. Season with salt and pepper to taste. Sprinkle the mozzarella and remaining ¼ cup Parmesan on top and transfer, uncovered, to the oven. Bake until the cheese has melted and browned and the sauce is bubbling, about 10 to 15 minutes. Sprinkle with the remaining fresh basil and serve.
Source: Adapted from America's Test Kitchen:  The Pasta Revolution
This site contains affiliate links. If you make a purchase through these links, I may receive a small commission, at no extra cost to you. Thank you for supporting Kristine's Kitchen!