Slow Cooker Chicken, Broccoli and Rice Casserole
This cheesy Slow Cooker Chicken, Broccoli and Rice Casserole takes just minutes of prep, thanks to your crock pot!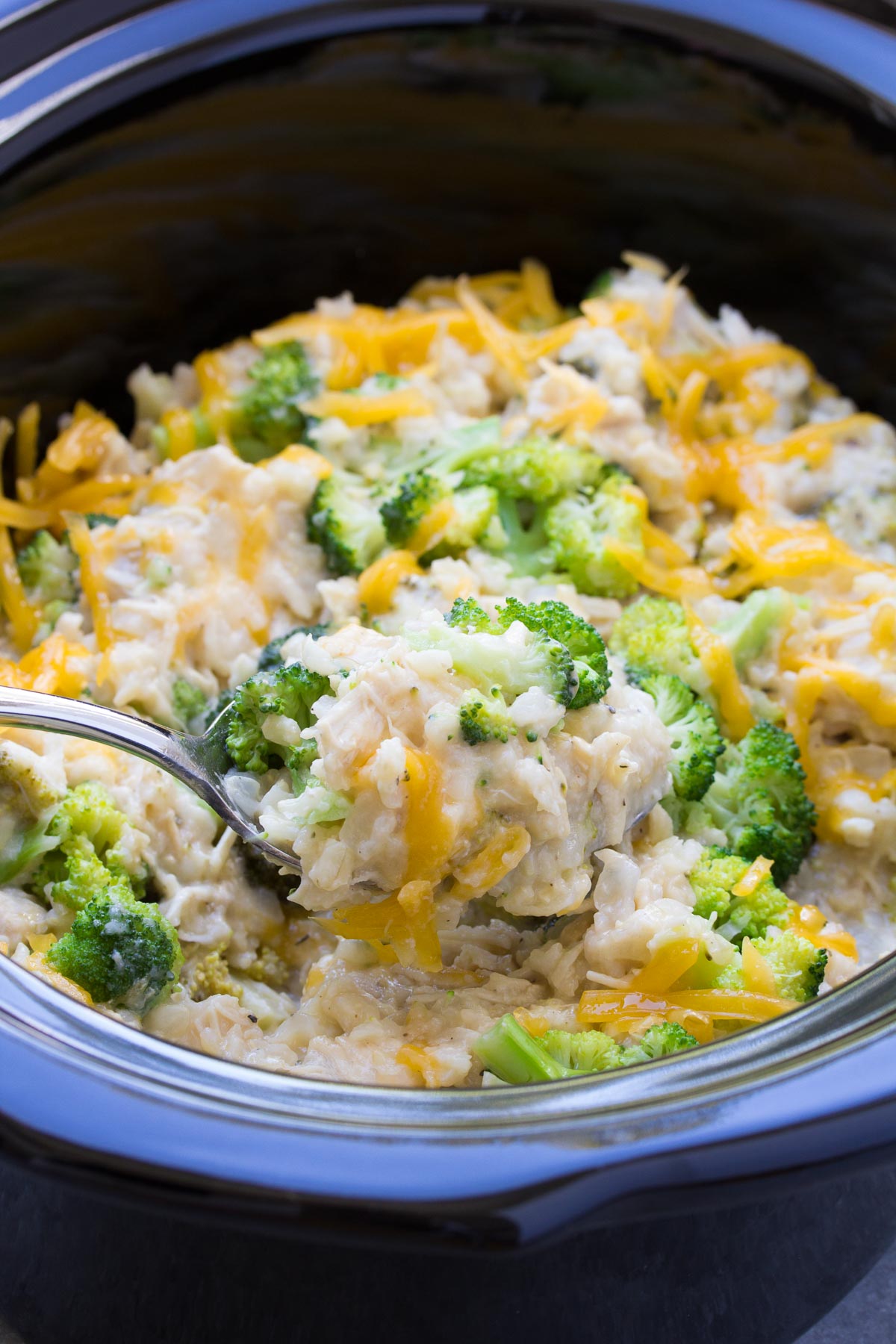 We're heading into the time of year when comfort food cravings abound. Chicken, broccoli and rice casserole is one of our favorite comfort food dinners. I have a from scratch recipe that I love, but it takes a fair amount of time to prepare. This slow cooker version is so easy, it's now my go-to recipe!
I love my slow cooker because it allows me to get dinner on the table quickly and easily. I've had this model for about 4 years now and it always yields delicious results! This Easy (No Chopping) Slow Cooker Chicken Taco Soup is one of my other favorite recipes to make in my slow cooker!
To begin, you combine chopped onion, uncooked brown rice, chicken breasts, seasonings, and broth in the slow cooker. Later on, you'll add the broccoli and some Greek yogurt, cheddar and Parmesan for creaminess. It really couldn't be easier, and takes just 10 minutes of prep time.
No more homemade cream sauces to stir on the stove. No more three pots to watch and then wash after cooking the chicken, broccoli, and rice. Let the slow cooker do its thing to make your dinner while you do whatever else it is you'd rather be doing. 🙂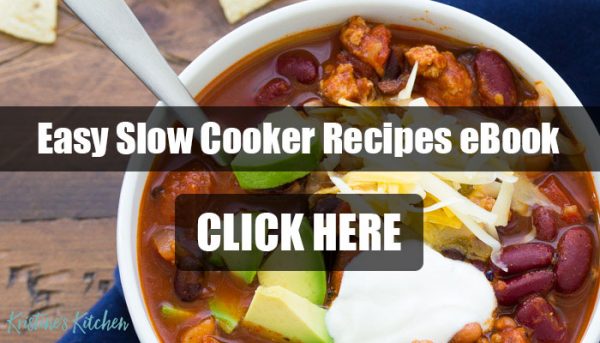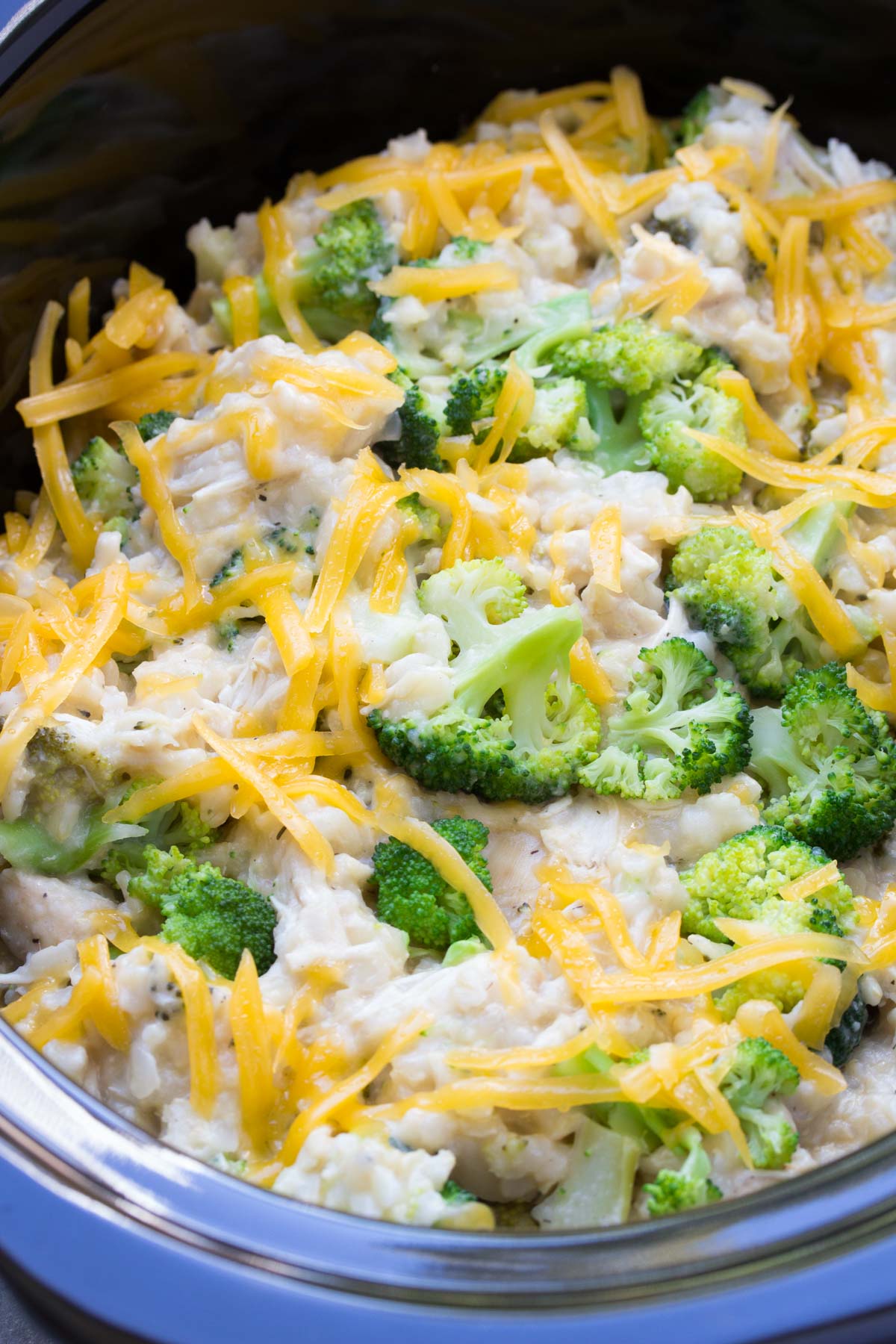 Does this slow cooker version taste exactly the same as the traditional baked casserole? Of course it doesn't. As is the case with slow cooker recipes, the low and slow cooking process gives this casserole a creamier, less firm texture. My family loves this Slow Cooker Chicken, Broccoli and Rice Casserole, especially because it is SO EASY to make!
And if you love the idea of a quick and easy chicken, broccoli and rice casserole, then you need to check out my new 30 minute, SKILLET Chicken, Broccoli and Rice Casserole, all made in one pot! It's one of my family's favorite weeknight dinners.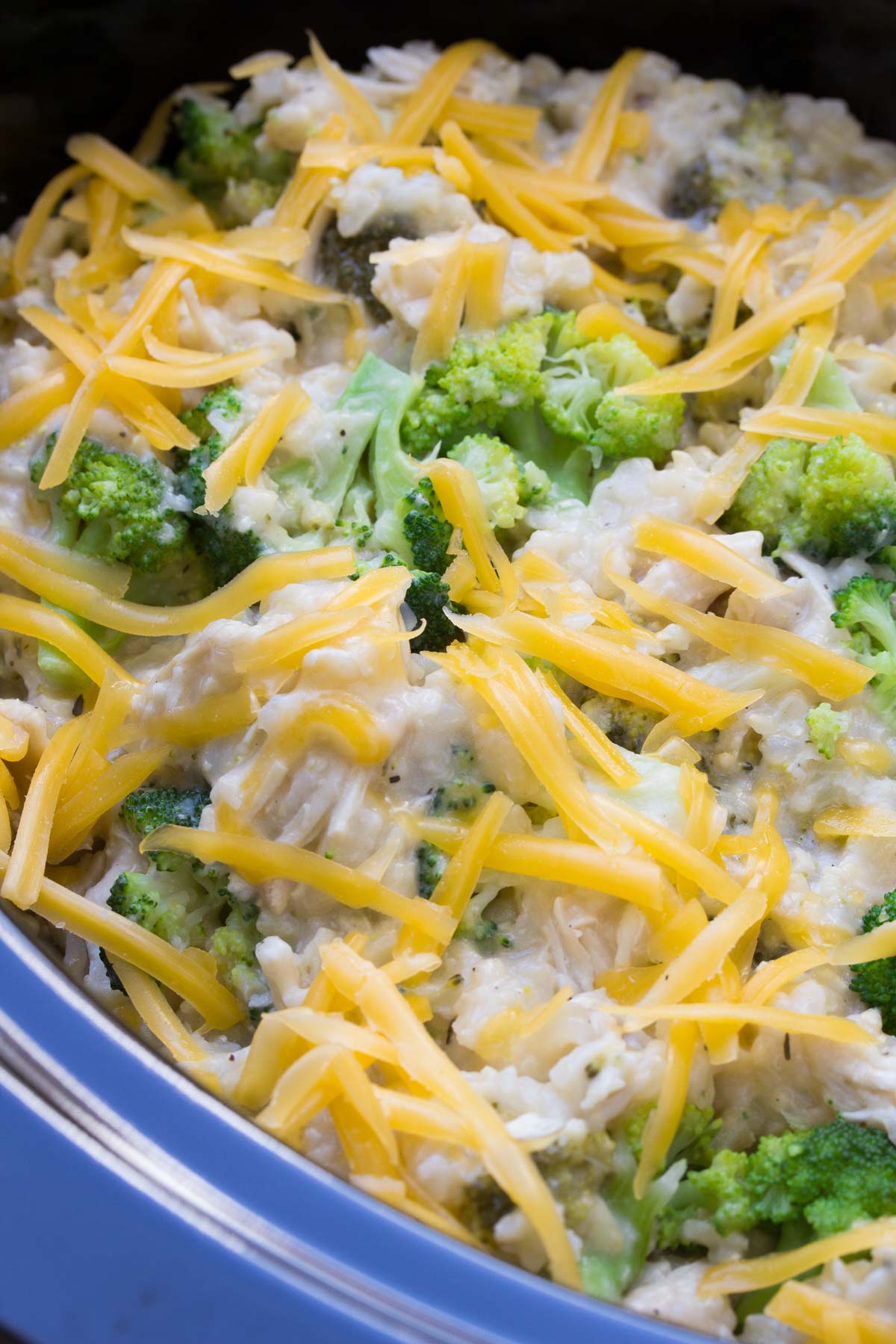 When I think comfort food, I don't always think healthy. This recipe, though, is full of nutritious ingredients. It's made with brown rice, lots of broccoli, and minimal cheese. We're using light, protein-packed Greek yogurt to add creaminess rather than a can of "cream of" soup, heavy cream, or mayo. So you can feel good about feeding this meal to your family (and yourself)!
This won't be the last easy slow cooker recipe you see on the site in the coming months. I love how my slow cooker helps me to prep dinner quickly. I have a few new crock pot recipe ideas already, and let me know if you have any special requests!
Other Favorite Slow Cooker and Broccoli Recipes: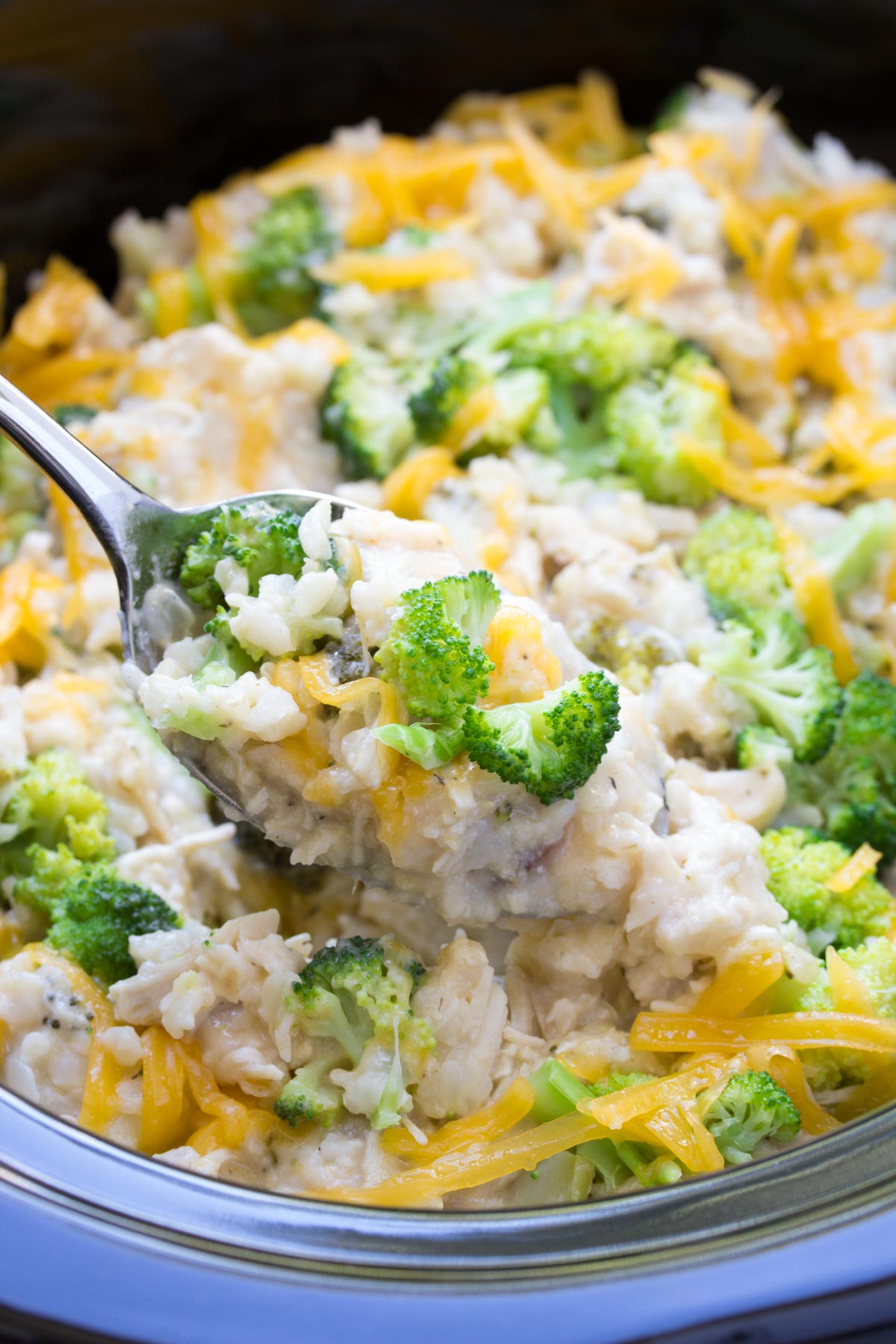 Like what you see? Be sure to follow along to never miss a recipe!
PINTEREST | FACEBOOK | INSTAGRAM | GOOGLE+ | TWITTER | EMAIL | RSS
*Be sure to read through the recipe notes before making this Slow Cooker Chicken, Broccoli and Rice Casserole. I've included some important tips!
Slow Cooker Chicken, Broccoli and Rice Casserole
This cheesy Slow Cooker Chicken, Broccoli and Rice Casserole takes just minutes of prep, thanks to your crock pot!
Recipe type:
Slow Cooker, Main Dish
Ingredients
1 small onion, chopped
1 cup long grain brown rice (not quick-cooking or instant), rinsed and drained
1 pound boneless, skinless chicken breasts
½ teaspoon garlic powder
½ teaspoon dried thyme
½ teaspoon salt
⅛ teaspoon pepper
1¾ cups (one 14.5 ounce can) low sodium chicken broth
1 cup water (or omit the water and use a total of 2¾ cups chicken broth)
1 pound broccoli, cut into small pieces (4-5 cups)
½ cup plain Greek yogurt
½ cup grated Parmesan cheese
1 cup grated cheddar cheese
Directions
Combine onion and rice in bottom of 5 quart slow cooker. Spread out in an even layer. Place chicken on top of rice/onion mixture. Sprinkle with the garlic powder, thyme, salt and pepper. Pour in chicken broth and water. Be sure that all of the rice is covered by the liquid.
Cover and cook on low heat for 6-7 hours, or on high heat for 3½ hours, until the rice is tender and almost all of the liquid is absorbed.
Transfer chicken to a cutting board and chop into bite-size pieces (or shred it in the slow cooker). Stir chicken back into the rice mixture in the slow cooker.
Steam the broccoli in the microwave: Place broccoli in a microwave-safe bowl and add enough water to fill the bowl 1-2 inches deep. Cover with plastic wrap. Microwave on high 3-6 minutes, until crisp-tender. Drain.
While the broccoli steams, stir the Greek yogurt, Parmesan and cheddar into the slow cooker. Then, stir in the cooked broccoli. Serve.
*Notes:
1. Some readers have commented that the rice in this dish is mushy. As it's cooked in the slow cooker, the rice is much softer than rice cooked on the stovetop or in a rice cooker. My family loves this casserole and we make it all the time. We love the flavor and how easy this recipe is. If you are worried about mushy rice, this may not be the recipe for you.
2. Some slow cooker recipes are easily adapted, this one is not. I recommend making the recipe exactly as written, with the understanding that all slow cookers cook differently. Your casserole may take slightly longer or shorter to cook, depending on your slow cooker. You'll know it's done when the rice has absorbed almost all of the liquid.
3. I do not recommend using white rice in this recipe.
4. I do not recommend doubling this recipe, unless you allow for a much longer cook time.
Here is my recommended 5 quart slow cooker. I have used this slow cooker for several years and  it cooks evenly and the top seals tight.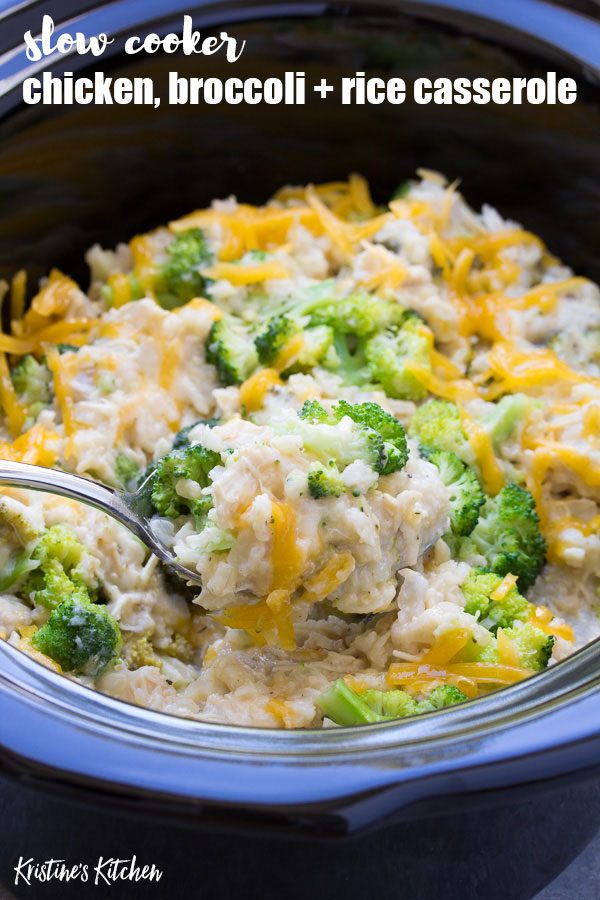 This site contains affiliate links. If you make a purchase through these links, I may receive a small commission, at no extra cost to you. Thank you for supporting Kristine's Kitchen!