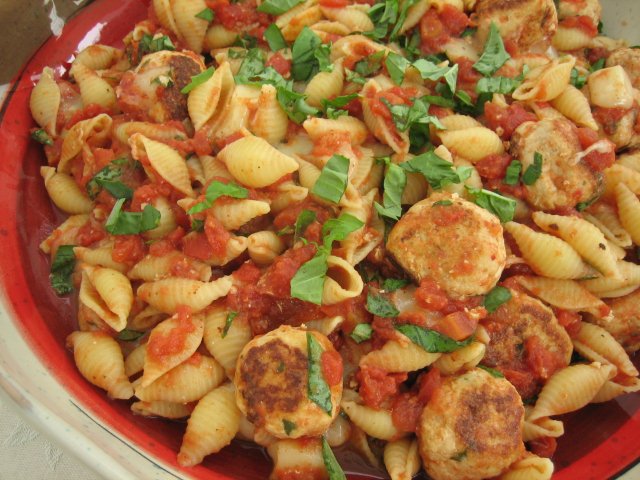 Lately I have been looking for recipes that Julia would enjoy as much as Brad and myself. She's been somewhat of a picky eater recently, but continues to like foods that are topped with tomato sauce. She's also loved meatballs in the past, so I thought this recipe from the "(Not) Just for Kids" section of Giada's cookbook, Giada's Kitchen, would be perfect.
All three of us really enjoyed this dish! The meatballs were flavorful and there was just the right amount of cheesiness to accompany the pasta and tomato sauce. We have enough leftovers for two more meals, so we will be eating this for at least one more dinner and maybe a lunch. I am looking forward to enjoying the leftovers and having a night off from cooking!
Pasta with Mini Turkey Meatballs
Makes 4 to 6 servings
Ingredients:
1/2 pound pasta (I used medium shells)
1/4 cup plain bread crumbs
1/4 cup chopped fresh flat-leaf parsley
2 large eggs, lightly beaten
1 tablespoon whole milk
1 tablespoon ketchup
1 cup and 3/4 cup freshly grated Parmesan cheese, divided
1/2 teaspoon salt
1/2 teaspoon freshly ground black pepper
1 pound ground turkey
1/4 cup olive oil
2 cans (14.5 ounces each) petite diced tomatoes, with juices
8 ounces mozzarella cheese, cut into small cubes
1 cup chopped fresh basil leaves
Directions:
Bring a large pot of salted water to boil over high heat. Add the pasta and cook according to package directions.
In a medium bowl, stir together the bread crumbs, parsley, eggs, milk, ketchup, 3/4 cup Parmesan cheese, salt, and pepper. Add the turkey and combine well. Roll mixture in your hands to form 3/4-inch mini meatballs.
Heat the oil in a large skillet or dutch oven over medium-high heat. Working in batches, add the meatballs and cook without moving until brown on the bottom, about 2 minutes. Turn the meatballs and brown the tops, about 2 minutes longer. Add the tomatoes and bring to a boil, scraping up any browned bits from the bottom of the pan. Reduce the heat to low and simmer until meatballs are cooked through and sauce thickens a bit, about 10 minutes.
Drain the pasta, reserving about 1 cup of the pasta water. Add the pasta to the pan with the meatballs and sauce. Sprinkle 1/2 cup Parmesan over the pasta and toss, adding a little pasta water if needed to loosen the sauce. Add the cubed mozzarella and 1/2 cup chopped basil and toss to combine. Place in a serving dish and top with the remaining 1/2 cup Parmesan cheese and the remaining basil.
Recipe significantly adapted from Giada's Kitchen: New Italian Favorites