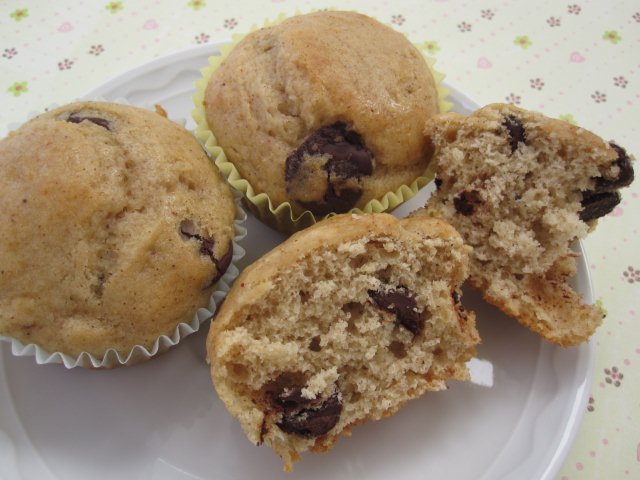 Whenever I end up with some very ripe bananas in my fruit bowl, I usually bake some banana bread or chocolate banana bread. This time, I decided to try these Chocolate Chip Banana Spice Muffins instead. I normally wouldn't think of adding spices to a chocolate and banana combination, but I really liked how the banana, chocolate and spices tasted together in these muffins. I baked my muffins with over-sized Ghirardelli bittersweet chocolate chips, but I think they would also be really good with mini chocolate chips. Chocolate Chip Banana Spice Muffins are super-easy and fast to whip up (I made mine after dinner on a work-night) and are just right for a morning or afternoon snack.
Chocolate Chip Banana Spice Muffins
Makes 12 muffins
Ingredients:
1 3/4 cup flour
2 tsp baking powder
1/2 tsp salt
1/2 tsp nutmeg
1/2 tsp cinnamon
3/4 cup packed brown sugar
1 egg
1/2 cup mashed bananas
1/2 cup milk
2 Tbsp vegetable oil
2 ounces chocolate chips
Directions:
Preheat oven to 350 degrees F. Grease a muffin pan or line with paper liners.
In a medium bowl, whisk together the flour, baking powder, salt, nutmeg, cinnamon, and brown sugar. In another medium bowl, combine the egg, mashed banana, milk, and vegetable oil. Add the dry ingredients to the wet ingredients and mix until just combined. Stir in the chocolate chips.
Spoon the batter into the prepared muffin pan, filling each one about 3/4 full. Bake 20-25 minutes or until a toothpick inserted into the center of a muffin comes out clean. Cool in pan on a rack for 10 minutes; remove muffins from pan and cool completely on rack.
Recipe slightly adapted from Sugarcrafter