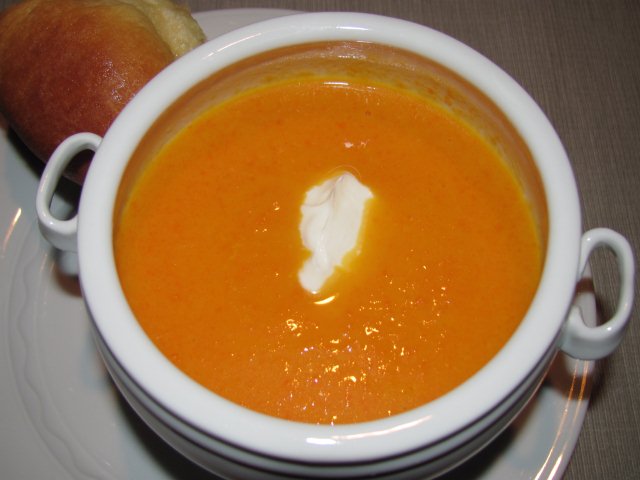 I first had this soup at a New Year's Eve dinner at our friends' house three years ago. I immediately asked for the recipe and it has been a favorite of ours ever since. This soup is elegant enough to serve when entertaining, yet simple enough to make for a weeknight dinner. It does take a few minutes to peel the carrots, but once you've done that and chopped the onions and the ginger, the remaining active prep is minimal. I used to grate the ginger using my microplane, but have since found that chopping it into small pieces is so much faster and easier. When you puree the soup it ends up smooth either way.
The original recipe calls for adding 1/2 cup cognac or brandy after the cream, but I usually leave this out. I've tried the soup both ways and prefer it without, but you can decide for yourself. If you do add cognac or brandy, bring the soup to a boil for 3-5 minutes after adding the alcohol to get a smoother flavor.
If you are throwing a New Year's Eve dinner party, I highly recommend this soup for a first course to your meal. Enjoy!
Carrot-Ginger Soup
Makes 6-8 main dish servings, or 8-10 first course servings
Ingredients:
2 tablespoons butter
2 onions, chopped
4 cups chicken broth
2 pounds carrots, peeled and sliced
2 tablespoons peeled fresh ginger, finely chopped or grated
1/2 cup half n half
Salt and pepper
Sour cream, for garnish
Directions:
In a Dutch oven or 5 to 6 quart pot over medium-high heat, stir butter and onions often until onions are limp, about 3 minutes. Add broth, carrots, and ginger. Cover and bring to a boil. Reduce heat and simmer until carrots are tender, 15 to 20 minutes.
Puree soup until smooth, either using an immersion blender or by transferring soup to a blender and then returning it to the pot. Stir in the half n half and stir over medium heat until hot. Season with salt and pepper to taste.
Serve soup in bowls, topped with a small spoonful of sour cream.
Recipe adapted from my friend, Stephanie; original source unknown.