This past weekend, I decided that it had been too long since I've used my ice cream maker. Yes, I know it is winter and cold outside, but that's no reason not to enjoy a bowl of ice cream when you're warm and inside! I had just made homemade brownies, and decided that this vanilla ice cream would be perfect atop a brownie and drizzled with caramel- a brownie sundae. (Unfortunately I ate my brownie sundae before taking a picture, so you'll have to use your imagination.

) This ice cream is also so good simply drizzled with some homemade caramel sauce: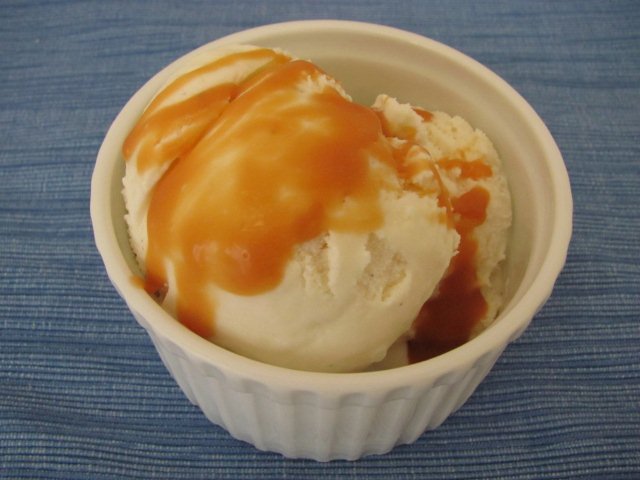 This vanilla ice cream is called "Philadelphia-Style" because it is made without eggs.  Since you don't have to cook a custard on the stove, it is really easy to make, taking only minutes of your time.
Vanilla Ice Cream, Philadelphia-Style
Makes about 1 quart
Ingredients:
3 cups heavy cream, or 2 cups heavy cream and 1 cup whole milk
3/4 cup sugar
Pinch of salt
1 vanilla bean, split in half lengthwise
3/4 teaspoon vanilla extract
Directions:
Pour 1 cup of the cream into a medium saucepan and add the sugar and salt. Scrape the seeds from the vanilla bean into the saucepan and add the pod to the pan. Warm over medium heat, stirring, until the sugar is dissolved.
Remove from the heat and add the remaining 2 cups of cream (or 1 cup cream and 1 cup milk) and the vanilla extract.
Chill the mixture thoroughly in the refrigerator. When ready to churn, remove the vanilla bean pod and then freeze the mixture in your ice cream maker according to the manufacturer's directions.
Recipe from The Perfect Scoop by David Lebovitz