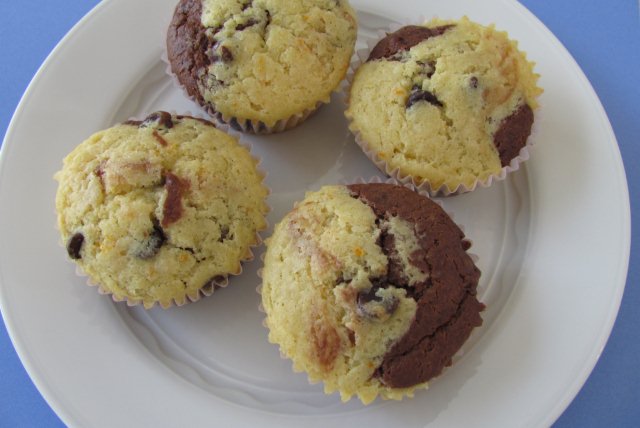 Breakfast treats are some of my favorite things to bake. Scones, muffins, quick breads…I love them all. Somehow getting up early is just a little bit easier when I know that I'll have a treat to enjoy with a cup of coffee once I get to work.
When I first came across this recipe, I was immediately excited about it. Chocolate and orange is a delicious flavor combination that you don't come across often enough, and I loved the idea of a muffin swirled with chocolate and studded with chocolate chips. Yes, a little indulgent for breakfast, but I always eat something healthy first, so then a little treat is ok, right? It's all about balance.
These muffins totally lived up to and exceeded my expectations. They are so, so good. Moist, light, and fluffy with a hint of orange and chocolate in every bite.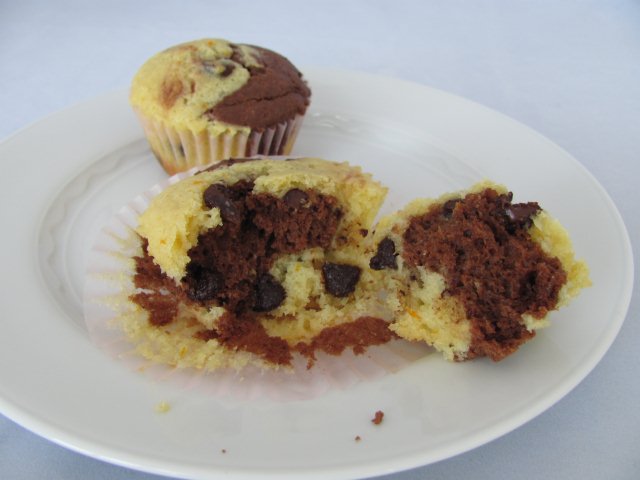 Chocolate Orange Swirl Muffins
Makes about 12 muffins
Ingredients:
1 1/2 cups all-purpose flour
1/2 cup sugar
2 teaspoons baking powder
1/4 teaspoon salt
1 egg
1/2 cup canola oil or melted butter
1/2 cup buttermilk
1/2 cup orange juice
1 teaspoon vanilla extract
Zest of one medium orange (about 1 tablespoon)
2 tablespoons cocoa powder
1/2 cup semisweet chocolate chips, regular or mini-sized
Directions:
Preheat oven to 325 degrees (for dark, nonstick pans) or 350 degrees for regular muffin tins. Line tins with paper liners or spray with cooking spray.
In a large bowl, sift together the flour, sugar, baking powder, and salt.
In a medium bowl whisk together the egg, oil or butter, buttermilk, orange juice, vanilla, and orange zest. Pour the wet mixture over the dry and mix together just until moistened. Do not over mix. You may even see some small dry spots- as long as the mixture is evenly moistened without being overmixed, it will be fine.
Into two bowls, divide the batter in half. Sift the cocoa powder into one of the bowls and fold in half of the chocolate chips. Fold the remaining chocolate chips into the other "white" bowl of batter.
Drop spoonfuls of batter into prepared muffin tins, alternating the orange and chocolate batters. Fill the cups 2/3 full. Bake for 13-15 minutes at 350 or 17-18 minutes at 325 until a toothpick inserted in the center comes out clean. Remove from the oven and cool the muffins for five minutes in the tins. Remove the muffins to a wire rack to cool completely.
Recipe from Mel's Kitchen Cafe, originally adapted from Wolfgang Puck