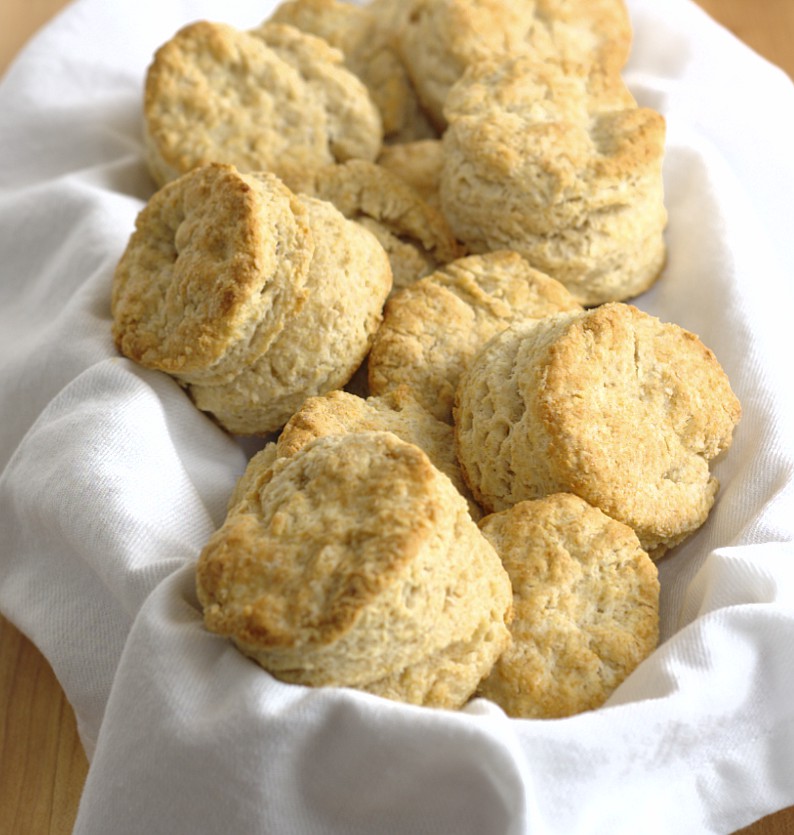 When soup, chili, or even a salad is on the menu for dinner, it seems a necessity to have some kind of bread along with it. When I'm going the homemade route, I'll usually either make a yeast bread or rolls, or some biscuits. Biscuits are a good choice when you don't want (or have) the rising time required for most yeast breads.
Whenever possible, I try to incorporate whole wheat flour into my baking. My family has come to enjoy the flavor of whole wheat baked goods, and I like the fact that I'm sneaking a little more nutrition into our food. Whole wheat flour is great in pizza dough, muffins, breads, pancakes, and even these cinnamon rolls.
Spread with a little butter, and maybe some honey too, these whole wheat buttermilk biscuits are a delicious addition to a meal. Or, try filling them with scrambled eggs and cheese to make a tasty breakfast sandwich. Or, ham and cheese and Dijon mustard for lunch… the possibilities go on and on.
One year ago:  Tortellini Soup
Whole Wheat Buttermilk Biscuits
Makes 14 biscuits
Ingredients:
6 tbsp. (3/4 stick) unsalted butter, cut into 1/2-inch pieces
1 1/2 ounces cream cheese (about 3 tbsp.), cut into 1/2-inch pieces
2 cups (10 ounces) all-purpose flour
1 cup (5 1/2 ounces) whole wheat flour
4 tsp. sugar
1 tbsp. baking powder
3/4 tsp. salt
1/2 tsp. baking soda
1 1/4 cups buttermilk, chilled
Directions:
Place the butter and cream cheese on a plate and freeze until the cream cheese is solid, about 1 hour (do not overfreeze). Adjust an oven rack to the middle position and heat the oven to 450 degrees. Line a baking sheet with parchment paper.
Pulse the all-purpose flour, whole wheat flour, sugar, baking powder, salt, and baking soda together in a food processor to combine, about 3 pulses. Scatter the frozen butter and cream cheese evenly over the top and continue to pulse until the mixture resembles coarse meal, about 15 pulses.
Transfer the mixture to a large bowl. Stir in the buttermilk with a rubber spatula until the dough comes together. Turn the dough out onto a lightly floured work surface and knead until just smooth and no longer shaggy, 8 to 10 times. Pat the dough into a 9-inch circle, about 3/4 inch thick.
Using a floured 2 1/2-inch biscuit cutter, cut out biscuits, gently patting the dough scraps back into a uniform 3/4-inch thick piece as needed. Arrange the biscuits, upside down, on the prepared baking sheet, spaced 1 1/2 inches apart.
Bake 5 minutes, then rotate the baking sheet and reduce the oven temperature to 400 degrees. Continue to bake until the tops and bottoms are golden brown, 12 to 15 minutes longer. Transfer the biscuits to a wire rack and let cool for 10 minutes before serving.
Source: Slightly adapted from The America's Test Kitchen Healthy Family Cookbook