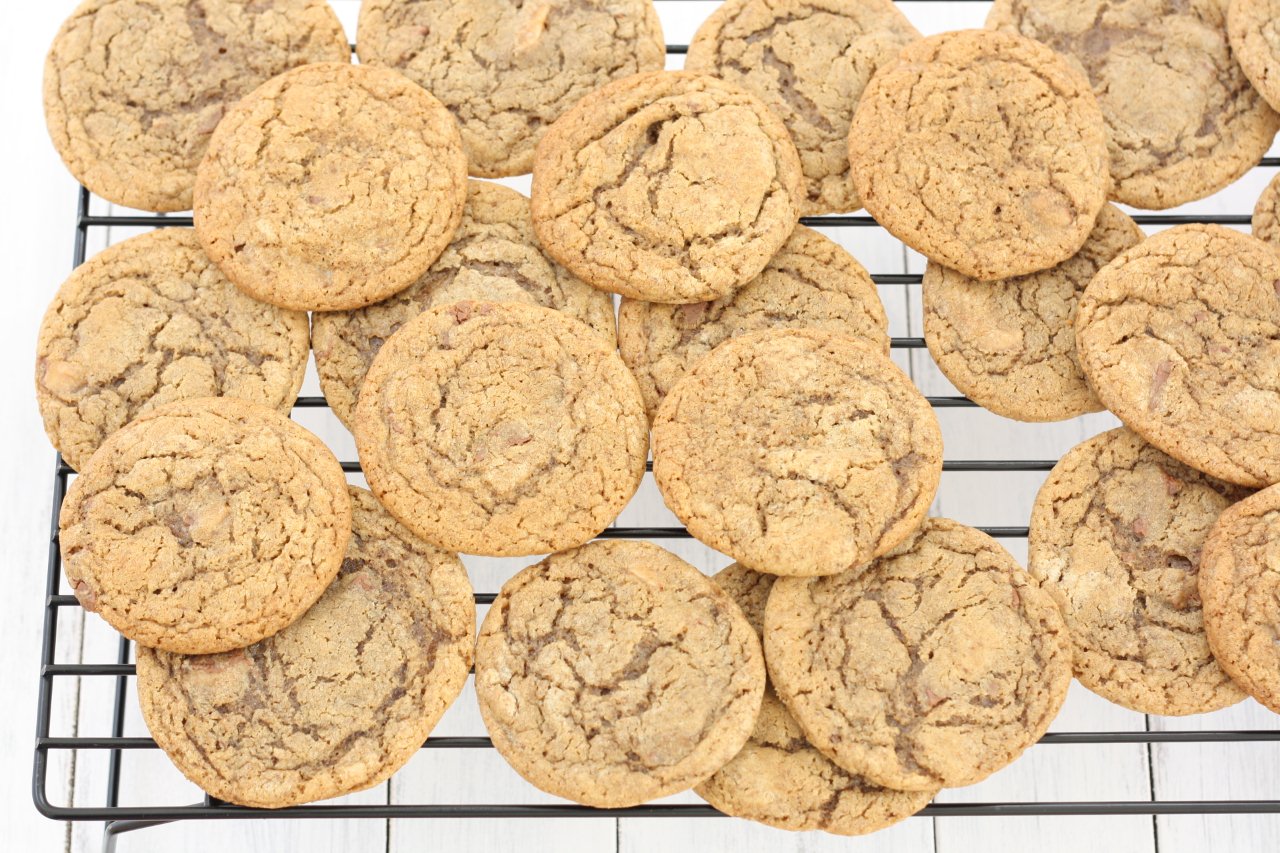 Are you a coffee lover? How about coffee and toffee together? Here we have a buttery cookie with plenty of espresso flavor. Bits of chocolate covered toffee add crunch and more buttery sweetness. Although these cookies are thin, they have a chewy texture, which is the perfect contrast to the crunchy toffee. I made these thinking they would be good, and they turned out even better than I expected. The only disappointing thing about these cookies is that there's only one left in my freezer. 

One year ago:  Chocolate Raspberry Ice Cream
Espresso Toffee Cookies
Makes about 2 dozen cookies
Ingredients:
12 tablespoons (1 1/2 sticks) unsalted butter, softened
3/4 cup brown sugar
3/4 cup granulated sugar
1 large egg plus 1 large egg yolk
2 teaspoons pure vanilla extract
2 1/4 cups all-purpose flour
1 teaspoon baking soda
1 teaspoon salt
3 tablespoons instant espresso powder
3 chocolate covered toffee bars (such as Heath), 1.4 oz. each, chopped (approximately 1 1/4 cups)
Directions:
In a medium bowl, whisk together flour, baking soda, salt, and instant espresso powder.
In the bowl of a stand mixer fitted with the paddle attachment, beat together butter and sugars until light and fluffy, about 3 to 5 minutes. Stop the mixer and scrape down the sides of the bowl with a spatula. Add the egg, egg yolk, and vanilla and beat on medium speed until the mixture is fluffy, about 1 to 2 minutes. Stop the mixer and add the dry ingredients, all at once to the butter mixture. Beat on low speed until just combined. Stop the mixer, add the chopped toffee bars, and fold together with a spatula until combined. Cover the dough with plastic wrap and refrigerate for about 45 minutes.
When you're ready to bake the cookies, place oven racks in the upper and lower middle positions and preheat oven to 350 degrees. Line two baking sheets with parchment paper.
Scoop cookie dough by the heaping tablespoonful onto prepared baking sheets. Bake for about 12 minutes, until lightly browned around the edges, rotating the baking sheets top to bottom and front to back halfway through baking. Remove from the oven and allow to cool on the baking sheets for about 10 minutes. Remove to a wire rack to cool completely.
Recipe adapted from Joy the Baker