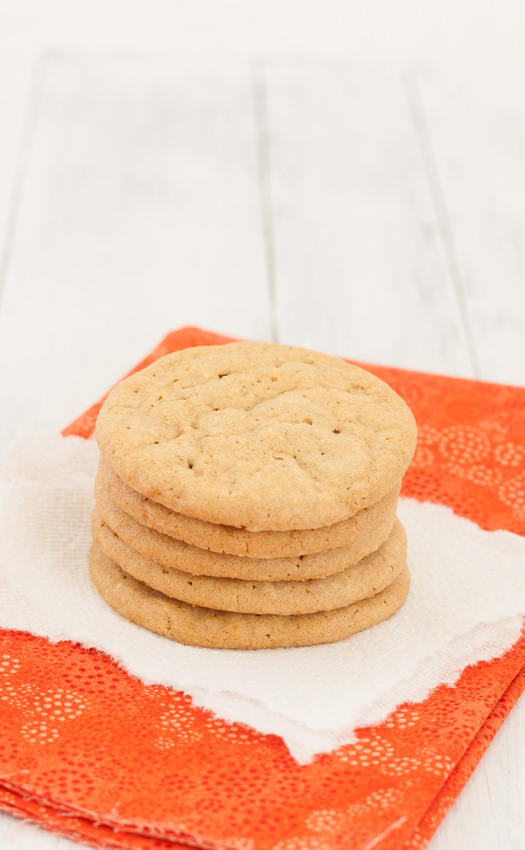 What is it about cookies that makes everyone love them so much? (I'm assuming that since I love cookies, everyone else must, too.) Is it that there are so many delicious types of cookies, they never get boring? Or maybe that it's so easy to grab one out of the cookie jar or freezer, no scooping or cutting off of a piece required?
I always like to have cookies on hand in my freezer, for when a sweets craving hits (which happens to me pretty much every day

). The only problem I've been having lately is that there are too many good recipes to choose from. I'm not sure if Pinterest makes this problem better or worse, as I feel like I'm always looking and re-looking over the cookies on my board, trying to decide which to bake next.
These cookies didn't come from my collection of ideas on Pinterest, though, they came from my Mrs. Field's cookbook. This particular cookbook is one that I've had for quite some time, and contains some great cookie recipes, including this favorite. When I craved a chewy peanut butter cookie, I knew that this recipe wouldn't let me down. The cookies turned out crispy on the edges, and soft and chewy in the center. They are so addicting, I had to hide them in the freezer right away or I would have been too tempted to snack on one after another all day!
One year ago:  Tomato, Mozzarella & Basil Tart and Santa Fe Chicken Salad Wraps
Soft and Chewy Peanut Butter Cookies
Makes about 3 1/2 dozen cookies
Ingredients:
2 cups all-purpose flour
1/2 tsp. baking soda
1/2 tsp. salt
1 cup unsalted butter, softened
1 1/4 cups granulated sugar, plus more for rolling
1 1/4 cups dark brown sugar, firmly packed
3 large eggs
1 cup creamy peanut butter
2 tsp. vanilla extract
Directions:
Preheat oven to 300 degrees F. Line baking sheets with parchment paper.
In a medium bowl, whisk together the flour, baking soda, and salt.
In the bowl of a stand mixer fitted with the paddle attachment, combine the butter and both sugars. Mix on medium speed until well combined. Add eggs, peanut butter, and vanilla and beat at medium speed until light and fluffy. Add the flour mixture and mix at low speed until just combined; do not overmix.
Scoop a tablespoon of dough and roll into a ball. Roll the ball in granulated sugar and place on the prepared baking sheet. Gently press with a fork to flatten slightly. Repeat with remaining dough, spacing cookies about 2 inches apart.
Bake for 18-22 minutes. Transfer baked cookies to a rack to cool.
Source: Adapted from Mrs. Fields Cookie Book