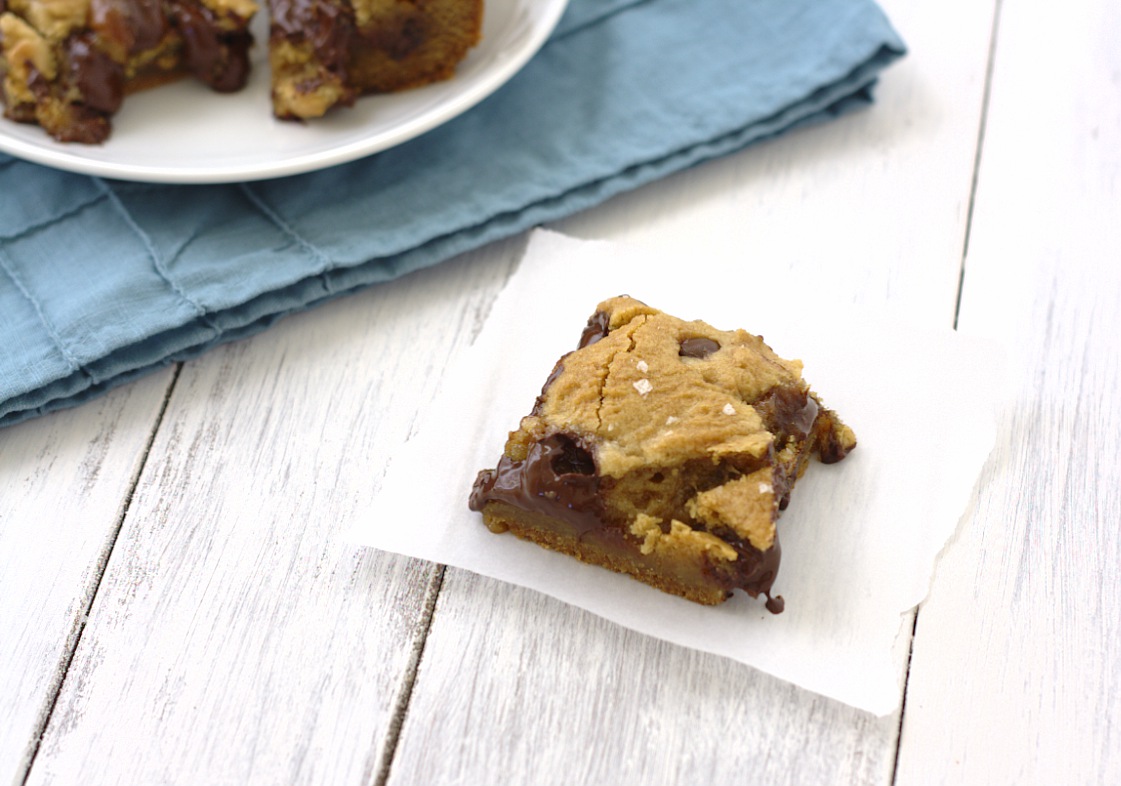 Last week I shared this salted caramel sauce, and mentioned that we used it to make brownie sundaes. What I didn't share is the real reason I made the salted caramel sauce to begin with, which was to make these cookie bars. Oh my goodness these are good. Chocolate chip cookie bars are pretty amazing on their own, but throw in a layer of salted caramel and you have a dessert that's on a whole other level. Slightly gooey, sweet, and sprinkled with fleur de sel, it's hard to stop at just one of these, but your waistline will thank you if you do.

I brought part of my batch to share when we visited our friends for dinner, and then put the rest in the freezer (after I cut them into bars). That way, we could take one out to defrost on the counter for a few minutes when we needed a treat, rather than feeling like we needed to eat them all right away. I highly recommend that you bake some of these, and also highly recommend sharing them. Your friends and family will thank you!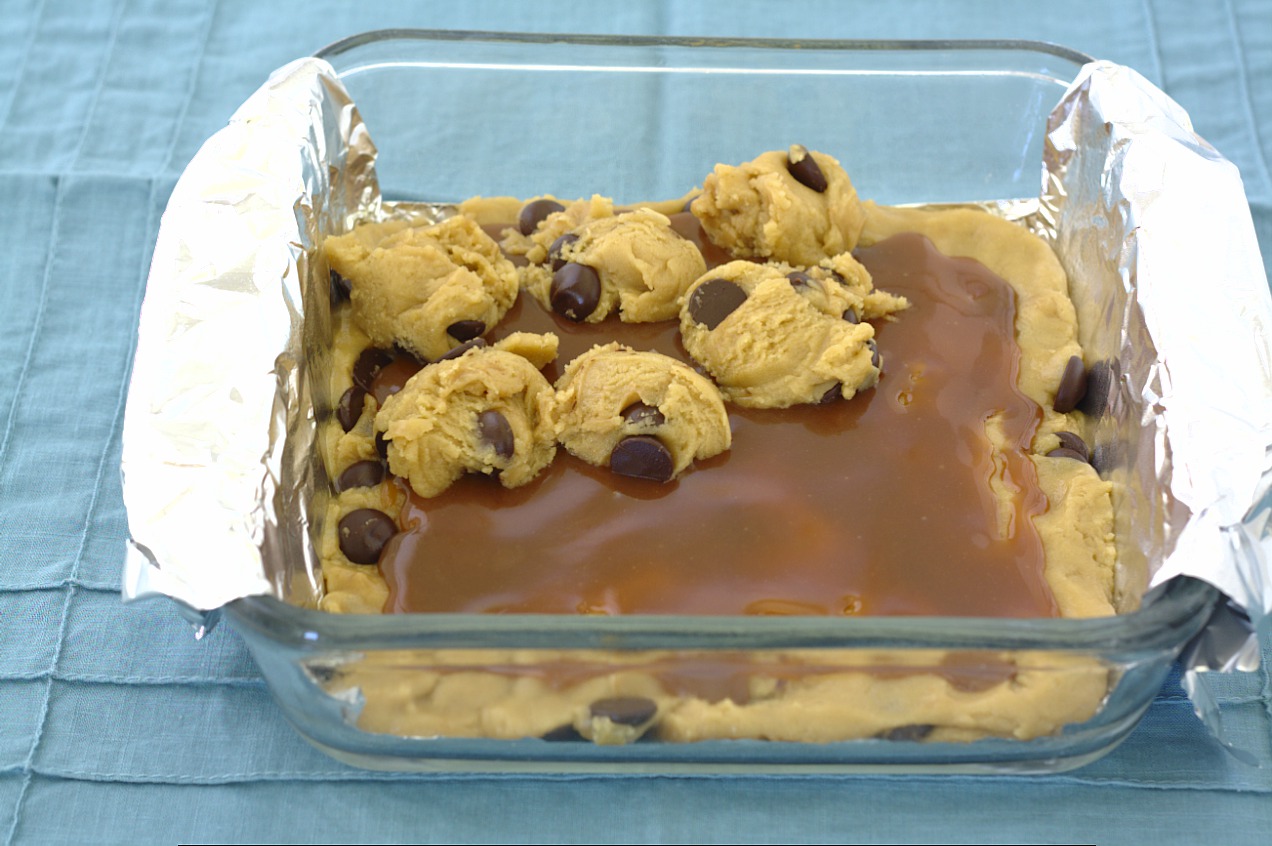 Salted Caramel Chocolate Chip Cookie Bars
Ingredients:
2 cups plus 2 tbsp. (10.6 oz.) all-purpose flour
1/2 tsp. baking soda
1/2 tsp. salt
12 tbsp. unsalted butter, melted and cooled slightly
1 cup packed (7 oz.) brown sugar
1/2 cup (3.5 oz.) granulated sugar
1 large egg plus 1 egg yolk
2 tsp. vanilla extract
1 cup chocolate chips
6 tbsp. salted caramel sauce
Fleur de sel, for sprinkling
Directions:
Preheat oven to 325 degrees F with a rack in the lower third. Line an 8×8 baking dish with foil, leaving an overhang on opposite sides to allow you to remove the bars easily from the pan. Spray the foil with nonstick cooking spray.
In a medium bowl, whisk together the flour, baking soda, and salt. Set aside.
In a stand mixer fitted with the paddle attachment, combine the melted butter, brown sugar, and granulated sugar. Add the egg, yolk, and vanilla and mix until well combined. Stir in the dry ingredients until just combined. Stir in the chocolate chips.
Transfer half of the batter to the prepared pan, pressing it into and even layer in the bottom. Pour the caramel sauce over the top, leaving a little space around the edges. Use a small cookie scoop to scoop the remaining dough over the caramel. Press down gently with your fingers to distribute. It's ok if the caramel layer isn't completely covered, as it will spread to cover as it bakes. Sprinkle the top with fleur de sel. Bake for 35-40 minutes, or until the bars are golden brown and slightly firm to the touch. The bars will begin to pull away from the sides of the pan when they're done.
Remove the pan to a wire rack. Let the bars cool completely before lifting them out of the pan and cutting into squares to serve.
Source: Tracey's Culinary Adventures; cookie dough from Baking Illustrated.