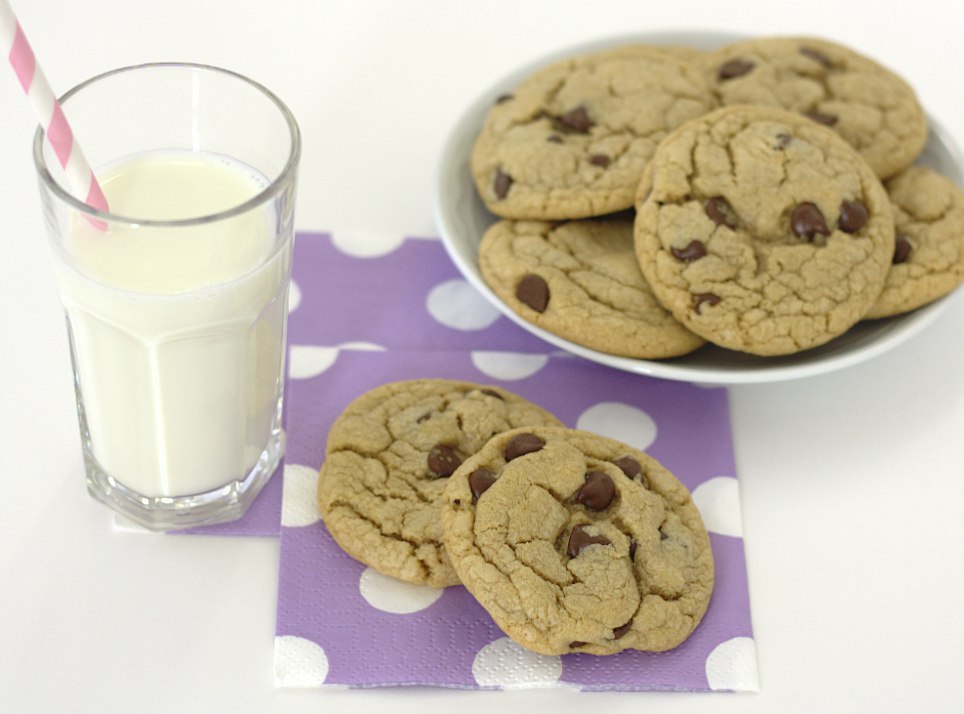 Yes, I know I've already posted a number of different peanut butter chocolate chip cookie recipes on the blog, but here's a new recipe that I just found and love. I can't say that it's better than my other recipes, but it's certainly just as good. What can I say- I love peanut butter chocolate chip cookies, so I guess I can never have too many!
As I was typing up this recipe, I realized that it is basically the Baking Illustrated recipe for Thick and Chewy Chocolate Chip Cookies (which is my all-time favorite), with peanut butter substituting for part of the butter.  No wonder I liked these cookies. 

This recipe is nice because it only makes about 2 dozen cookies, so it's perfect for those times when you want freshly baked cookies but not a ton of them. The cookies have plenty of peanut butter flavor and chocolate chips throughout. So go ahead, bake up a batch and try them for yourself!
Peanut Butter Chocolate Chip Cookies
Makes 2 dozen cookies
Ingredients:
8 tbsp. unsalted butter
1/3 heaping cup creamy peanut butter
1 cup brown sugar
1/2 cup granulated sugar
1 egg plus 1 egg yolk, at room temperature
2 tsp. vanilla extract
2 cups all-purpose flour
1/2 tsp. baking soda
1/2 tsp. salt
1 cup chocolate chips
Directions:
Preheat oven to 325 degrees F.
Melt the butter and peanut butter in a microwave safe bowl at 50% power until mostly melted. Remove from microwave and stir until the butter is completely melted and smooth, then set aside to cool.
In a mixing bowl fitted with the paddle attachment, mix the cooled peanut butter and butter mixture with the sugars until fully incorporated. Beat in the egg, yolk, and vanilla until combined. In a separate bowl, whisk together the flour, baking soda, and salt. Gradually add to the sugar/butter mixture until a dough forms. Fold in the chocolate chips.
Roll just under golfball sized portions of dough and place on cookie sheets two inches apart. Bake for 10 to 12 minutes, or until the edges are golden, rotating halfway during baking. Do not over bake. Remove from oven and cool for 10 minutes on the cookie sheets, then transfer to wire racks to cool completely.
Recipe from Pennies on a Platter, who adapted it from How Sweet It Is