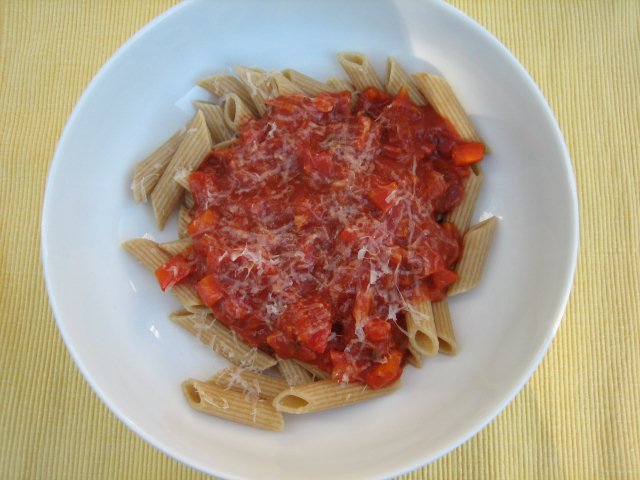 This is a super easy and tasty tomato sauce. I included chopped onion, carrots, mushrooms, and red bell pepper in the sauce because I wanted to increase the amount of vegetables in our meal. I also like the added flavor from the veggies. First, I sauteed the vegetables in a small amount of olive oil. I added the onion and carrots to the pan first, since they take more time to become tender. Then I added the red pepper and mushrooms, and the garlic went in the pan last because I didn't want it to burn. Finally, I poured in two cans of tomato sauce and added a few dried herbs. I used Italian seasoning and oregano, but feel free to use whatever you prefer.
I was in a hurry to get dinner on the table, so I only simmered the sauce for about 15 minutes. If you have time to cook it a bit longer, that would allow the flavors to meld together even more. You could also add some cooked Italian sausage (we like chicken sausage) during the simmering time to create even more flavor.
Other kinds of favorite vegetables would also work in this sauce- eggplant, zucchini, yellow squash…whatever you like!
Tomato Sauce
Makes 5-6 servings
Ingredients:
Extra virgin olive oil
1 yellow onion
1 large carrot
1 red bell pepper
5 button mushrooms
2 cloves garlic, minced
2- 15oz. cans tomato sauce
1/2 teaspoon Italian seasoning
1/2 teaspoon oregano
Directions:
Chop the onion, carrot, bell pepper, and mushrooms into small pieces that are roughly the same size (about 1/4 inch wide). Heat a small amount of olive oil in a Dutch oven or other pan over medium heat. Add the onion and carrot and saute, stirring occasionally, for about 4 minutes. Add the bell pepper and mushrooms and continue sauteing for another 4 minutes. Add the minced garlic and cook, stirring, for about 2 minutes.
When the vegetables are tender, add the tomato sauce, Italian seasoning, and oregano. (I also added about 1/2 cup of water, because the sauce seemed too thick.) Simmer over low heat for at least 15 minutes. Serve over pasta.