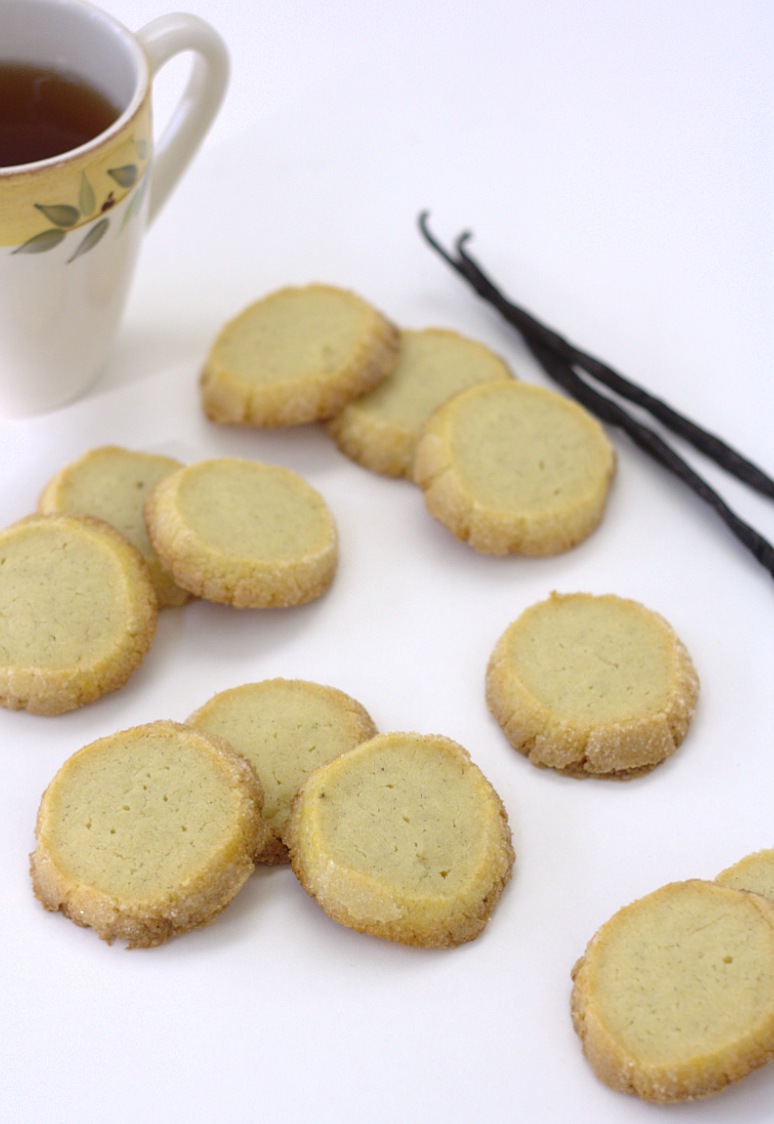 Last week I mentioned that I haven't been baking much these past few months because I need to watch my blood sugar during my pregnancy, and who wants to bake all sorts of yummy things that they can't eat? Not me. This past weekend, though, I just had to get into the kitchen to do some baking. I chose to make these Vanilla Bean Sablé Cookies because they are small and relatively low in sugar. Each cookie has only 14 grams of carbohydrates, so I felt ok about sampling one or two before giving the rest away.
The cookies are so pretty with flecks of vanilla bean throughout. They are buttery with a hint of vanilla, a shortbread cookie that's made a little more elegant because of the vanilla bean and sparkly sugar coating.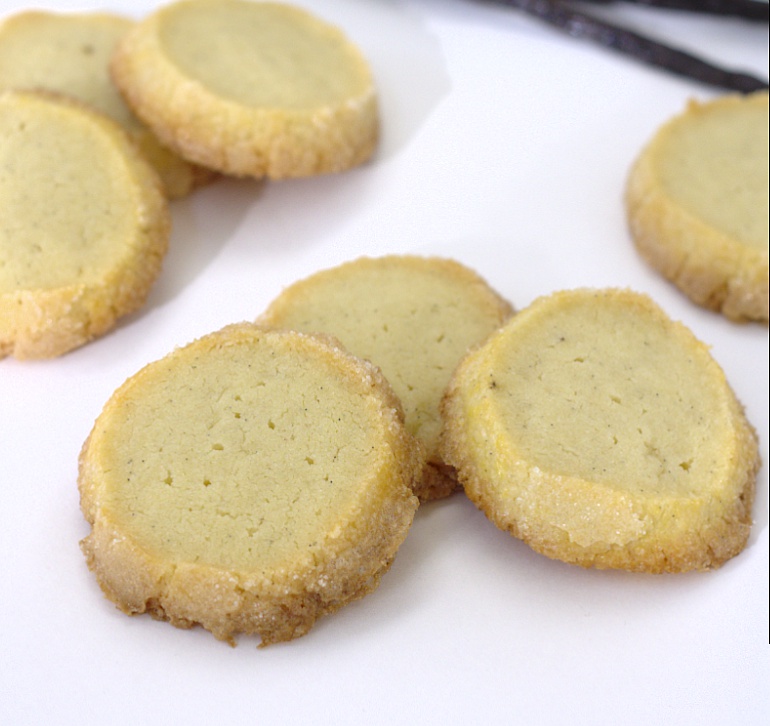 I can't wait to get back to more baking after my baby boy arrives. And I'm so excited to meet him, of course! My due date is quickly approaching in a few weeks, so it won't be long!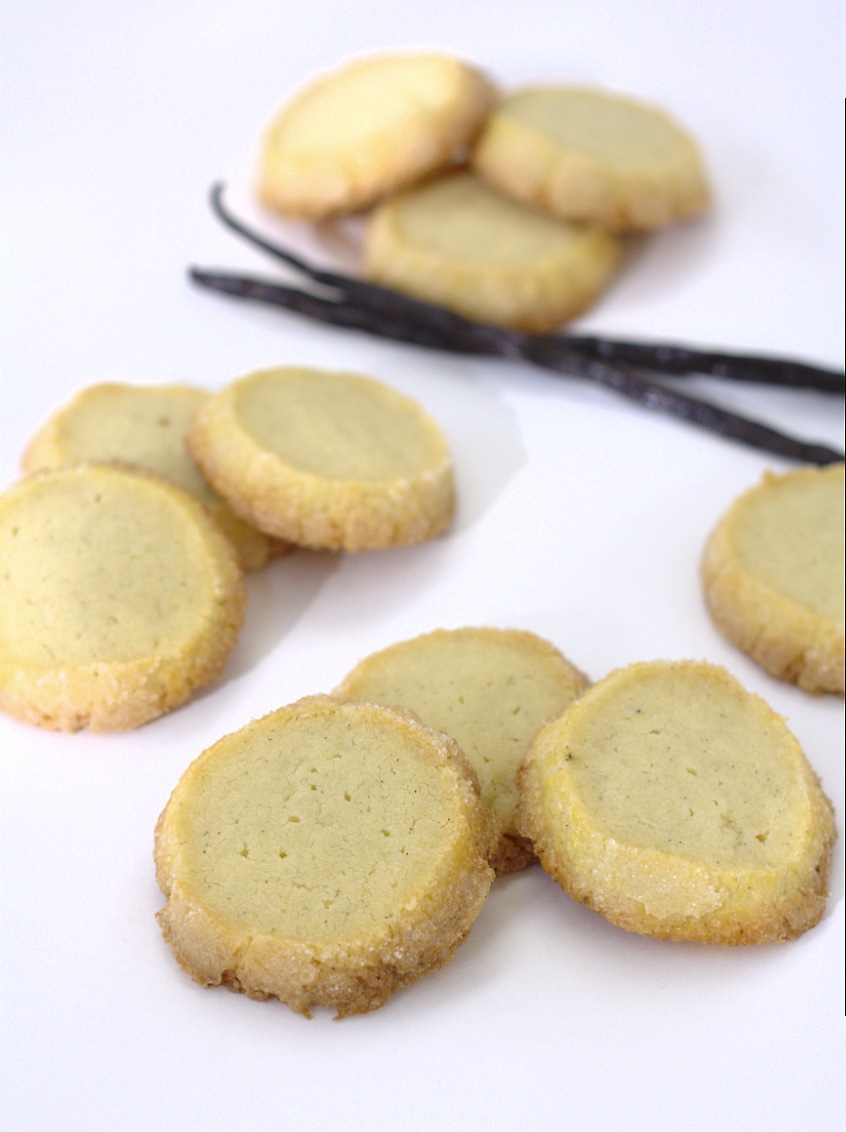 One year ago:  Vegetable Stir-Fry
Vanilla Bean Sabl
é

Cookies

Makes about 2 dozen cookies
Ingredients:
2 vanilla beans*
1/3 cup granulated sugar
8 oz. (1 cup) unsalted butter, preferably high-fat European-style, softened
1/2 tsp. fine sea salt (I used regular salt)
1 1/3 oz. (1/3 cup) confectioners' sugar, sifted
2 large egg yolks, divided
9 oz. (2 cups) unbleached all-purpose flour
Sanding sugar (I used granulated sugar, but sanding sugar would produce the prettiest results)
*You can substitute 2 tsp. vanilla extract for the vanilla beans; add it with the egg yolk.
Directions:
Cut the vanilla beans in half lengthwise and scrape the seeds into a small bowl; add the granulated sugar. Using your fingers, rub them together until blended.
In a stand mixer fitted with the paddle attachment, mix the butter on low speed until smooth and creamy (you don't want it to get light and fluffy), about 1 minute. Mix in the salt. Add the vanilla sugar and the confectioners' sugar and mix until smooth, about 1 minute. Scrape down the bowl as needed. Add 1 egg yolk and mix for 1 minute. Still on low speed, mix in the flour just until blended; the dough will be soft.
Turn the dough out onto a work surface and knead it gently a few times. Divide it in half and shape each half into a 9-inch log. Wrap each log in plastic wrap and refrigerate for at least 3 hours. (You can also freeze them for up to 2 months. Let sit at room temperature for about 10 minutes before cutting and baking; there's no need to fully defrost.)
Preheat oven to 350 degrees F. Line two baking sheets with parchment paper.
Sprinkle about 1/2 cup of sanding sugar onto a piece of waxed paper. Combine the remaining egg yolk with a splash of water in a small bowl and whisk with a fork. Brush each log with the egg wash and roll it in the sanding sugar until evenly coated. Using a knife, cut the dough into 1/2-inch-thick rounds. Put them on the baking sheets, leaving about 2 inches between rounds.
Bake the cookies until they are lightly browned around the edges and golden on the bottom, 18 to 22 minutes. If baking both pans at once, be sure to rotate the pans halfway through the baking time. Let cool on the sheets for 5 minutes, then carefully transfer to a rack to cool completely.
Source: Fine Cooking, March 2012