How to Simplify Meal Planning with an Organized Pantry
This post has been sponsored by Rubbermaid. All thoughts and opinions are my own.
In this post you will learn how to organize your pantry, a list of pantry essentials, and how to simplify meal planning with an organized pantry.
Now that we're a couple of weeks into January, how are you doing with your New Year's goals? I've been working on organizing my home and cleaning out some of the clutter that has accumulated over the past few months. With kids, it seems like we are always accumulating more and more… it feels like a full time job to keep the house in order!
This probably won't surprise you, but I find that an organized kitchen helps to keep everything else running smoothly. The kitchen is the place where we gather most often as a family. It's the place where we take the time to cook meals that will nourish our bodies.
An organized, well stocked kitchen and pantry can lead to tastier, healthier meals and a more relaxed you!
I took a quick before photo and then one after I was finished organizing.
Before:
After:
How to Organize your Pantry:
1. Remove everything from the shelves, and as you do, toss anything that's expired. As you take items out of your pantry, sort them by category (canned goods, pasta, baking supplies, etc.)
2. Items that aren't used for cooking should be stored somewhere else. Your goal is a pantry that still has some open space, rather than one that's packed full. When your pantry has a little breathing room, it's easier to find what you need.
3. Now that the shelves are all cleared, take a minute to wipe them down.
4. Use clear storage containers to store ingredients that you use often. These might be whole grains such as quinoa and brown rice, baking supplies such as flour and sugar, or items that you buy in bulk such as nuts and dried fruit. I've recently started using the new Rubbermaid® BRILLIANCE™ pantry storage containers to organize my pantry for the new year. These crystal-clear storage containers make it easy to find what I need in my pantry. I can also easily tell when I'm running low on something so that I can add it to my grocery shopping list.
Storing ingredients such as flours and grains in clear containers saves you time when you're prepping your favorite recipes because you don't have to mess with packaging. I try to buy in bulk whenever possible to avoid packaging waste.
Rubbermaid® BRILLIANCE™ storage containers seal airtight, helping to keep foods fresh. They're also BPA-free, stain resistant and dishwasher safe.
This past summer I shared how I've been using Rubbermaid® BRILLIANCE™ meal prep storage containers to keep my meal prep foods fresh. I still use those containers on a daily basis, and I love the new pantry line just as much!
5. As you put foods back into your pantry, sort them by category so that you can easily find what you need. Below I've listed my pantry essentials, sorted by category. Rubbermaid® BRILLIANCE™ pantry storage containers are stackable to maximize your space and keep your pantry looking organized.
Put the ingredients that you use most often at eye level. Items that you use less often should go on the higher and lower shelves.
6. Keep your pantry organized by assessing it weekly, when you make your meal plan.
Find more ways to organize your pantry with Rubbermaid® BRILLIANCE™ here!
Pantry Essentials:
Keeping these items in your pantry can make it easier to cook healthy meals. Many of these items can be found in the bulk bin section of most grocery stores.

Grains & Cereals

oats (0ld fashioned, steel cut)
cornmeal
panko crumbs
cornstarch
brown rice crisp cereal
whole grain, low sugar cereal
Nuts & Seeds
quinoa
nuts & nut butters
flaxseed
chia seeds
Pasta, Rice & Beans
whole wheat pasta
rice (wild rice, brown rice)
lentils
chickpeas and beans (pinto, black, kidney, cannellini, etc.)
Canned/Jarred Goods
tomatoes (whole plum, diced, crushed, sauce)
low sodium broth (chicken, vegetable)
marinara sauce
tuna
pumpkin puree
Oils, Vinegars & Sauces
oils (olive, coconut, etc.)
vinegars (apple cider, white wine, red wine, rice)
low sodium soy sauce
Dried Spices & Seasonings
salt (table & Kosher)
black pepper
chili powder
cumin
garlic powder
onion powder
oregano
basil
thyme
bay leaves
Italian seasoning
cinnamon
cloves
nutmeg
ginger
For Baking
flours (white whole wheat, all purpose)
natural sweeteners (honey, pure maple syrup)
sugar (brown, white)
baking powder & baking soda
vanilla extract
How to simplify meal planning with an organized pantry:
An organized pantry can save you time, save you money, and help you to avoid wasting food.
An organized, well-stocked pantry can be the beginning of many healthy meals. For breakfast, you can make oatmeal or whole grain breads and muffins. For lunch, grain bowls or tuna salad. For dinner, brown rice with chicken and a vegetable, pasta with marinara sauce, or lentil soup.
To make your healthy meal plan, assess what you have in your pantry (and refrigerator) and go from there. If you keep a list of your family's favorite recipes, you can make sure that you always have the non-perishable ingredients for those meals in your pantry.
Rubbermaid® BRILLIANCE™ crystal-clear storage containers make it easy to quickly see how much of each item you have on hand. Do you have an abundance of whole grain pasta? Lots of lentils? Beans or chickpeas? Start with the ingredients that you have in your kitchen and build a menu around them. You'll save money at the grocery store by using up what you have on hand. You'll find that you waste less food, as well.
You'll focus your weekly grocery shopping on perishables such as fresh produce, dairy, meat and eggs. By keeping a well-stocked pantry, you will have most of the ingredients that you need to cook healthy meals. You'll only have to add pantry essentials to your grocery list when you're running low on them.
Here are a few of my favorite easy dinner recipes that make use of pantry essentials:
It feels amazing to start the year with an organized pantry! Look for Rubbermaid® BRILLIANCE™ pantry storage containers in-store at Bed Bath & Beyond, Meijer, or Walmart or find them on Amazon. Plus, earn cash back with this Ibotta offer!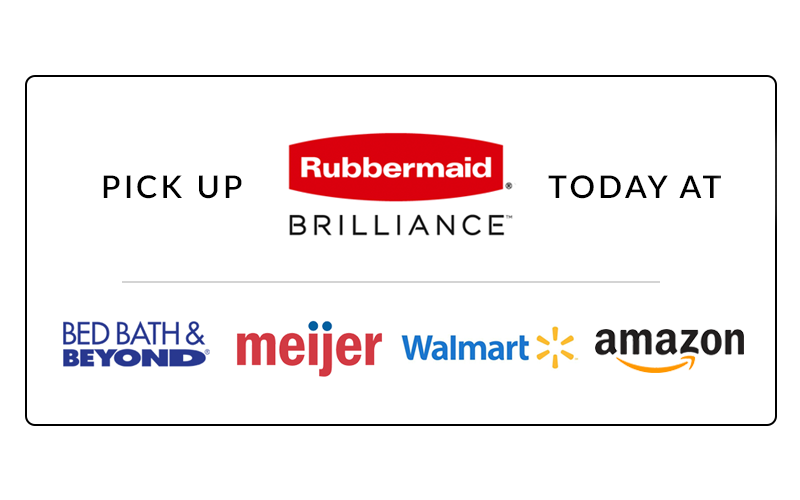 [hfcm id="1″]
This site contains affiliate links. If you make a purchase through these links, I may receive a small commission, at no extra cost to you. Thank you for supporting Kristine's Kitchen!