Quinoa and Sweet Potato Enchilada Casserole
A healthy meatless enchilada bake, filled with quinoa, sweet potatoes, black beans, and cheese. This enchilada casserole is comfort food that you can feel good about eating.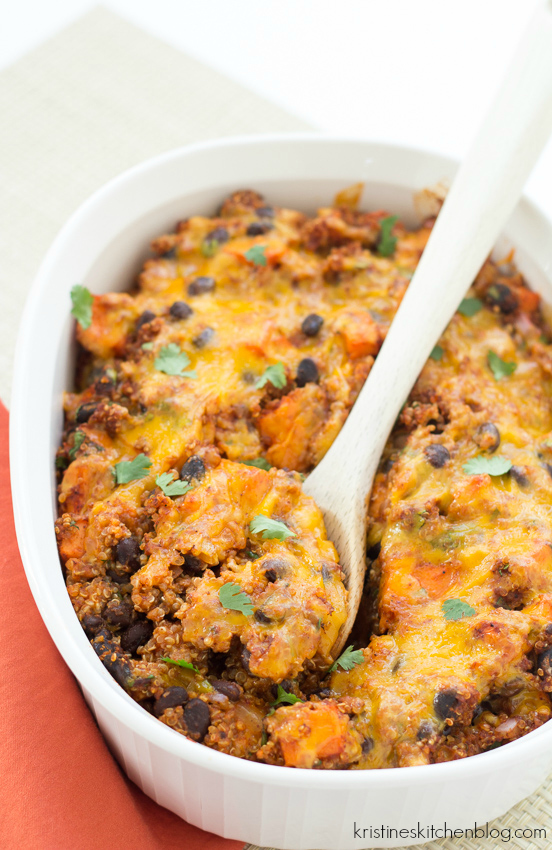 It's the time of year for cookies, fudge, and all things sweet! I've definitely been doing my share of baking with gingerbread, chocolate, and peppermint. Still, one cannot survive on sweets alone. We need to eat dinner, too, right?
I've got your dinner needs covered with this Quinoa and Sweet Potato Enchilada Casserole. It's full of healthy ingredients like black beans, quinoa, and sweet potatoes to balance out all of the sugar that you just might be enjoying during this holiday season.
Quinoa and black beans provide filling protein in this meatless casserole, so you won't be hungry an hour after dinner. In a pinch you can substitute brown rice for the quinoa. Be sure to cook the rice according to the package directions before mixing it with the other ingredients.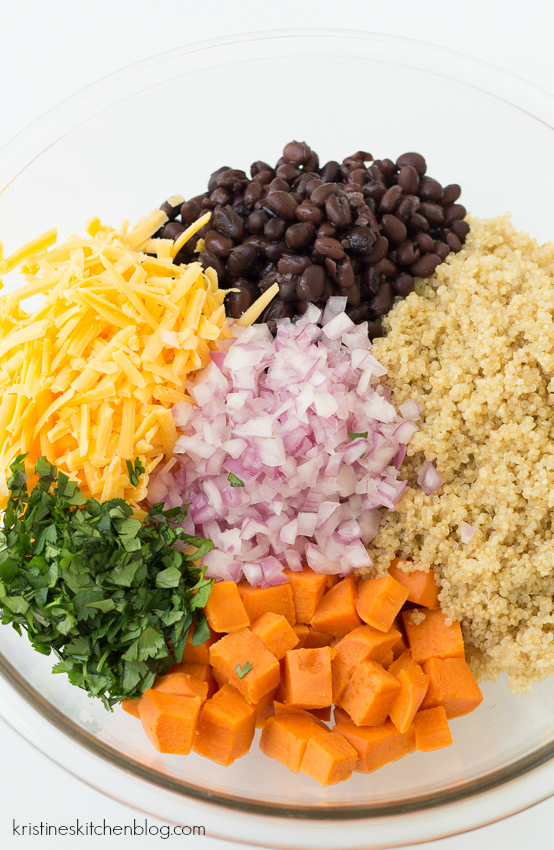 I like to make my own enchilada sauce, and that's what I did here. You can certainly use store-bought enchilada sauce to save a step if you like. If you decide to go for the homemade version, know that it will only take about 5 minutes of active time and less than 15 minutes total to prepare the sauce.
We've enjoyed this Quinoa and Sweet Potato Enchilada Casserole for many meals, in many ways. It's delicious eaten on it's own, or with some tortilla chips for scooping. My favorite way to eat it is wrapped in a whole grain tortilla. It's like a quinoa enchilada burrito – a little spicy, a little saucy, a little cheesy – pretty much perfect.
We could not stop raving about how good this meal was as we were eating it.  I know it doesn't have the visual appeal of, say, a gingerdoodle cookie, but this casserole is good.  I shared some with my parents, and my mom told me over and over again how much she liked it.  And she's claimed in the past to not even like quinoa all that much.  I think I may have just changed her thinking.  😉
If you love Mexican food, give this Quinoa and Sweet Potato Enchilada Casserole a try.  I think you'll be glad you did!
I also highly recommend these recipes with enchilada flavors: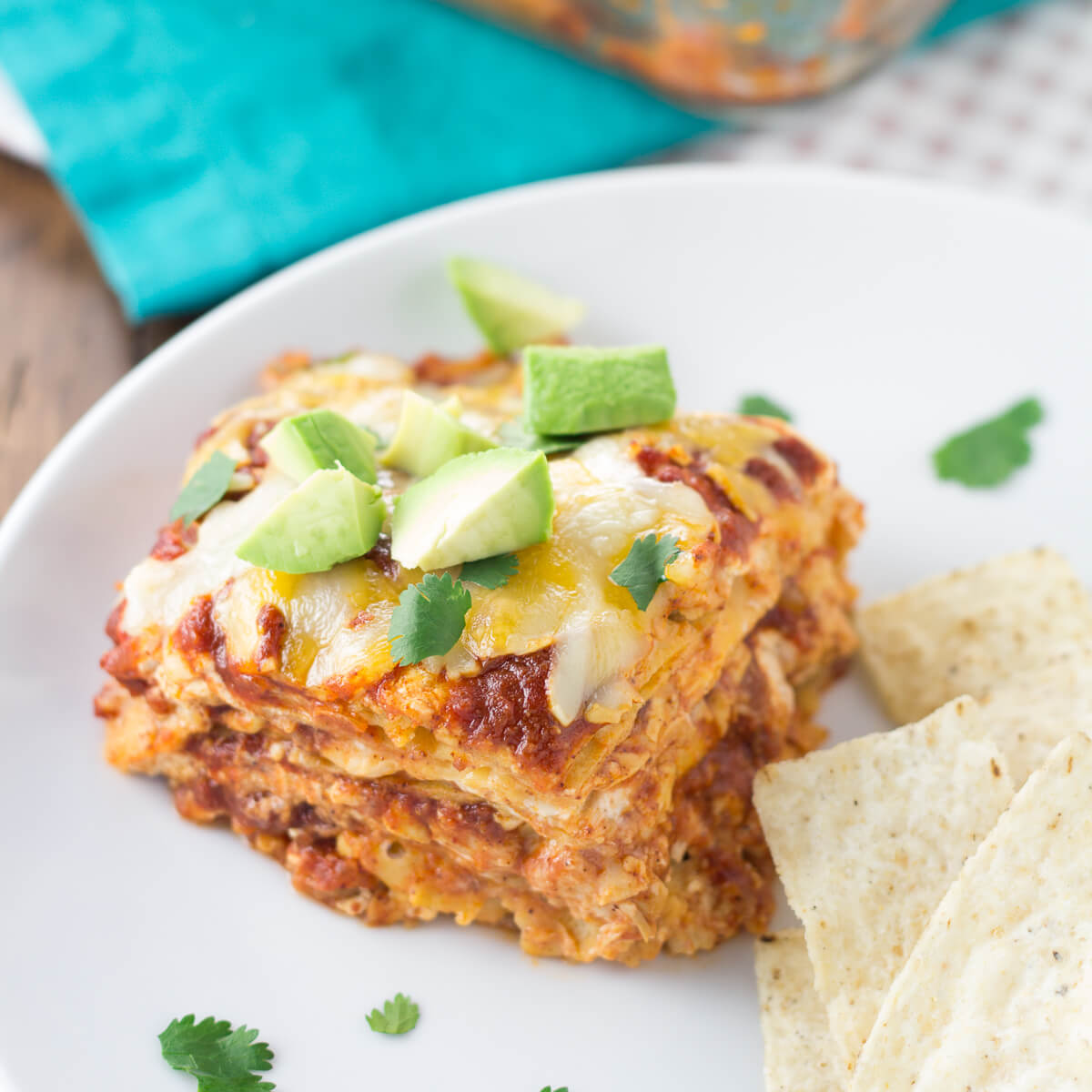 Healthy Quinoa and Sweet Potato 7 Layer Dip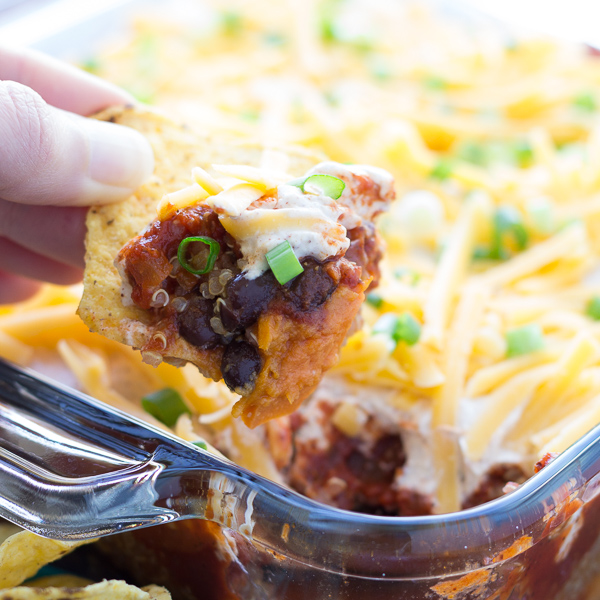 Sweet Potato and Black Bean Enchiladas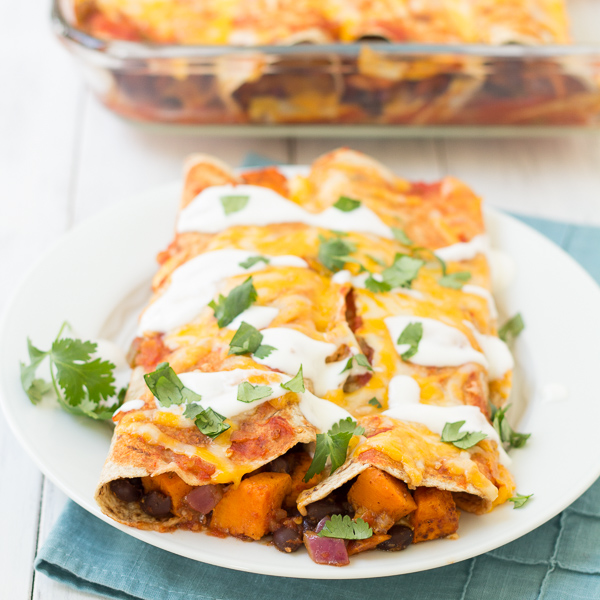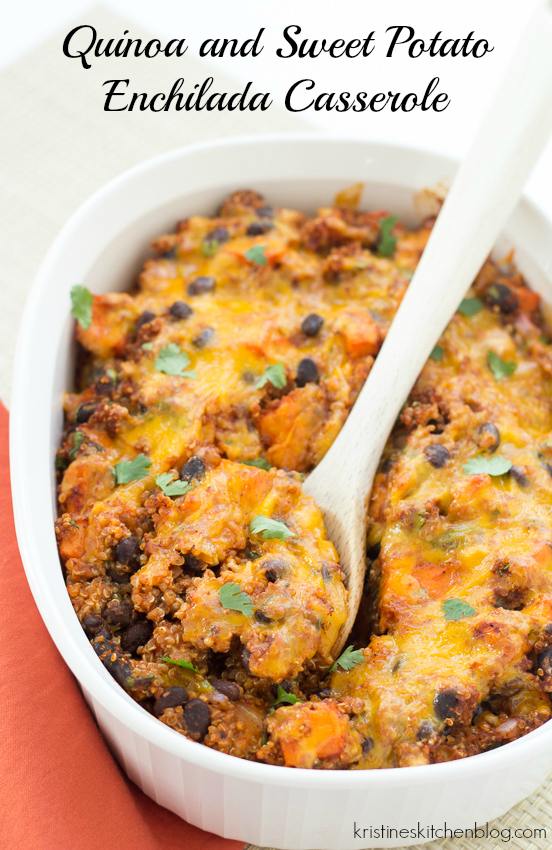 Quinoa and Sweet Potato Enchilada Casserole
Ingredients
For the Enchilada Sauce*:
1 tsp. olive oil
½ cup finely minced red onion (you can also chop ½ cup onion for the casserole)
2 cloves garlic, minced
1 tbsp. chili powder
½ tbsp. cumin
¼ tsp. salt
15 oz. can tomato sauce
½ cup water
For the Casserole:
1 cup uncooked quinoa, rinsed well
2 small sweet potatoes, peeled and cut into ½-inch cubes (about 2 cups)
15 oz. can black beans, rinsed and drained
2 cups grated cheddar cheese
½ cup finely chopped red onion
¼ cup chopped fresh cilantro, plus more for garnish
Greek yogurt or sour cream, for serving (optional)
Directions
Make the Enchilada Sauce:
Heat olive oil in a small saucepan over medium heat. Add onion and cook, stirring occasionally, until soft, about 5 minutes. Add garlic, chili powder, cumin, and salt and cook, stirring, 30 seconds. Add tomato sauce and water. Bring to a low simmer, reduce heat, cover, and simmer for 5 minutes. Remove from heat.
Cook the Quinoa:
In a medium saucepan, bring 1 ½ cups water to a boil. Stir in the quinoa, reduce heat, cover, and simmer until all liquid has been absorbed, about 15 minutes. Remove from heat.
Cook the Sweet Potatoes:
Set a steamer basket over a pot of water and bring to a boil. Place sweet potato cubes in the steamer basket, cover, and steam until just tender, about 10 minutes. Uncover and let cool slightly.
Assemble the Casserole:
Preheat oven to 350 degrees F. Lightly spray a 3-quart baking dish with cooking spray.
In a large bowl, combine quinoa, sweet potatoes, black beans, enchilada sauce, 1 ½ cups of the cheese, red onion, and ¼ cup cilantro. Stir until everything is well combined. Transfer to the prepared baking dish. Top with remaining ½ cup of cheese.
Bake until casserole is hot and cheese is melted, about 20 minutes. Let stand for 5 minutes. Serve with additional chopped fresh cilantro and Greek yogurt or sour cream, if desired.
*You can substitute 15 ounces of store-bought enchilada sauce if you prefer.

This site contains affiliate links. If you make a purchase through these links, I may receive a small commission, at no extra cost to you. Thank you for supporting Kristine's Kitchen!