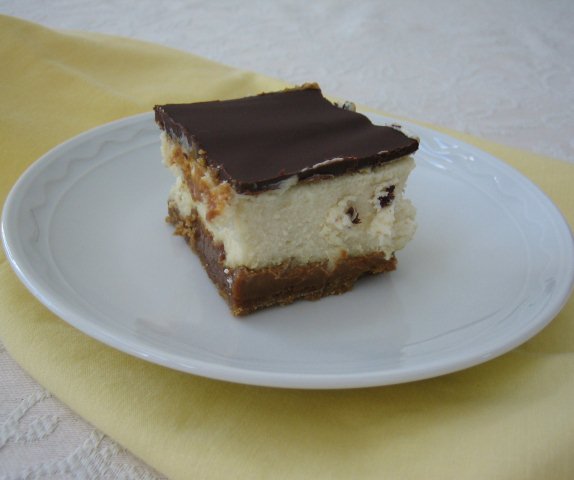 As soon as I saw the picture of these cheesecake squares while doing my morning blog reading, I knew I had to make them. Cheesecake, caramel, and chocolate are a few of my very favorite things. Combined into one dessert, they are irresistible.
In case you aren't familiar with it, dulce de leche is a milk caramel sauce made by slowly heating sweetened milk. If you can't find it in your grocery store, you can make your own by slowly heating sweetened condensed milk until it is thick and light caramel colored. Or, you can use caramel sauce instead. Brad was able to find dulce de leche in our grocery store- it came in a small can (like sweetened condensed milk does) and was located near the Hispanic foods in the international foods aisle.
Each part of these cheesecake bars is perfect. The graham cracker crust is made even better because some of the dulce de leche soaks into it. The dulce de leche itself is sweet and caramely. The cheesecake layer is so delicious all on its own. Finally, the chocolate glaze adds just the right amount of sweetness, since it is made with bittersweet chocolate. I think these may be one of the best desserts I've ever made. Maybe that's why Brad and I each ate one (sometimes two) every day until they were gone?
Dulce de Leche Cheesecake Squares
Makes 36 small squares or 16 dessert-size pieces
For the Crust:
3 1/2 ounces graham crackers, crushed (1 cup of crumbs)
2 tablespoons sugar
3 tablespoons butter, melted
For the Filling:
12 ounces, or 1 cup, dulce de leche (or caramel)
16 ounces cream cheese, at room temperature
1/2 cup granulated sugar
2 eggs
2 teaspoons vanilla extract
For the Glaze:
3 ounces bittersweet chocolate, coarsely chopped (I used bittersweet chocolate chips)
1/2 stick (4 tablespoons) unsalted butter, cut into pieces
2 teaspoons light corn syrup
Make the Crust: Position an oven rack in the middle position and preheat oven to 325 degrees F. Line the bottom and sides of an 8-inch square pan with parchment paper, leaving a 2-inch overhang on all sides. Spray parchment with non-stick spray.
Finely grind the graham crackers with the sugar in a food processor. With the motor running, add the butter, blending until combined. Press mixture evenly onto bottom of baking pan. Bake 10 minutes, then cool on a cooling rack for 5 minutes.
Make the Filling: Spread the dulce de leche evenly over the graham crust. (Note: I had a really hard time spreading the dulce de leche without breaking up the graham crust. Next time, I might try slightly warming the dulce de leche in the microwave to make it spread more easily. I also suggest using a spatula sprayed with cooking spray to help spread the caramel into an even layer.) Place the pan in the refrigerator while you prepare the cream cheese layer.
Beat the cream cheese on medium-high speed until light and fluffy, about 3 minutes. Add the sugar and continue to beat on medium-high for another 2 minutes. Add the eggs, one at a time, beating well between each addition and scraping down sides of bowl. Beat in the vanilla extract.
Pour the cream cheese mixture over the dulce de leche layer. Bake for 45-55 minutes, or until the center only slightly jiggles. Remove from the oven and cool completely before refrigerating for at least 3 hours.
Glaze the cake: Heat the chocolate, butter, and light corn syrup in a double boiler or in a microwave at 30-second intervals, stirring until smooth. Pour the glaze over the cheesecake, coating evenly. Chill for at least 30 minutes before serving.
Lift the cheesecake from the pan using the parchment paper and slice into squares using a sharp knife, wiping it clean after each cut.
Recipe from Brown Eyed Baker