Note:  I have a new blog address!  You can now find Kristine's Kitchen at:  kristineskitchenblog.com.  Please update any bookmarks or favorites you may have, although you will still be redirected to the new page if you type in the old address.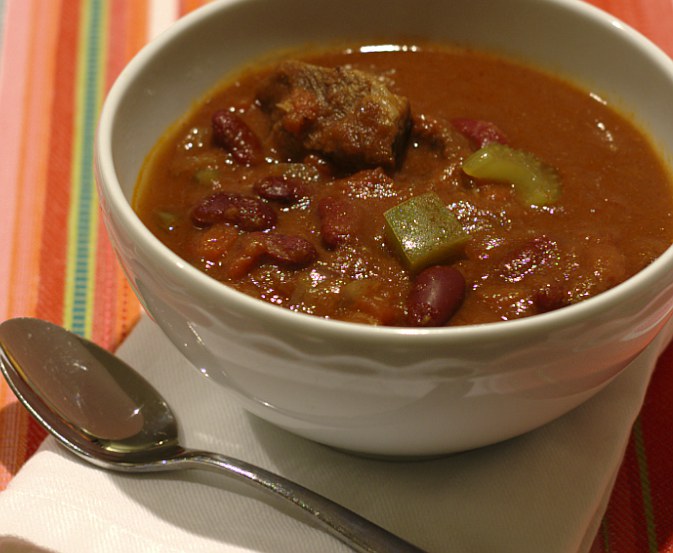 I love to cook. I do have a cooking blog, after all. But that doesn't mean that I don't enjoy having dinner prepared for me once in a while. With this slow cooker chili, it's almost like someone else is cooking dinner. The slow cooker works away all day and you end up with a delicious-smelling house and a delicious-tasting dinner. All you have to do is throw in a few ingredients in the morning and then let it cook away.
I've been making this chili for years and it could not be easier. Slightly spicy and super satisfying, it's the perfect meal to warm you up on a cold day.
One year ago:  Waffles of Insane Greatness
Slow Cooker Beef Chili
Makes 8 servings
Ingredients:
1 pound beef boneless round steak, cut into 1/2-inch pieces (or often I'll use already cut up stew meat)
1 large onion, chopped
2 medium stalks celery, cut into 1/2-inch pieces
1 tbps. chili powder
2 tsp. ground cumin
1/4 tsp. dried oregano
1/4 tsp. ground cinnamon
2 cans (14.5 oz. each) diced tomatoes, undrained
1 can (15 oz.) tomato sauce
1 medium bell pepper, cut into 1-inch pieces
1 can (15 to 16 oz.) kidney beans, rinsed and drained
Shredded cheddar cheese, if desired
Directions:
Place all ingredients except bell pepper, beans, and cheese in 3 1/2- to 4-quart slow cooker.
Cover and cook on low heat setting 6 to 7 hours or until beef and vegetables are tender.
Stir in bell pepper and beans. Cook uncovered on high heat setting about 15 minutes or until slightly thickened. Serve with cheese, if desired.
Recipe from Betty Crocker: Slow Cooker Meals